Mar
9
Winter Comps Poster Presentation
Thu, March 9, 2023 • 12:00pm - 1:00pm (1h) • AND121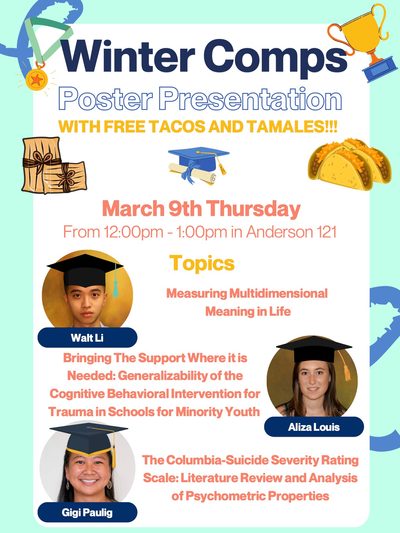 Come to AND121 during Community Time for the Comps Poster Presentations of PSYC winter graduating seniors! Food and drink will be provided!
Aliza Louis presents her poster on "Bringing The Support Where it is Needed: Generalizability of the Cognitive Behavioral Intervention for Trauma in Schools for Minority Youth"
Walt Li's poster addresses "Measuring Multidimensional Meaning in Life"
and Gigi Paulig's poster is on "The Columbia-Suicide Severity Rating Scale: Literature Review and Analysis of Psychometric Properties"
from Psychology