Deborah Gross, Carleton College Professor of Chemistry, was interested in facilitating student collaboration in her labs and thought that ELNs (Electronic Lab Notebooks) might be the solution she was looking for…plus, she had been hearing a lot about this new technology which seemed to be taking over in the world of chemistry.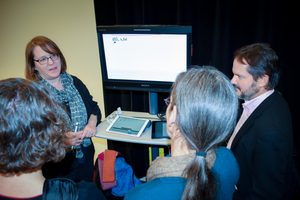 She started a conversation with Randy Hoffner, Science Support Specialist in ITS (Information Technology Services), about her interest in ELNs and discovered there was interest from others, including Assistant Professor of Chemistry, Matt Whited, and Associate Professor of Physics, Melissa Eblen-Zayas. The group decided to do a sort of scientific test to compare between LabArchives (which Melissa had already started using) and another ELN that is a major competitor of LabArchives (LA). Before the comparison could launch however, feature limitations in the other product were discovered that made it unsuitable. Rather than a comparison study the group decided to pilot LA to thoroughly test its features and functionalities. In Deborah's case, her primary measure was about usability — was the technology easy to use or did it get in the way of students' work, and in which laboratory circumstances does it make sense to use this technology. Comparing notes with Matt and Melissa about experiences was valuable in rounding out a sense of LA and its utility was so obvious that ITS has recently purchased a site license for campus.
Deborah points out that LA is a very flexible product that makes it easy to move files and data back and forth between an instructor and a class and she can imagine it being useful in a number of settings. She finds that LA enhances collaboration amongst her students and it allows students to work more efficiently and with more modern technologies. And, in cases where students always have a computer or a tablet with them in the lab, Deborah has found that LA seems to integrate seamlessly. In labs where students don't necessarily have device in hand, it isn't yet clear that LA will be the same easy asset. Thus, Deborah's curiosity turns now to these questions: is LA an effective technology in a lab where students aren't always at a computer? Are there practices she might encourage that will help make LA as useful to students in this condition or might it take the integration of tablets or other mobile devices to solve this?
If you're interested in more information about LA or Deborah's process, she recently presented at an LTC luncheon and Academic Technology has posted on her work on their blog.