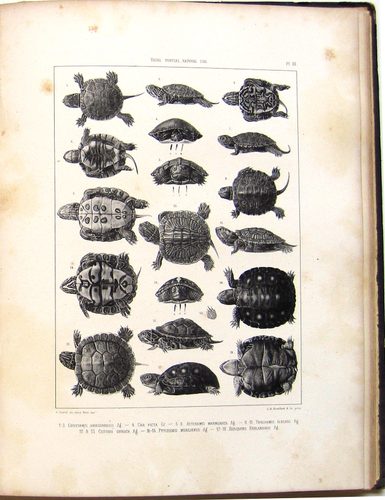 Plate III. Young Turtles, Natural Size
Illustrated by Auguste Sonrel (d. 1879)
Contributions to the Natural History of the United States of America, Volume II
Part III. Embryology of the Turtle
Louis Agassiz (1807-1873)
Boston: Little, Brown and Company; London: Trübner & Co., 1857
Gould Library Special Collections
Agassiz worked with several artists to produce the illustrations for the Contributions. Jacques Burkhardt produced a number of full-color illustrations of turtles for this volume, while Henry James Clark specialized in microscopic drawings and contributed to the illustrations of the turtle embryology.
This plate was drawn by illustrator Auguste Sonrel from specimens in Agassiz's collection. Sonrel had worked with Agassiz in Europe, and moved to the United States in 1848 (1). In addition to making his own drawings from life, Sonrel also worked with Burkhardt and Clark to reproduce their artwork on lithographic stones for printing. Richly textured and sharply detailed, these drawings are typical of Sonrel's highly realistic – and widely admired – style of illustration.
(1) Ann Shelby Blum. Picturing Nature: American Nineteenth-century Zoological Illustration. Princeton, N.J.: Princeton University Press, c1993, p. 181.