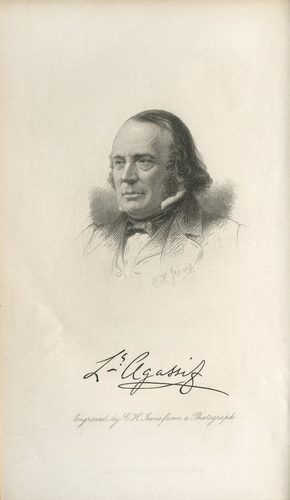 Portrait of Louis Agassiz at the Age of Fifty-Five
Louis Agassiz, His Life and Correspondence
Elizabeth Cabot Cary Agassiz, ed. (1822-1907)
New York: Houghton, Mifflin and Company, 1888
Gould Library
I wish to make, in every respect, an American contribution to science, fostered and supported by the patronage of the community at large.
Swiss-born naturalist Louis Agassiz (1807-1873) did much to popularize science in America in the mid-1800s. A professor at Harvard and the founder of the university's Museum of Comparative Zoology, Agassiz was both a serious scientist and an acclaimed public figure whose public lectures packed auditoriums and lecture halls.
One of Agassiz's ambitions was to publish a natural history of the fauna of North America. Agassiz began work on the Contributions to the Natural History of the United States of America in 1855. From the beginning, he hoped that the Contributions would appeal to members of the public with a love of science as well as to his colleagues in the scientific community.
Click on a Volume to Learn More