Oct
9
Imaging the Word in Twelfth-Century Germany
Mon, October 9, 2023 - Sun, December 31, 2023 • Gould Library, East Wing, 4th floor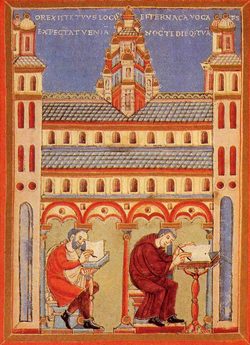 In the twelfth-century, monks and nuns used rich materials, complex aesthetics, well-furnished imaginations, and high levels of skill to express their devotion to God and to engage readers in vital narratives. Often elaborately adorned, these works were designed to communicate messages about the power, taste, and personal piety of the patron and creators.
Books were also gifts, creating bonds between people and communities or between a person and a saint, the Virgin Mary, or God. The materials in this exhibit are modern facsimiles, or copies of original medieval manuscripts. Originally created between 1100 and 1200, they bear witness to varied and ongoing efforts to render the "Word" –of the Bible, of sacred stories and prayers, or liturgy and music– visible in script and image.
The materials on view in this exhibit were selected and interpreted by Director of Medieval and Renaissance Studies and Professor of History William North, from the holdings of Gould Library's Special Collections.
Join us in the library on Wednesday, November 1st at 4:30 pm for a conversation with William North about this exhibit.