Students, faculty, and researchers who wish to use Special Collections materials must do so by contacting Special Collections staff members during the hours listed below. To be assured of timely access to materials, we encourage users to make arrangements with staff before coming to use the collection. Before using materials, all users must fill out a registration form and agree to the Rules for Use.
---
Finding Materials in Catalyst
All materials in Special Collections are included in Catalyst, the Library's Online Catalog. Before completing a search, choose "Local Catalog." After completing the search choose "Carleton Special Collections" under "Collections." In this example 180 items match the keyword search "Shakespeare."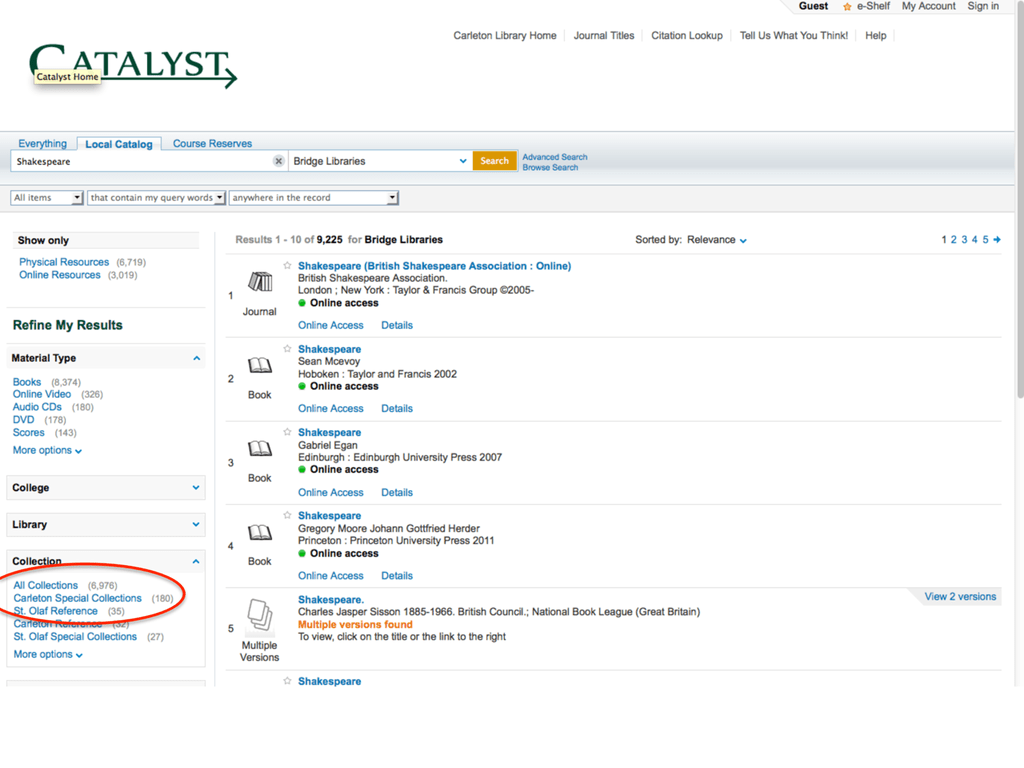 Hours
Access to Special Collections is dependent on staff availability, generally Monday – Friday 9 to 4, except college holidays. Researchers need to make an appointment in advance of a visit by contacting Special Collections staff.
Rules for Use
No food, beverage, or tobacco is allowed in the Special Collections Room.
All researchers must register in order to use materials.
Researchers must leave their briefcases and backpacks in the closet provided outside of the Special Collections Room.
Materials do not circulate. Exceptions to this rule may be granted for classroom use on an individual basis.
Researchers are asked to use pencils or personal computers to take notes. Please leave pens, highlighters in your bag. Collection Development staff can provide researchers with pencils.
Special handling instructions: Materials are to be handled with care and not mutilated in any way. Please wash hands before using materials. Avoid stressing bindings by flattening books. Use a bookstand to support heavy books with sensitive bindings. Turn the pages carefully to avoid tearing brittle paper. Do not write on top of books or trace illustrations. Do not use paper clips, post-it notes or excessive enclosures. If you have questions about handling, please ask the Collection Development staff.
All materials must be used in the Special Collections room. Requests for photocopying, photographing, filming, or scanning will be handled on an individual basis depending on the condition of the materials.
All use of materials for scholarly purposes must conform to current copyright laws.
Digital Scans and Photographs
Requests for scans and photographs will be handled on a case by case basis depending on condition and value of the material and availability of staff and equipment. All reproductions will be done by staff members. Non-Carleton community members will be charged a fee of .25 per copy plus $3.50 for shipping if applicable.