Students, faculty, and researchers who wish to use Special Collections materials must do so by contacting Special Collections staff members during the hours listed below. To be assured of timely access to materials, we encourage users to make arrangements with staff before coming to use the collection. Before using materials, all users must fill out a registration form and agree to the Rules for Use.
---
Finding Materials in Catalyst
All materials in Special Collections are included in Catalyst, the Library's Online Catalog. To search for Special Collections materials, select "Advanced Search" and limit your search to "Books." Select "Carleton Special Collections" in the drop down menu next to the "Search Profile." All results will be located in Special Collections.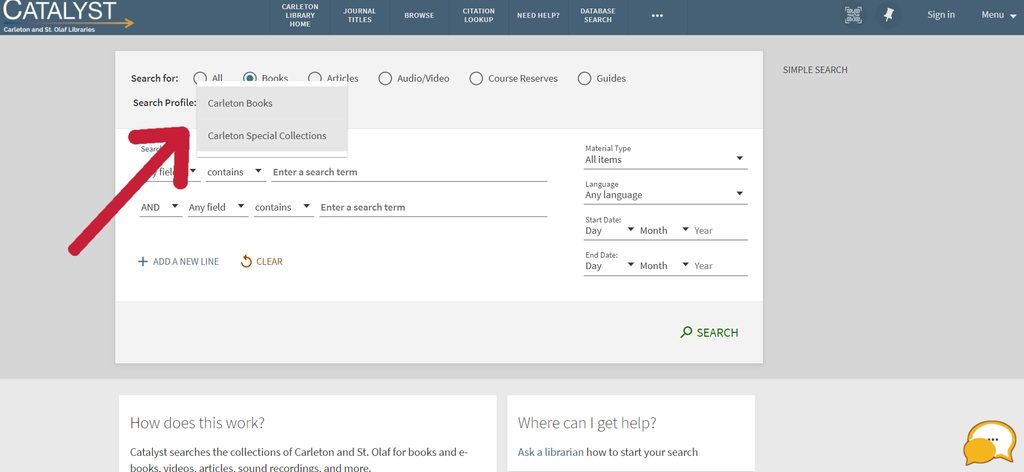 Hours
Access to Special Collections is dependent on staff availability, generally Monday – Friday 9 to 4, except college holidays. Researchers need to make an appointment in advance of a visit by contacting Special Collections staff.
Rules for Use
Food and liquids are not allowed in the Special Collections Room.
All researchers must register in order to use materials.
Please leave briefcases, backpacks, and coats on the table near the entrance of the Special Collections Room.
Materials do not circulate and use is restricted to the Special Collections Room.
Researchers are asked to use pencils or personal computers to take notes. Please leave pens and highlighters in your bag. Pencil and paper are available for use. Do not write on top of books or trace illustrations.
Special handling instructions: Please wash hands before using materials. Avoid the use of hand lotions or hand sanitizer. Avoid stressing bindings by flattening books. Use provided book supports and book weights. Turn the pages carefully to avoid tearing brittle paper.
If you have questions about handling a book, please ask Special Collections staff.