Gutenberg Bible
One leaf from the Book of Ezekiel
Mainz: Johann Gutenberg, n.d. [1450-54]
Donor: Robert J. Flanagan, Emeritus Trustee
A leaf (Ezekiel 32:13-31 and 33:1-26) of the first book printed from moveable type.
Avli Gellii Lvcvlentissimi Scriptoris Noctes Atticæ
AULUS GELLIUS
Venice: Joan. Gryphius, 1550
Donor: Charles Rayment, Emeritus Professor of Classics
Gellius Aulus, in his Attic Nights, offers a series of essays on a broad range of topics. He is responsible for passing down a number of classical stories, notably that of Androcles and the lion.
Admiranda Narratio Fida Tamen, de Commodis et Involarvm Ritibvs Virginiae
THEODOR DE BRY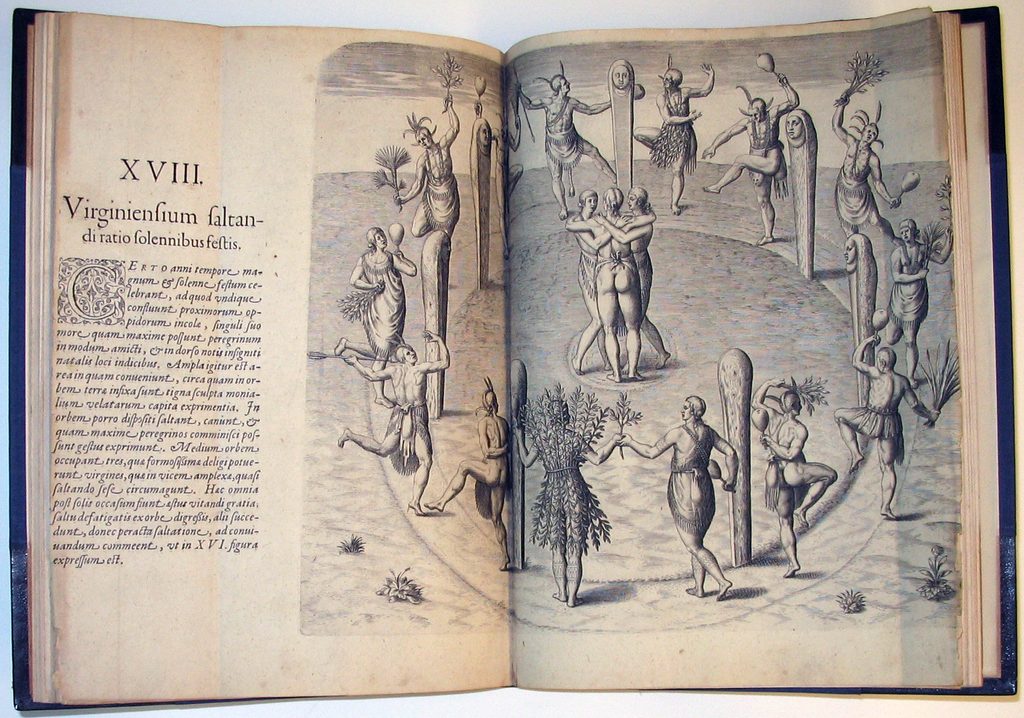 Frankfurt: Theodor de Bry, 1590
Donor: McGregor Fund
Brevis Narratio eorvm qvae in Florida Americae Provincia Gallis acciderunt
THEODOR DE BRY and JACQUES LE MOYNE DE MORGUES
Frankfurt: Theodor de Bry, 1591
Donor: McGregor Fund
Theodor De Bry, a Frankfort goldsmith, engraver and bookseller, produced a series of volumes chronicling many of the earliest expeditions to the Americas. The first volume of the series is a reissue, with illustrations added, of Thomas Hariot's narration of the first English settlement in Virginia. The 1591 volume presents early expeditions to Florida. Prints from these and later volumes are some of the earliest images of the New World. Gould Library's copies are bound by the London firm of Sangorski & Sutcliffe.
The History of the Life of the Duke of Espernon
GUILLAUME GIRARD
CHARLES COTTON, trans.
London: Henry Brome, 1670
Donor: Louis W. Hill, Jr., friend of the College
This translation of a French historical account focuses on the life of a noted French courtier and favorite of Henry III. The Duke was later suspected of complicity in the assassination of Henry IV.