Little Journeys Made to the Homes of Ruskin and Turner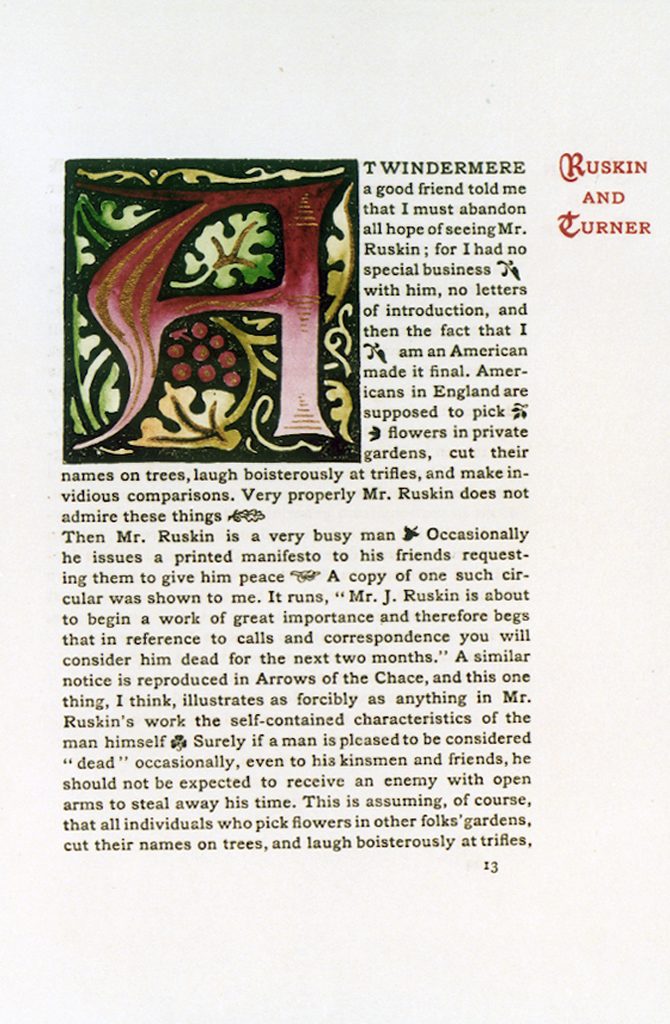 These Pages Recount Little Journeys Made to the Homes of Ruskin and Turner
ELBERT HUBBARD
East Aurora: Roycroft Printing Shop, 1896.
No. 438 of 473 copies, signed by the author.
After his first trip to England Hubbard decided to write short essays about the authors whose homes he had visited. For the next twenty years he published monthly an essay on the home of a famous person. He also issued some of these essays in limited editions, such as the one here. The ornate initials are handcolored.
Gift from an anonymous donor.
Songs & Verses Selected from the Works of Edmund Waller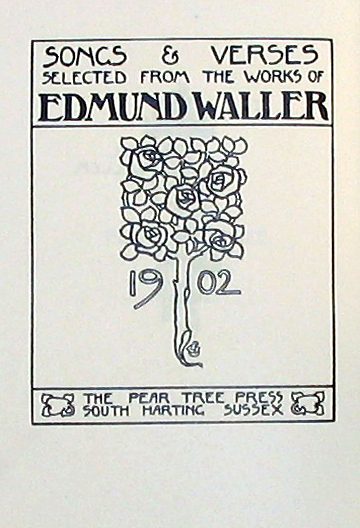 Songs & Verses Selected from the Works of Edmund Waller
EDMUND WALLER
South Harting, Sussex: Pear Tree Press, 1902.
No. 244 of 300 copies.
Edmund Waller (1606-87) was a poet admired for his polished verse. Shown here is his poem "On a Girdle," one of his most famous early pieces. Decorations by Pickford Waller, who presented this copy to a certain Esther D'Angibau.
Carmina Sapphica 1903
Carmina Sapphica
QUINTI HORATI FLACCI
Chelsea: Ashendene Press, 1903.
One of 150 Copies.
Horace (65-8 B.C.) wrote 103 lyrical poems. Those printed in this edition are modelled on the verse of the seventh-century Greek poetess Sappho. This copy is printed on Japan vellum, with calligraphic initial capitals by Graily Hewitt.
Carmina Sapphica 1983
Carmina Sapphica
QUINTI HORATI FLACCI
Boston: Anne & David Bromer, 1983.
One of 150 copies.
The original miniature Ashendene book was commissioned for Queen Mary's Doll's House in Windsor Castle and was printed in 1923 in an edition of fewer than ten copies. The Bromer edition was reproduced from the original plates.
Twenty-one Poems Written by Lionel Johnson
Twenty-one Poems Written by Lionel Johnson
LIONEL JOHNSON
WILLIAM BUTLER YEATS, sel.
Dundrum: Dun Emer Press, 1904.
One of 220 copies.
The press was founded in 1902 by Yeats's sisters Elizabeth Corbet Yeats and Lily Yeats. It trained and employed Irish women and concentrated on the publication of new works by contemporary Irish writers.
Rip Van Winkle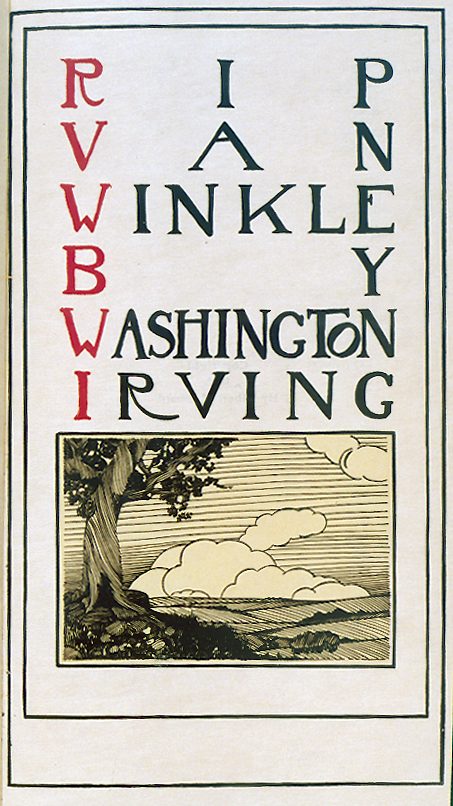 Rip Van Winkle
WASHINGTON IRVING
East Aurora: Roycroft Press, 1905.
No. 39 of 100 copies printed on Japan vellum, signed by Elbert Hubbard.
The title page and six large initials are the work of Dard Hunter, the most famous of the Roycroft designers. This is the first book that he designed completely.
Ecce homo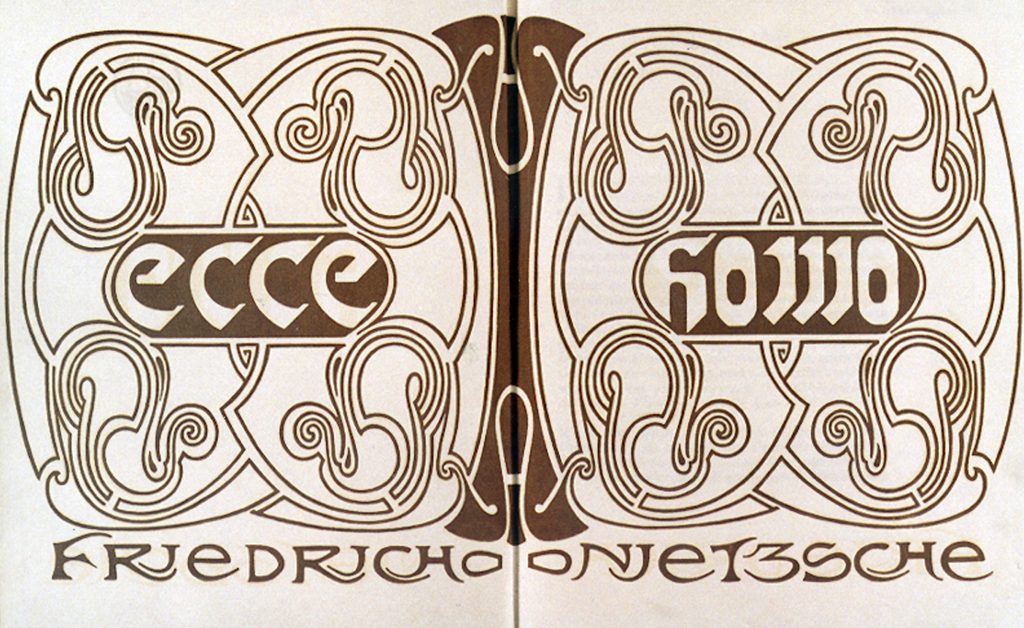 Ecce homo
FRIEDRICH NIETZSCHE
Leipzig: Insel-Verlag, 1908.
No. 760 of 1250 copies.
Completed by Nietzsche in 1888, shortly before he became insane, this work is his autobiography. One scholar has characterized it as "almost certainly…the most bizarre example of that genre ever penned." Henri van de Velde's double title page with its flowing curves is considered the quintessential example of an Art Nouveau title page.
Aphrodite
Aphrodite
PIERRE LOUYS
Privately printed, 1913.
No. 352 of 550 copies.
Louÿs's novel of courtesan life in ancient Alexandria was an instant success when it appeared in Paris in 1896, but its blatant sexual content led to its censorship in America, where it could not be published commercially until 1932.
The Crown of Wild Olive & The Cestus of Aglaia
The Crown of Wild Olive & The Cestus of Aglaia
JOHN RUSKIN
London and Toronto: J. M. Dent, 1915.
Everyman's Library, no. 323.
An example of the commercial adaptation of William Morris's printing style. This characteristic title page design was used for all Everyman books from 1906 to 1935.
Abraham
Abraham
HROTSVIT VON GANDERSHEIM
RICHARD S. LAMBERT, trans.
AGNES LAMBERT, illus.
Wembley Hill, Middlesex: The Stanton Press, 1922.
No. 34 of 100 copies.
Hrotsvit, the tenth-century abbess of the Benedictine convent at Gandersheim in Saxony, was the first female poet of the Middle Ages and the first person since antiquity to write dramas. The translator was the owner of the press, and his wife was the illustrator.
The Phaedo of Plato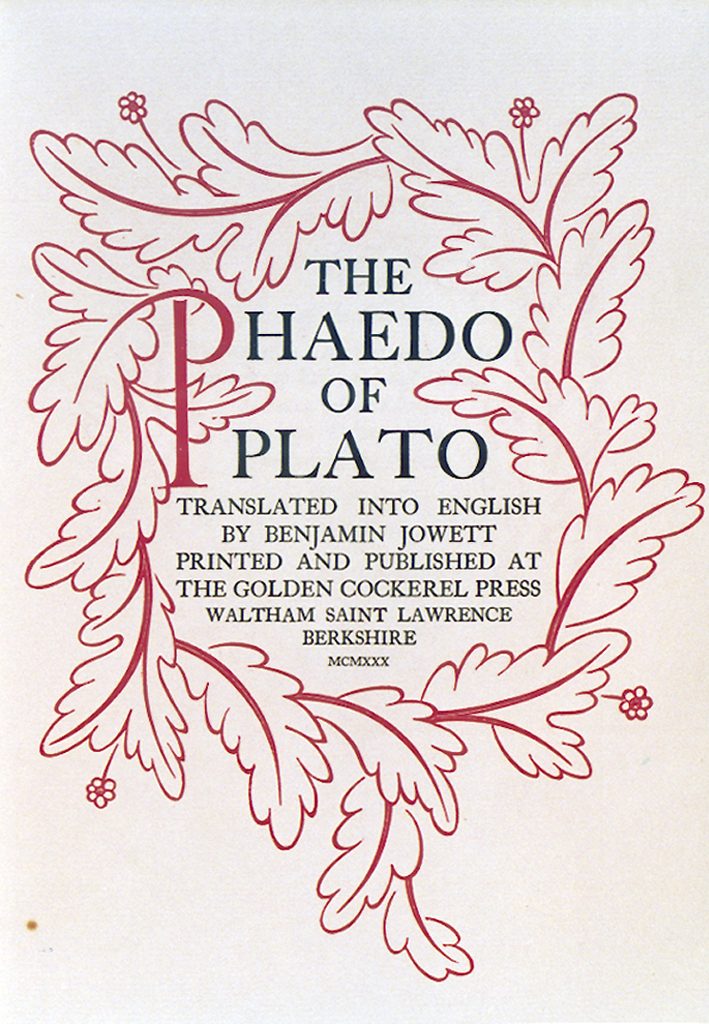 The Phaedo of Plato
BENJAMIN JOWETT, trans.
Waltham Saint Lawrence, Berkshire: The Golden Cockerel Press, 1930.
No. 418 of 500 copies.
A later description of this item issued by the press reads: "Books of philosophy are so well worthy of the best moderation. After this book had been bound and distributed it was discovered that its translation had been ascribed to William Jowett. A new title-page was then printed and issued loose to subscribers." The ornaments and initial letters are by Eric Gill.
Chapman
Chapman
HAVELOCK ELLIS
Bloomsbury: The Nonesuch Press, 1934.
700 copies printed, this one being "out of series for review."
George Chapman (1559?-1634?), whom Pope characterized as having "a daring fiery spirit," is famous as an early translator of Homer. This book was distributed in America by Random House.
Bouyant Billions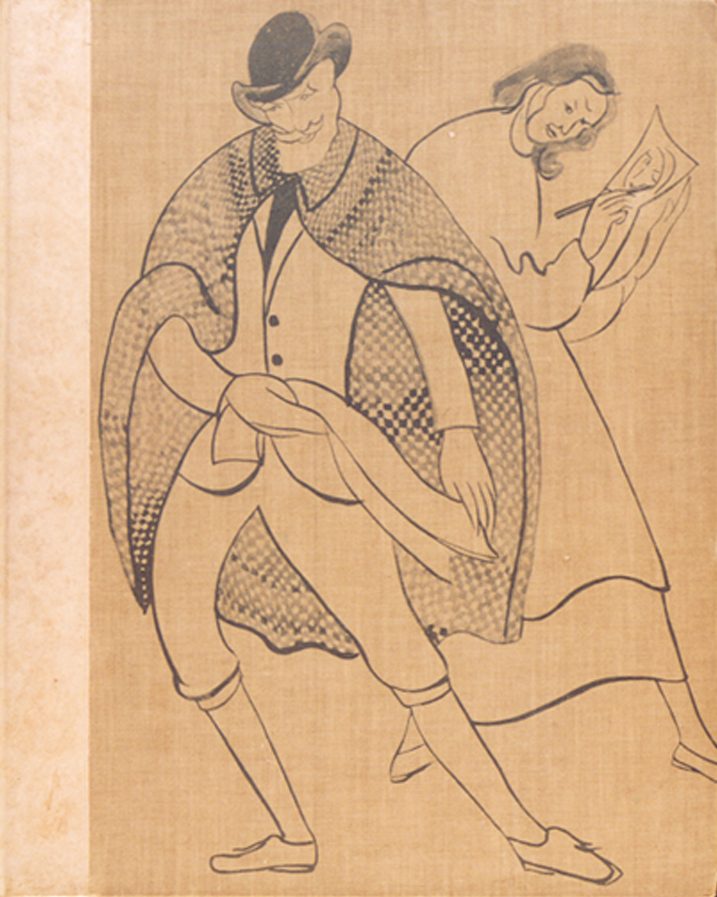 Bouyant Billions, A Comedy of No Manners in Prose
GEORGE BERNARD SHAW
CLARE WINSTEN, illus.
London: Constable & Co., 1949.
No. 434 of 1020 copies.
This is Shaw's last full-length play, begun in 1936 but not finished until late1946. Writing to the organizer of a festival where the play was to be performed in 1947, Shaw confided: "It is so bad that I ought to burn it, but it will serve your turn for a few performances."
Cockalorum
Cockalorum
Waltham Saint Lawrence, Berkshire: The Golden Cockerel Press, 1949.
No. 66 of 250 copies, signed by the printer, Christopher Sandford.
This is a bibliography of the press from June 1943 to December 1948. It is a sequel to the bibliographies Chanticleer (April 1921 to August 1936) and Pertolote (October 1936 to April 1943). A subsequent bibliography, Cock-A-Hoop, covers the period from September 1949 to December 1961.
Le Misanthrope
Le Misanthrope
MOLIÈRE
ALBERT DUBOUT, illus.
Paris: Imprimerie Nationale, 1955.
No. 2915 of 5000 copies.
Published originally in 1666, this is one of Molière's most famous comedies.
Tristan et Iseut
Tristan et Iseut
PIERRE D'ESPEZEL
JEAN CHIEZE, illus.
Paris: Union Latine d'Édition, 1956.
No. 4387 of 8920 copies.
A retelling of the tragic love story based on the medieval versions of Thomas of Brittany, Gottfried von Strasbourg, Eilbert von Oberg, and Béroul. This copy is a presentation copy inscribed by the illustrator and dated 1960.
The Pedestrian
The Pedestrian
RAY BRADBURY
JOE MUGNAINI, illus.
Glendale, CA: Roy A. Squires, 1964.
One of 280 copies.
Ray Bradbury (1920- ) began his literary career by writing for pulp magazines, but by the early 1950s he was recognized as a serious writer of science fiction. This story, originally published in 1951, tells of a writer in 2053 who prefers solitary walks to watching television and is arrested and committed to the Psychiatric Center for Research on Regressive Tendencies. This copy from 1964 is one of 40 included in the first specimen exchange of the Society of Private Printers.