The Odyssey of Homer
The Odyssey of Homer
London: Sir Emery Walker, Wilfred Merton, and Bruce Rogers, 1932.
One of 530 copies.
Designed by Bruce Rogers. One scholar of printing history has written: "I believe that the Bruce Rogers' Odyssey is indisputably among the most beautiful books ever produced, including the widely acclaimed illustrated Hypnerotomachia Poliphili of Aldus Manutius, issued in 1499." The 26 decorations are after Homeric figures on Greek vase paintings.
Fra Luca de Pacioli of Borgo S. Sepulcro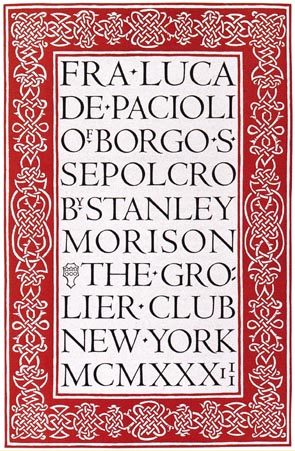 Fra Luca de Pacioli of Borgo S. Sepulcro
STANLEY MORISON
New York: The Grolier Club, 1933.
One of 390 copies.
The Grolier Club commissioned Bruce Rogers to design this book as a companion to two of its earlier publications on the construction of the alphabet: Albrecht Dürer's Of the Just Shaping of Letters (1917) and Geofroy Tory's Champ Fleury (1927). This book reproduces full-size the Roman letters in De Divina Proportione (Venice, 1509) by Fra Luca de Pacioli, a professor of mathematics at Padua and Milan and the inventor of double-entry bookkeeping. In the opinion of Joseph Blumenthal, a noted historian of printing history, the title page by Rogers is "a page of true grandeur…unique in the whole history of the printed word."
The Holy Bible, Containing the Old and New Testaments
The Holy Bible, Containing the Old and New Testaments
Oxford: Printed at the University Press, 1935.
One of 1,000 copies.
When the Canadian government planned to build a memorial for the battlefield at Ypres, where so many young soldiers had perished during World War I, King George of England wanted to have his nation present a suitable folio Bible for placement in the chapel, but none existed. The publisher of the Oxford University Press, Humphrey Milford, proposed to publish such a Bible and engaged Bruce Rogers to oversee its publication. The text follows that of the King James version of 1611. The Bible was carefully designed to be able to fit on the brass lecterns in most Anglican churches. The book is thus now known commonly as the Oxford Lectern Bible.
Gift from an anonymous donor.