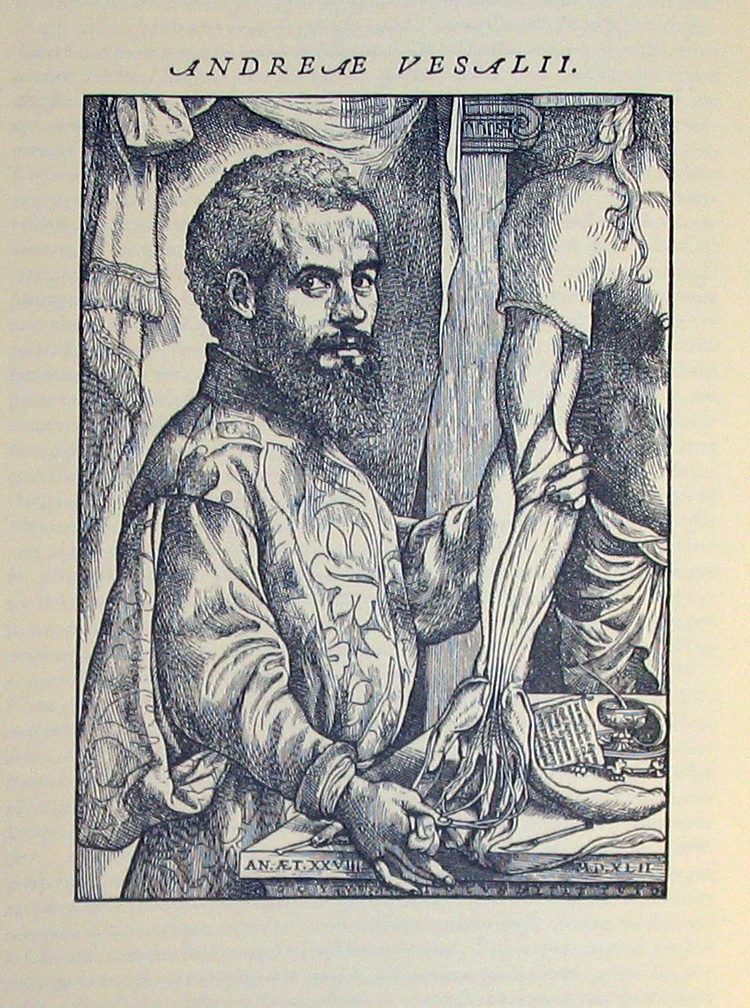 Facsimile of a 16th century Swiss manuscript
Andreas Vesalius (1514-1564) was a Flemish physician who taught anatomy and surgery at the University of Padua. It was there that he produced his main work, the highly innovative, De humani corporis fabrica, 1543. Vesalius based the book on his dissection of actual human cadavers, in other words, on direct observation and sustained research. Considered the father of modern anatomy, he overturned the doctrines of the Roman physician Galen (c130-c200) whose treatises had constituted undisputed authority well into the 16th century.
The Fabrica's importance lies in no small part on its nearly 250 woodcut illustrations designed by Vesalius's fellow Netherlander, the artist Jan van Calcar. The wealth of visual representation in the Fabrica amounted to more than just a technical accomplishment. The scientist collaborated with the woodcut artist who, himself, employed a highly specialized form of observation. The print medium's ability to replicate, that is, its capacity to provide identical information to a great number of readers and viewers at the same time, exerted a huge impact on the development of the scientific method.
Vesalius selected for his publisher and printer Johannes Oporinus (1507-68), a scholar of classical and Semitic languages and (briefly) of medicine working in Basel, the center of publishing in Europe by this time. Oporinus spared no expense in producing the finest printed text possible.
Our facsimile of the book is open to the frontispiece of the Fabrica, a portrait of Vesalius dated 1542, accompanied by a Latin inscription engraved on the anatomy table, "swiftly, pleasantly and safely," a motto that derives from antiquity. The portrait shows Vesalius demonstrating a dissection of the arm of a corpse whose full body is propped up so that its verticality complements the upright, energetic pose of the scientist. The exact meaning of Vesalius's action is indicated by the words printed on the slip of paper next to the cadaver, "the muscles that move the fingers," for Vesalius demonstrates those particular muscles.
So renowned was Vesalius's anatomical treatise in the next century that the Dutch artist Rembrandt featured the arm in The Anatomy Lesson of Dr. Tulp, a group portrait commissioned by Nicolaes Tulp for the Amsterdam Surgeons' Guild in 1632. In fact, Tulp is depicted following the inscription exactly: he demonstrates with his left hand the movement produced by the set of arm muscles that he holds with his forceps. Therefore, by association, the group portrait presents Dr. Tulp as the new Vesalius, an accolade of the highest order.
Alison M. Kettering
William R. Kenan, Jr. Professor of Art History
Chair, Department of Art and Art History
---
De humani corporis fabrica libri septem
Vesalius, Andreas (1514-1564). Bruxelles: [s. n.] 1970
Facsimile reprint. Originally published: Basileae: Ex officina Ioannis Oporini, 1543
Special Collections QM16.V5 D3 1970