Oct
5
Toxic Legacies of Labor
Wed, October 5, 2022 • 5:00pm - 6:00pm (1h) • Alumni Guest House meeting room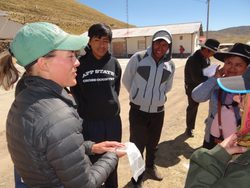 Spanish colonial silver mining in the South American Andes was extremely destructive and exploitative for indigenous communities. To fund the Spanish Empire's geopolitical exploits in Europe, Andeans were forced to toil in American silver mines and refineries. The impact of Spain's American colonial power structure fundamentally reshaped Andean economic, political, and social history during the 16th - 18th centuries. Mining still remains an important driver of the Andean economy. Today it continues to be rife with many of the same issues impacting communities that occurred under Spanish occupation, including land rights, miner safety, and environmental exploitation.
In 2022, Sarah Kennedy began the Proyecto Arqueológico Medio Ambiental (PAMA) to analyze the ongoing environmental impacts of silver mining and refining on archaeological sites and communities in Puno, Perú. The project combines innovative soil, water, and vegetation testing to document levels of heavy metals, such as lead and mercury, still present in the environment. This research extends well beyond the bounds of its methodological innovations to assess best health and safety practices for archaeological projects. Further, it highlights the effects of past and present mining on the environment and descendant indigenous communities. This talk will focus on the recent results of Kennedy's 2022 PAMA project, including important contributions made by indigenous community members and Carleton College students.
Reception to follow.