Apr
26
The Forkosh Family Lecture in Judaic Studies presents Yehonatan Indursky: The Making of "Shtisel"
Tue, April 26, 2022 • 8:00pm - 9:00pm (1h) • Weitz Cinema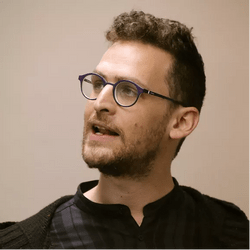 Award-winning writer and director, Yehonatan Indursky is a graduate of the elite ultra-Orthodox Ponevezh Yeshiva, and later a top alum of the Jerusalem Sam Spiegel Film School.
He wrote and created, with Ori Elon, the esteemed drama series Shtisel, which won 17 Israeli Academy of Television awards. The series is currently an international hit on Netflix.
His full-length documentary Ponevezh Time, was nominated for Best Documentary Film at the Israeli Academy Awards. Driver (2018), his first full-length film, won the Israeli Critics Award. Indursky wrote and directed the series Autonomies, which received rave reviews and won Reflet d'Or for "Best International Television Series" at the Geneva International Film Festival.