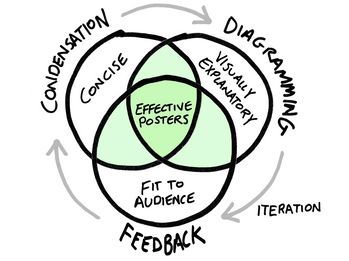 Getting Started
Posters are a visual communications medium (like an image, video or billboard) more than a textual communications medium (like a paper, article, report or book). Poster assignments demonstrate students' ability to show (not tell) their learning to an audience wider than just the instructor. Effective posters communicate important findings and ideas quickly and incite conversation about the work. They attract your attention and draw you in — you WANT to go over and see them.
Postermakers often use the medium of writing/telling on their poster, producing hard-to-read blocks of text that follow a paper-based outline (introduction, abstract, methods, data, results, discussion, conclusion). Low-stakes scaffolding activities and structured feedback can help students create more effective posters.
More info
Low-stakes scaffolding assignments:
Software help (including PowerPoint, Keynote, Prezi, etc.)
Design choices
Graphic design considerations:
Examples of effective vs non-effective posters
Questions?
Please contact Doug Foxgrover for further info.