These are the top 10 skills every faculty member needs to know, along with links to tutorials for each of them. Each item contains links to both written documentation and video tutorials when both exist.
1. Post a document for students to access

Learn how to drag files into Moodle, how to create folders to organize documents or link files from Google Drive
2. Communicate with students via the Announcements forum (formerly News Forum) or Quickmail
Learn to use the Announcements forum to contact your class, or add the Quickmail block to send individual or group emails.
You can also watch a portion of the March 2015 Moodle Essentials presentation on Communicating with Students through Moodle.
3. Show/hide entire course or specific activities
Show your entire course by using the "Show course to students" link in the Administration block.
Any item or section can be hidden from students by clicking "Edit" menu to the right and then selecting "Hide".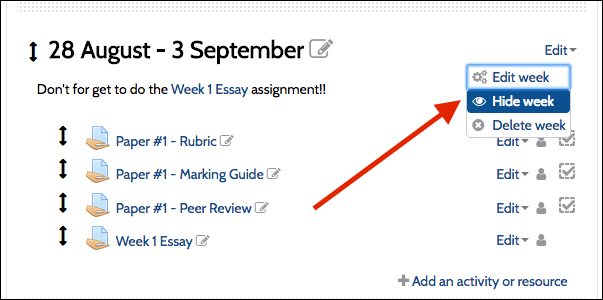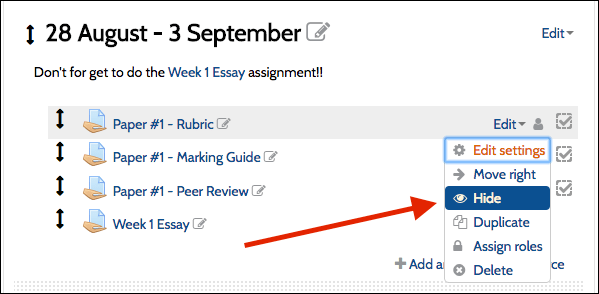 Learn how to show or hide other items in this video from Moodle.
4. Organize Moodle content in a coherent and easy-to-use manner
Check out the different Course Formats available to organize your course page effectively, and learn about how to use Blocks on your course page.
Watch a portion of the March 2015 Moodle Essentials presentation about different ways to format your Moodle page
5. Migrate material from one Moodle site to another
These resources from the Moodle Documentation will walk you through the process:
6. Grant access to auditors, support staff or colleagues to their Moodle page
See our page on Adding Students, Graders, etc in our Moodle Documentation site.
Also, see how off-campus collaborators can access our Moodle server!
If you like video tutorials, watch this Lynda video to learn how to add new users to your Moodle site
7. Create an assignment where students submit their work
Read about creating an Assignment, grading assignments or granting extensions!
This LinkedIn Learning video demonstrates how to create an assignment.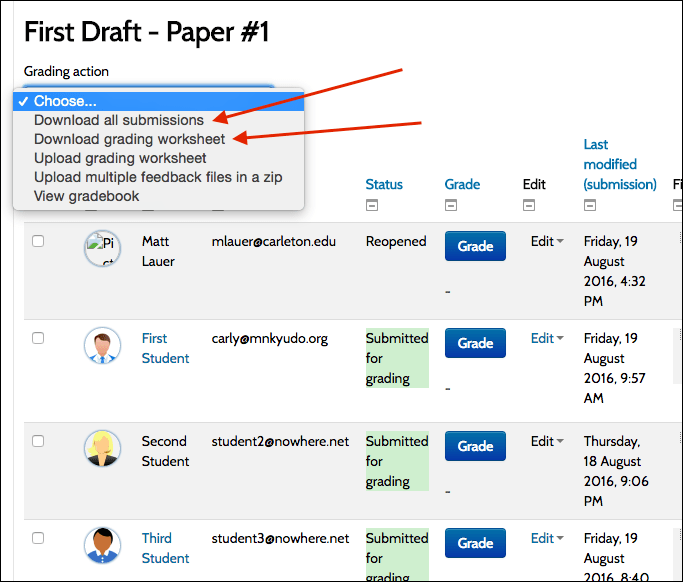 8. Create a discussion forum for students to use
Check out this Moodle Documentation on Creating and using forums! Forums can be used for out-of-class discussions, having students share their work, peer review exercises or individual journal activities.

9. Create an online sign-up that students can use to schedule appointments with the instructor, TA or support staff
Google Appointment Slots are the best way to create a schedule of appointments for students to sign-up on, check out the Google Help documentation on using Appointment Slots, or this LinkedIn Learning video on how they work.
Moodle Scheduler is still available and still the only way to allow students to schedule appointments in groups.
10. Configure the Gradebook to calculate course grades using weighted categories
Check out this helpful video on how to configure your Gradebook with the new "Natural" aggregation method, the only one you'll ever need! Read here for more details about using grading and the Gradebook.