What Is It?
Gather.Town is a web-conferencing software like Zoom, but with the added component of seeing the virtual "room" you and others are occupying, and with the ability to move around and interact with other participants based on your locations in the room, just like real life. Users easily start and end side conversations and chats, or return to a main speaker just as at a real-world conference or other gathering. Rather than being moved to a Zoom breakout room, in Gather.town, you can simply walk your online-self to tables and chairs, sit down, and start a conversation.
Gather.town has some pre-built virtual environments targeted at educators – there is a pre-built classroom setting, a generic campus setting, a dorm, a quad, a lab. There are also virtual representations of the MIT and Carnegie Mellon campuses, specifically, or you can create your own. Within your environment, Gather.town allows you to add virtual components and tools to your virtual space, such as a whiteboard, a podium, or a specific video stream, to more fully mimic a classroom or conference setting.
The graphics in Gather.Town are basic, and run on a wide range of computers with minimal lag. The low-res graphics don't seem to be a significant barrier to using the system.
How Do I use it at Carleton?
At Carleton, you have three options to start using Gather.town.
1. For the occasional event:
You can reserve one of the spaces already designed:
A mid-sized room (named "Weitz235") can hold up to 50 concurrent people, with 8 private spaces that each have 9 "chairs"and a podium to address everyone in the space at once;
A large room (named "Weitz236") can hold up to about 200 concurrent people, with 10 private spaces (which accommodate ~ 20 people each), and a podium to address everyone in the space at once;
Virtual outside space (named "Gus Day") suitable for up to ~200 concurrent people , 6 private spaces, a shared game-area, and podium to address everyone in the space at once.
To reserve one of these spaces, please reach out to Academic Technology.
2. For regular use or a more customized space design:
Academic Technology can help design a space with you. Depending on the complexity, this process can take a couple of weeks to complete.
3. For a space you design yourself:
See instructions for getting started below.
Note: if you need a space for more than 25 concurrent folks, the AT group needs at least 72 hours lead time. While spaces may hold more people, if more than 25 are anticipated to be in a space at any one time, we must work with Gather.Town to apply for a license. Head-count and start/stop dates may be modified up until, but not after, the start of the reservation. Costs vary, measured by the maximum number of people expected in the space at one time.
---
Go to Gather.Town and click Launch Gather.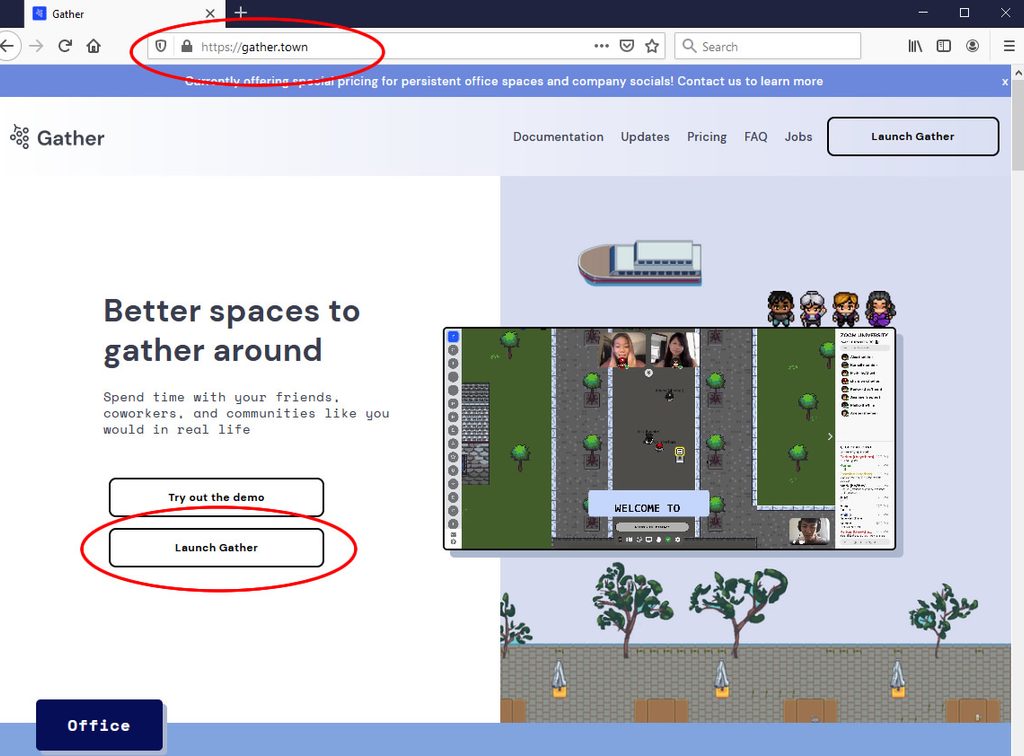 On the following screen, select Sign In.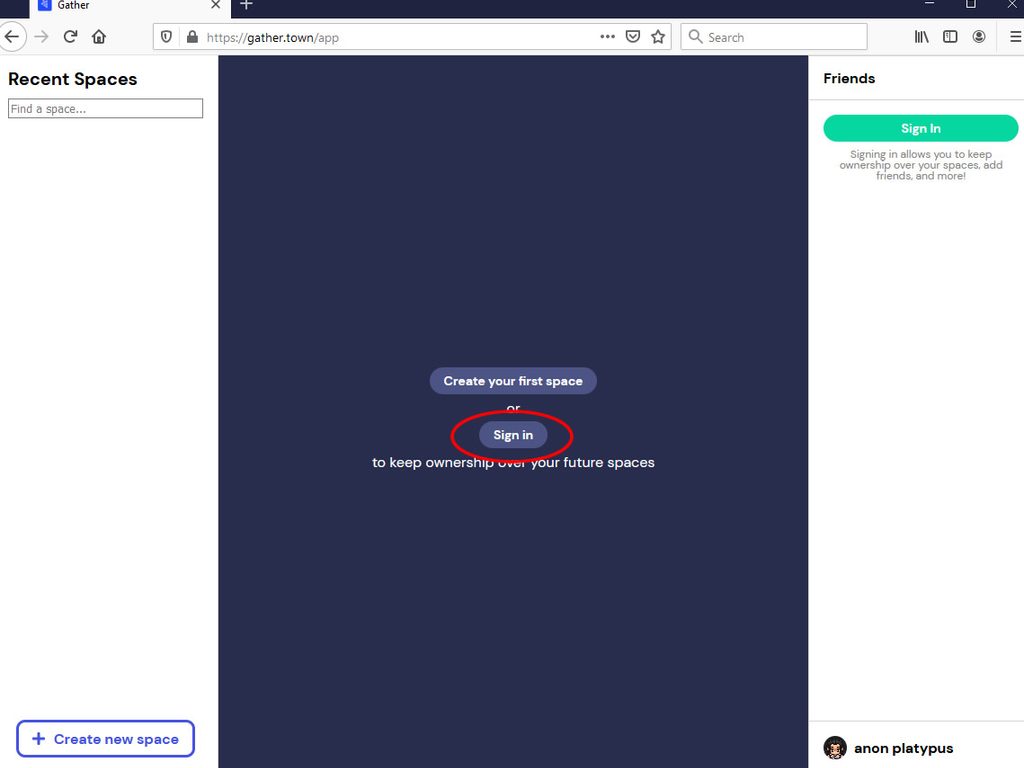 Type in your email address and click Send magic link

.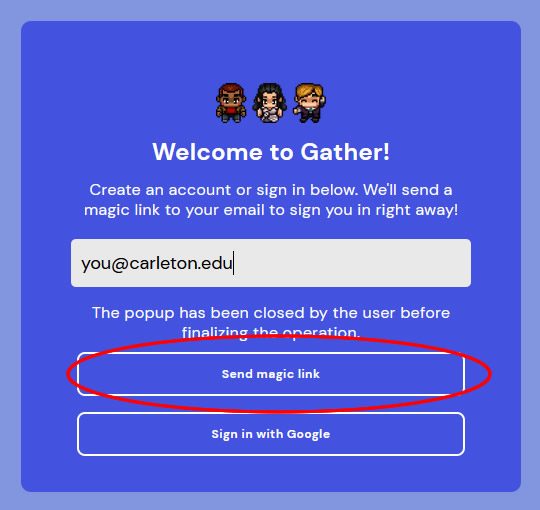 Click the link that arrives in your email account. Retype your email address on this page.

Choose your camera and microphone and click Join the Gathering.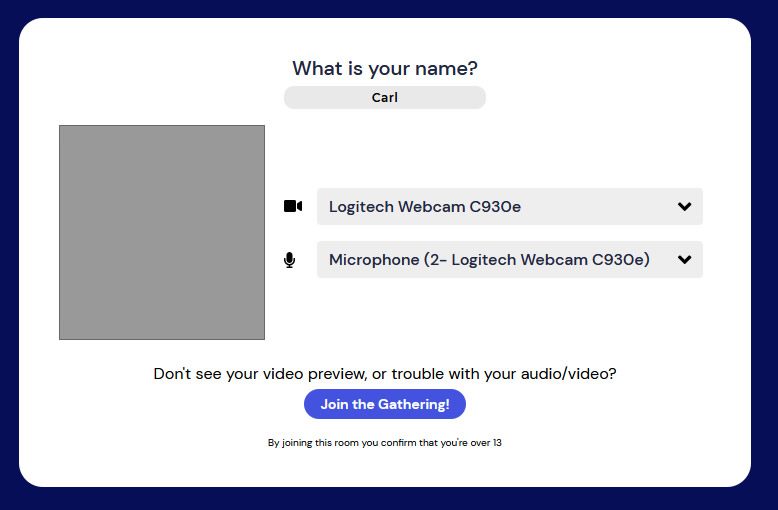 Now you're logged in! Start working in Gather.town by customizing your Avatar. Use the left and right arrows on the screen to select an avatar and a shirt. Enter your name and email address, and then click save changes.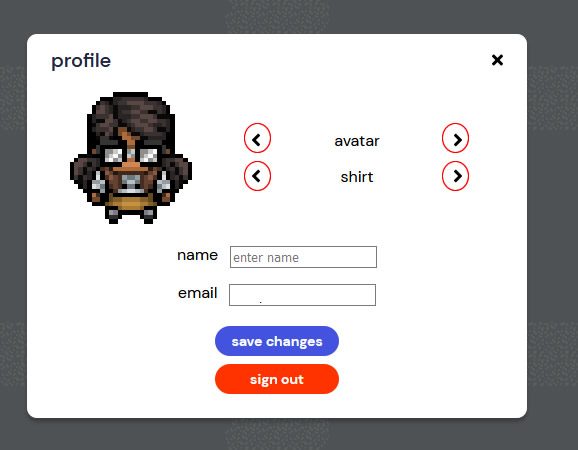 Now you will see the main Gather.town interface. You can see your avatar placed in the room. Move your avatar by using the left/right/up/down arrows on your keyboard. You will also see your camera video in the corner of the screen.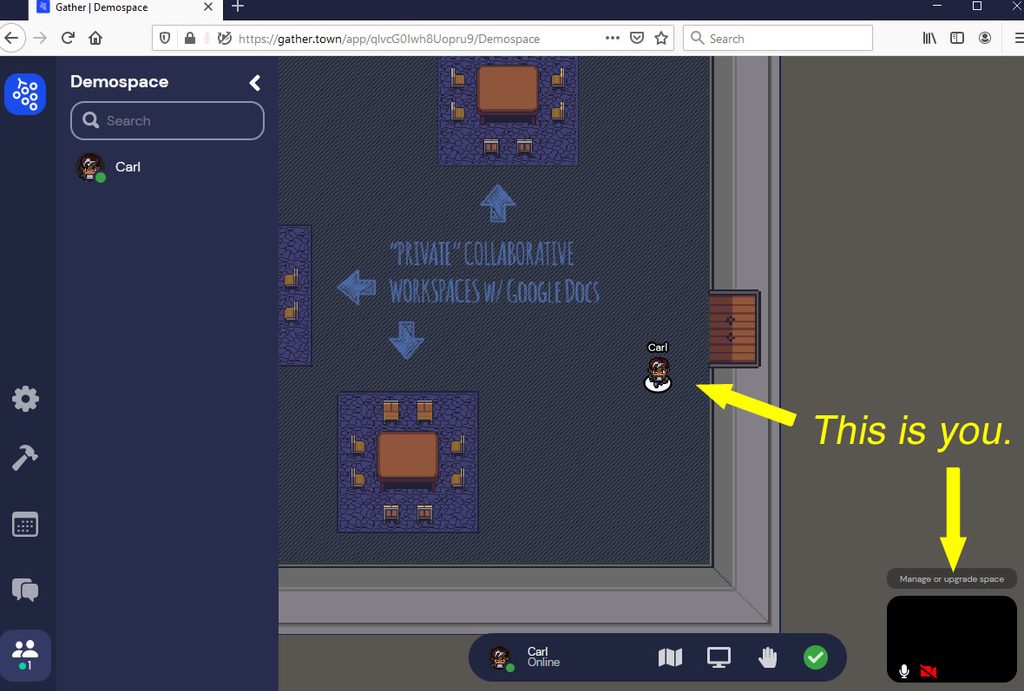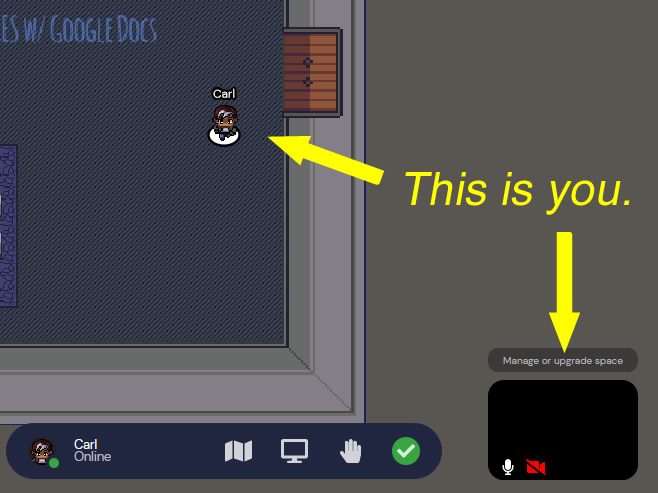 Gather.town allows you to "place" online documents, videos and other material inside the space you have created. To place an object, click the hammer icon, and then More Objects. Choose the productivity tab from the pop-up window. Select the type of document you want to place in the room.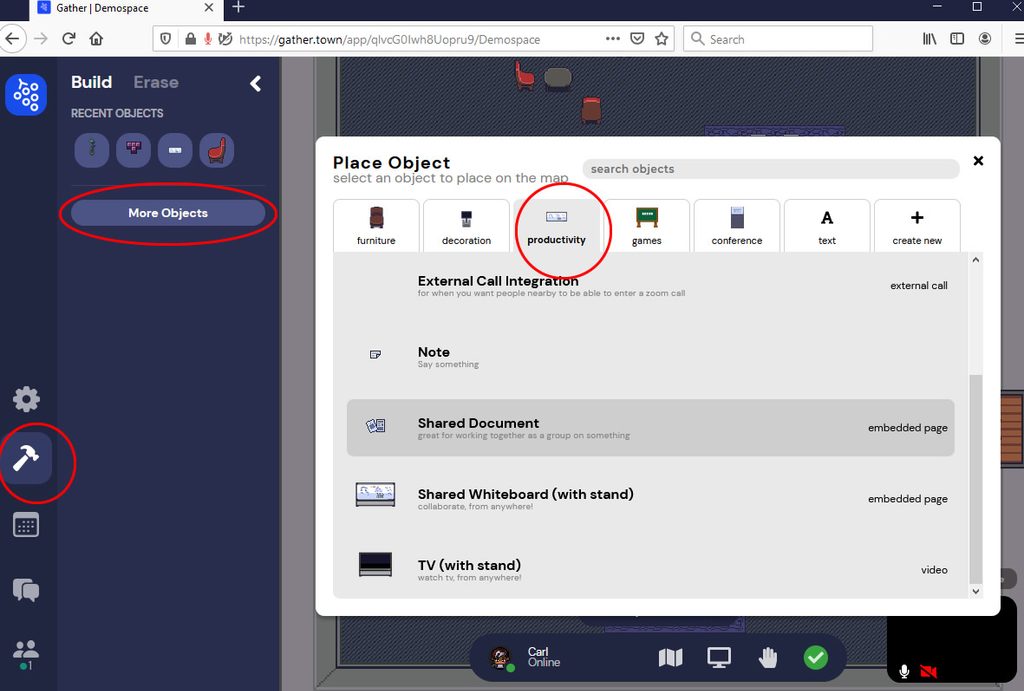 Enter the URL of the item you want to place in the room, and click PLACE OBJECT.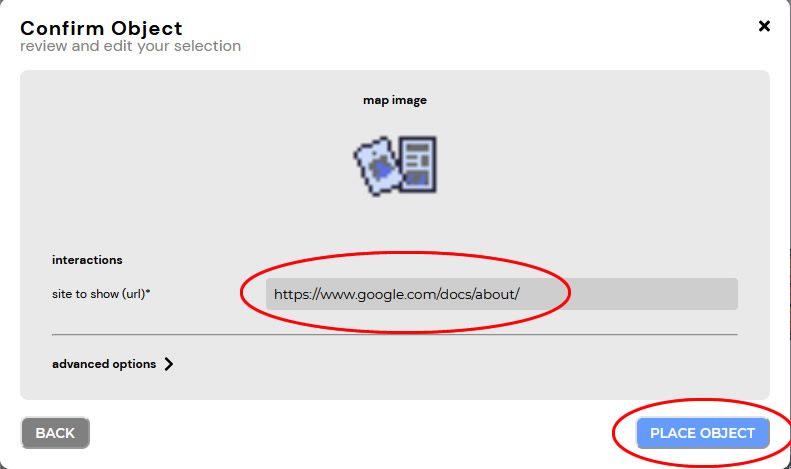 Keep going! There is plenty more to Gathertown beyond what's described here. If you have questions or get stuck figuring out what you need it to do, please submit an ITS help ticket, and a Gather.town expert will help. Also, keep in mind that Gathertown is a very new system, with ongoing functional changes to be expected.