What is it?
Google Apps is a collection of online tools that you and your students can use as a part of your courses. This includes commonly used applications such has Google Docs, Sheets and Slides, as well as Carleton-specific Google Groups, which you can use to supplement your Moodle course and add functionality.
Why is this useful?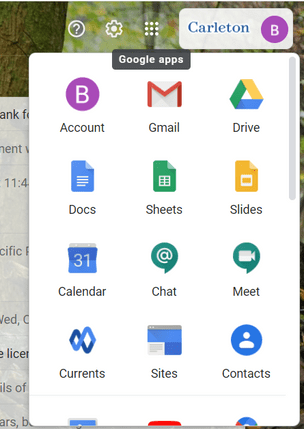 Students may find Google Apps useful because they can be used in place of standard Microsoft applications. If a student does not have access to Microsoft Word, they can use Google Docs. If they don't have access to Microsoft Excel, they could use Google Sheets, and the same for Google Slides in place of Powerpoint. In addition, these tools are increasingly ubiquitous, and it's likely that your students will be expected to understand and be competent with these applications in their future workplaces. It's helpful to give them the opportunity to use them here.
Google Groups are useful for emailing everyone in your class, creating calendar appointments in Google Calendar, or sharing files and folders in Google Drive. This can serve as an extension of your Moodle class site and add functionality and opportunities for interaction that don't exist in Moodle.
How do I use it at Carleton?
Many of these apps are available to you and to your students simply by clicking the nine dot grid in the upper-right hand corner of your Carleton gmail screen. You can create a Google Group for your class and have it automatically populated with all your students. To do that, log into the HUB and follow these directions: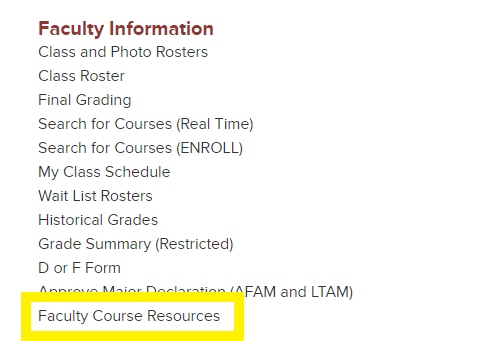 You'll see a screen with a drop-down menu asking you to choose a particular course section. Courses are named according to the year and term, followed by the course number and short name. Choose the section for which you want to request one or more resources.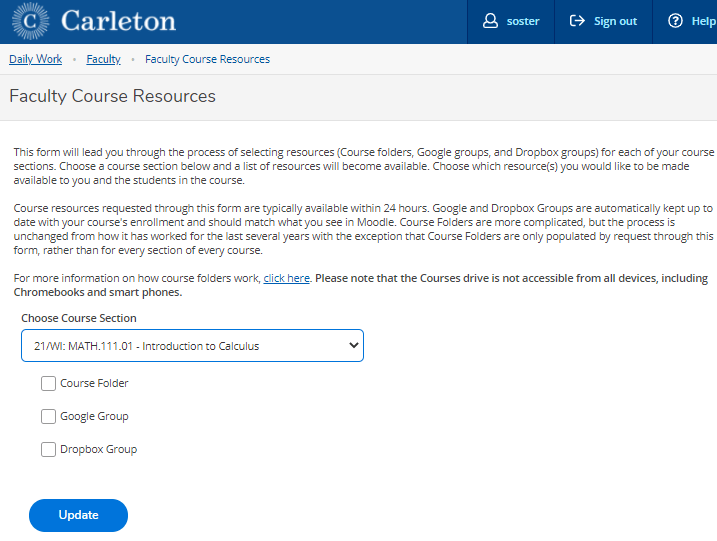 Finally, use the checkboxes below the course section dropdown to select one or more resources for this course section, and click Update.