PEPS Equipment Checkout Center
The ECC at Carleton is a student-staffed equipment checkout center that exists to provide short-term loans of a limited range of audio and visual equipment to patrons from the Carleton community for various incidental purposes ranging from social/club events to small AV projects outside of AV-specific courses (CAMS, Music, media-related independent studies, etc.) "Short-term" is defined as 3 or 7 days, depending on the type of equipment being borrowed, after which it must be returned to the ECC before it can be checked out again.
Equipment from the ECC is not intended to be used for significant academic, administrative, or off-campus work. Availability of equipment is never guaranteed.
Hours
Drop-In hours during terms: Mon-Fri 1:00pm – 5:00pm, Breaks: by-appointment-only
As staffing permits, we can negotiate a scheduled appointment time Mon – Fri, 8:30 am-1:00 pm. If a scheduled morning pickup time is required, please include that in a note in your request and we will work with you to find a time. Pick-up times during all breaks are always by appointment only.

Special Note for Students: All equipment checked out by students will be due back by the last day of classes each term no matter the maximum allowed checkout length for items listed below. The ECC will be closed to students between the last day of a term's classes and the official beginning of the break for that term.


Fill out an online request form and we will create your reservation (if the equipment is available for the requested time). Pick-ups and returns must occur Monday-Friday. You will receive an email confirmation of the reservation with your date of pick-up. Pick-up times, if any, in the email confirmation are not binding. Please visit during drop-in hours on your reservation day or indicate that you would like to negotiate a non-drop-in time for pickup in your request and you will be contacted. Walk-up reservations are welcome during drop-in hours, subject to equipment availability. If you have any questions or concerns please email peps@carleton.edu or call (5575 or 5002).
To reserve equipment, please submit a request.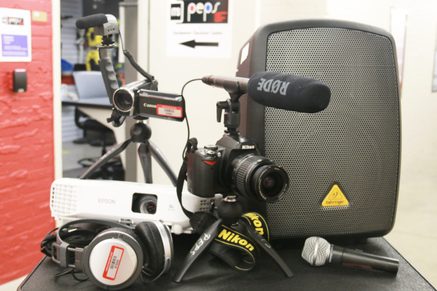 PEPS has video camcorders, digital cameras, digital audio recorders, projectors, and other audio/visual equipment available for short-term use by the Carleton community. Reservations for equipment can be booked up to 90 days in advance, and are made on a first-come, first-served basis.
Reservations for faculty, staff and students can be made at the PEPS office during drop-in hours, by phone at extension 5575, or requested via our online request form.
Equipment checkout durations vary by equipment type.
Equipment renewals are not available – please return your checkout completely by its due date. If the items are still available, you may be able check them out again at that point. We also ask that you pick up your item no later than one hour after the time for which checkout has been scheduled.
Please read our checkout policies prior to borrowing equipment.
Loaner Equipment
Checkout lengths for student-available equipment are indicated in parentheses next to the item.
PLEASE NOTE: 3-day items checked out on Wednesday or Thursday must be returned before the weekend.
IMPORTANT: ONLY ONE PA SYSTEM, PROJECTOR, AND SCREEN PER CHECKOUT/EVENT.
DSLRs are also limited to one.
MP4 Camera Kits (7 days)
Digital Audio Recorders (7 days)
DSLR Digital Cameras (7 days)
Extension cords and other cables (appropriate to equipment checkout duration)
Headphones (7 days)
LCD Projectors (3 days)
Microphone Stands (3 days)
Microphones (3 days)
Portable Speakers (3 days)
Presentation Clickers/Laser Pointers (7 days)
Projection Screens (3 days)
Projector Stands (3 days)
Tripods (7 days)
Web Cameras (7 days)
Document Cameras (7 days)
DVD Players/VCRs Document Cameras (7 days)