I'm not (snow) blind to the ways that technology has contributed to our environmental problems. I can't take responsibility for the industrial revolution, but I have had significant guilt about the energy consumed in our Data Center. Not to mention the 6.5 million pages (~800 trees) that Carleton consumed through printing & copying last year and the several thousand pounds of equipment that goes to recycling each year. That may be the bunny slope compared to the impact of Google or Amazon, but it's still a significant digital footprint.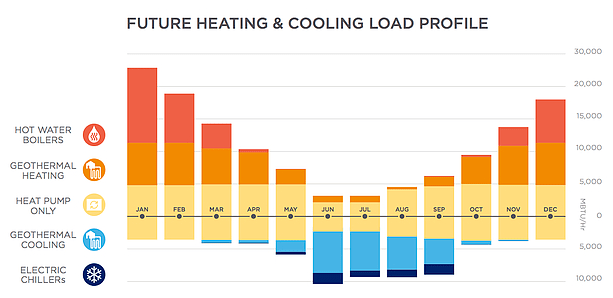 Carleton's East Energy Station, which launched in the Fall 2019 as part of the Utilities Master Plan, has mitigated some of that negative impact by transferring the heat produced by running the server room to other parts of campus. This diagram, found on go.carleton.edu/geothermal, shows the expected benefit of Carleton's heat pump and geothermal heating system.
The heat pump will recover heat by taking excess heat from areas that are being cooled (the Data Center, for example) and pumping that excess heat to other parts of campus where it is needed. The geothermal wells will circulate water underground to provide additional heating or cooling as needed across campus..
The building automation system that manages the heating and cooling environment includes a visual display of the activity of all the components, as shown below by Gretchen Hofmeister during the Anderson Open House on October 26th, 2019. I asked Martha Larson, Manager of Sustainability, to explain this image.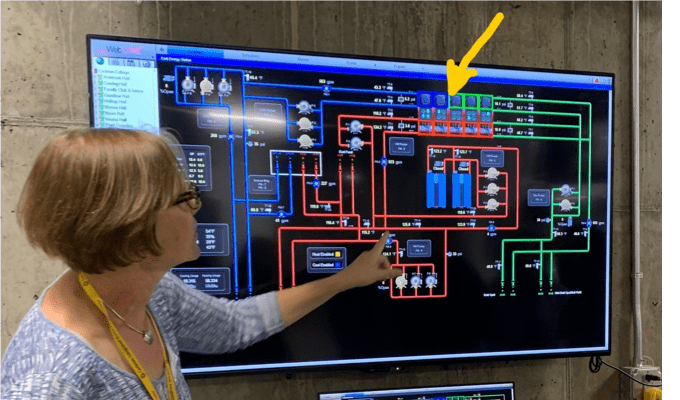 "The big blue boxes above Gretchen's finger represent the boilers which are only needed when it gets very cold outside. Above them (near the yellow arrow) are the five modules of the heat pump. Since the bottom is outlined in red, we can see that we are in heating dominant mode. But throughout the year, Carleton has simultaneous heating needs and cooling needs. In winter, we still air condition rooms with lots of equipment, like the data center. In summer, we heat hot water for showers and pools. So we always have places that have too much heat and other places that need it. The two modules outlined in blue are doing simultaneous cooling and heating, which means they are recovering waste heat from the cooling system and sending it directly to other parts of campus. The other three modules outlined in green are drawing heat from the geothermal system."
Martha also mentioned that the CMC, where the College Data Center and several Computer Science labs are located, consistently has the highest energy consumption per square foot ahead of the science buildings, Weitz Center and LDC.
It is reassuring to know that the heat produced by running the college's technology infrastructure is no longer being vented to the outside and is now part of a sophisticated sustainability program.