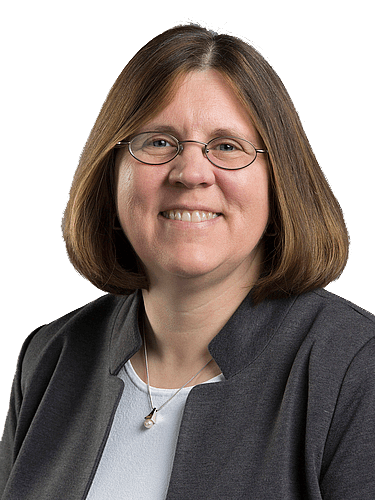 When I arrived at Carleton 6 years ago, the admissions, music and science departments were in different buildings than they are now, and my now-17-year-old son was a foot shorter! He won't be another foot taller in 2025, but the Carleton campus–and the technologies available to us–will continue to evolve. At every step along the way, ITS will work to be transparent about what's possible and what's changed. In that spirit, we will use this issue to brief you on some changes that happened over the summer.
Anderson Hall
One of the most visible campus projects this summer was the completion of Evelyn M. Anderson Hall. ITS was one of many departments on campus closely involved with that project. Our responsibility was ensuring that the 800 pages of schematics came to life correctly in terms of classroom technology, computers and networking. To do that, 5 ITS staff members spent significant time doing weekly walk-throughs, reviewing change orders and partnering with two vendors (All Systems and EPA Audio Visual) on design and implementation. The result was the installation of over 400 network ports and 60 wireless access points and the configuration of audio-visual equipment, custom-made lecterns, printers and computers in 17 labs and classrooms. (At the same time, they made networking and classroom updates in other locations on campus.) The net result is a building that we are all hoping will last 50 years or more and will be home to many wonderful learning opportunities with a technology infrastructure to support our students and faculty and evolve over the years to come.
Web Directory and Lynda.com
Recent emails described 2 other significant changes this summer, namely the release of a new campus directory, now written in WordPress, with some additional privacy protections for our community members, and the acquisition of our training resource, Lynda.com, by LinkedIn resulting in the move to a new environment now called LinkedIn Learning. Click the hyperlinks to see the email text if you missed it.
ITS Annual Report
Another activity for ITS this summer was reflecting on accomplishments of the past year. Our 2018-19 Annual Report provides a summary of activities by ITS sub-group, key statistics and stories about campus partnership. We find it valuable to reflect on the past year and to offer a view into the workings of technology at Carleton in a deeper way.
It's always exciting to turn the page to the next academic year and its fresh opportunities. I wish you well as we begin 2019-2020.
Welcome back!
P.S. HERE ARE SOME OF THE PROJECTS UNDERWAY IN 2019-20:
Implement a modern Helpdesk software system in conjunction with St. Olaf (due to roll out in early Winter Term)
Recruit a new Director of Academic Technology
Work with the Library and Public Works grant teams to explore next steps with digital literacy
Move functionality in The Hub to the vendor's new software environment
Revise and consolidate the college's acceptable use policy
Continue the move from Reason to WordPress, focusing on administrative departments