Thank you to so many of you who took the time last spring to respond to the Measuring Information Services Outcomes (MISO) survey. From your participation, we have a wealth of data about faculty, staff and student satisfaction with IT and Library services and the ability to compare our results with about 50 other liberal arts colleges across the country, as well as to evaluate how our community's opinions of our services have changed in the last two years.
Two years ago, the MISO data revealed three essential services that were in our top 10 most important services but also in the bottom 10 in terms of satisfaction: Moodle, WiFi, and The Hub. Since then, we have modified The Hub to eliminate unnecessary clicks and have made modest improvements to the site's aesthetics. We have expanded the WiFi system capacity by more than 33% by adding around 70 new APs, and replacing over 300 existing APs with faster, more capable, models. We have also upgraded the system controllers and enhanced our diagnostic and monitoring systems for better troubleshooting and planning. In addition, we streamlined the Moodle transition from year to year by moving to a model of the 5 most recent years of Moodle courses stored in one place. More information about ITS efforts and accomplishments is available in our (first) annual report.
The following chart shows the correlation of importance and satisfaction with technology services based on the 2016 responses. The values represent the mean of the rankings of each population based on a 4 point scale. If a cell is blank, it indicates the constituency wasn't asked that particular question.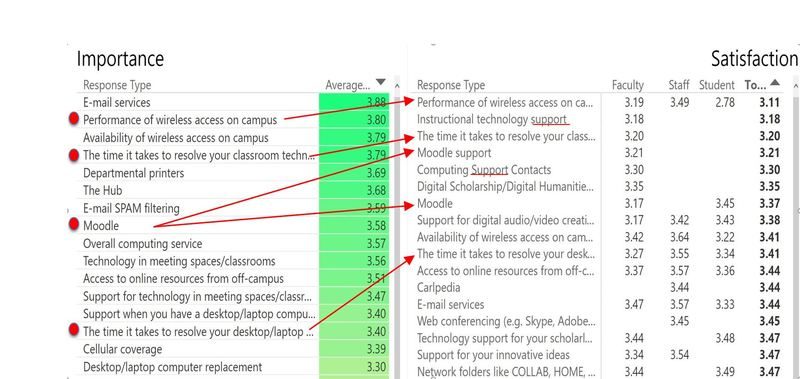 My team and I have two primary responses to this data and the other analysis we have done; first, that there are some specific improvements we can make to technology support and communication and second, that there are a few areas where we need more information in order to determine an action plan.
We plan to gather more information in three areas: WiFi, Moodle and peer comparisons. We are analyzing student responses to questions about WiFi looking for location or device-type patterns and have loaded campus floor plans into a software tool that helps us investigate signal strength at a given moment and location. We will be working to get more faculty insight about Moodle inefficiency and potential feature gaps. And finally, I have identified 4 peer schools whose communities resemble ours and where the responses are either much better or very similar to ours. The four CIOs have agreed to join me in comparing notes about our approaches to try to illuminate underlying patterns and potential actions.
From any view or data slice, I come away with the same primary message from this year's MISO survey. Namely, there is a clear need for more support and quicker responses. To address this, we are creating a ticket dashboard to ensure we meet our targets for initial response, updates and resolution. We will also continue to work to align community expectations with available staffing in sustainable ways. And we need to make sure that community members know how to get timely support for items that are 1) "break/fix", i.e. working yesterday and broken today, 2) a request to make use of an existing service and 3) a desire to explore new ideas or new technologies. We have created a "cheat sheet" to summarize these types of support for faculty and staff.
There are a lot of positives in the MISO data as well. Satisfaction with The Hub has gone way up. Satisfaction with ITS staff has gone up. And satisfaction with "overall computing service" and "input into computing decisions that affect you" have gone up. These results are very gratifying and positive reinforcement for the hard work of ITS staff members.