New capabilities with Breakout Rooms
Zoom released its latest version, 5.3, which enables hosts to create breakout rooms that all participants can choose and move between. This addition will make it easier to manage more informal gatherings, student discussions, and other online gatherings The most recent update of the Zoom application gives hosts the new choice to allow participants to choose a breakout room and move between breakout rooms. To use this functionality everyone (host and participants) need to have the latest Zoom application installed. In your application, click on your profile picture (top right corner) and find the Check for Updates option. (On Windows machines, please pay special attention to the options that appear when you install this update.)
Note: The new breakout room option only works on computers, not on mobile devices (yet).
New Security requirements
For added security, after September 27, all meetings will have a Passcode, and the user can choose to enable the Waiting Room. This additional layer of security will provide the host with even greater control over who can join a particular Zoom meeting, which can be particularly important at the opening of a meeting. Remember that you have additional controls right inside your meeting, if you want to make adjustments. One of these controls allows only Carleton Zoom accounts to participate in a meeting, which gives even greater control over who can join and makes it easier to review the attendance report.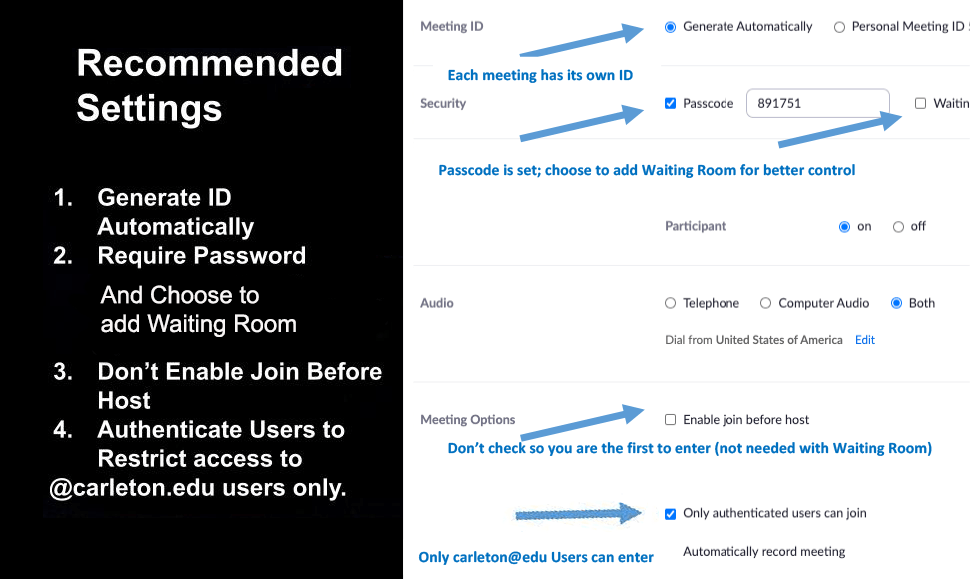 Tip for Calendar Integration
When Scheduling a meeting using Google Calendar, consider using the Zoom for GSuite plug-in, as this will make calendar creation of video conferencing more seamless. (View a short video on adding Zoom for GSuite).
Note: If using a browser extension (not recommended), only Passcode and Waiting Room Settings will be carried over. This change was enabled on 20 Sept 2020 .
Need Support or Have More Questions?
The PEPS Instant Video Support is a great way to get help with Zoom and other video applications. Connect with PEPS via Zoom at the PEPS Home Page.