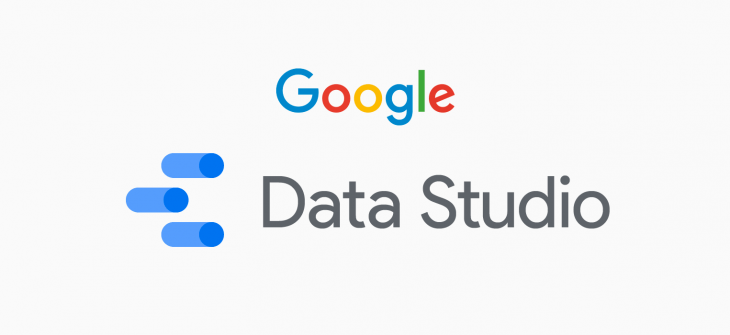 1. What is Google Data Studio?
Understanding, analyzing, and visualizing data is on the surge more than ever. We have many powerful tools to handle those tasks with in-depth capabilities to extract and manipulate data at its roots (Microsoft Power BI, Tableau, R, …) However, not everyone is an expert in coding and have the programming knowledge to visualize data. Furthermore, it's difficult for different users to communicate their data analysis process and insights if they operate on different platforms. Google Data Studio offers a more user-friendly, server-based, efficient, and easier approach to take care of data visualization. Google Data Studio is a dashboard and reporting tool that is easy to use, customize, and share. It isn't equipped with advanced features and deep modification like other BI tools, but I believe it has enough to satisfy a wide range of audiences and some more interesting aspects that are worth exploring. I'd like to refer this tool to my favorite analogy: It's like Google Doc versus Microsoft Word.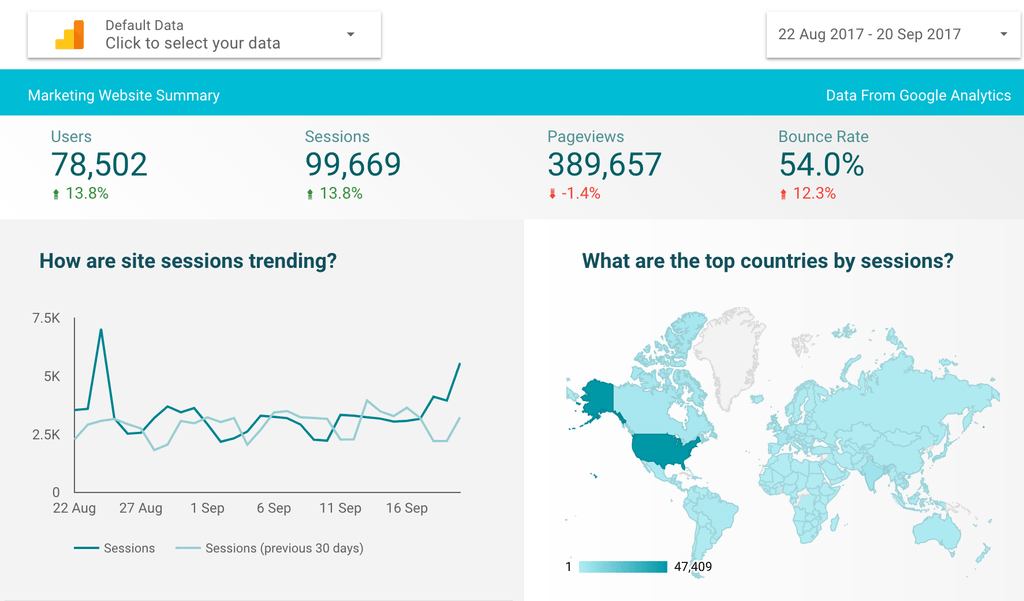 2. What does it offer?
a) Live data connection
An amazing strength using a Google product would be taking advantage of its well-established and well-supported ecosystem. This feature is emphasized by Data Studio when we need to connect to a database. Data Studio has built-in connections to several data sources (listed below) to get rid of the need to update or refresh your data sources. If you have already been using one of Google's rich environment to store your data, connecting it to your Data Studio report can be done in a blink of an eye. You can combine multiple datasets, access to your collaborators' database without compromising the confidentiality agreement of the database (access to the database is only available if granted, like Google Doc). Therefore, if you are acquainted with the Google infrastructure, Google Data Studio is a perfect choice.
List of Data Connectors:
DoubleClick

Google AdWords

Google Analytics and Google Analytics 360

Google Attribution 360

Google BigQuery

Google Cloud SQL

Google Sheets

MySQL

PostgreSQL

YouTube Channel

Data Uploader
b) Interactive dynamic control
This interesting feature aligns with many other powerful BI tools on the market. Whenever there is a change in a data source, your customized visualization will transform correspondingly. When you filter unwanted entries, your dashboard learns and changes in a tick. When you add or delete dimensions, your visualization automatically modifies itself to what you wish. Like Google Doc, every change will be recorded and executed before you even realize it. QUICK and INTERACTIVE isn't it?
c) Sharing and collaboration at its best
One of the best features of Data Studio is how easy it is to share and collaborate your reports with others. Inherited many cool features from its cousin Google Doc, users can create notes to draw the attention of users or create comments to clarify or elaborate any part of the figures. Access control is adequate and similar to Google Doc to be visible to certain scopes of users. Version control is also embedded to avoid any data or modification loss. Everything is executed safely and in a blink of an eye.
d) Intuitive and easy-to-use user interface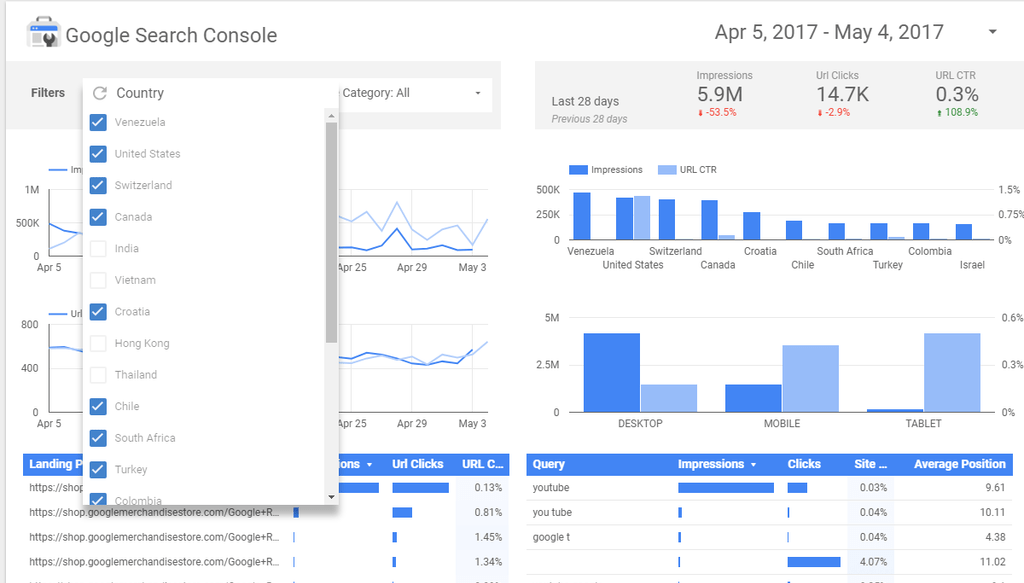 My fresh impression is that the interface looks really clean and intuitive. I was quite at ease navigating myself with all its tools. There are enough options available here to experiment with colors, fonts, size, labels, and borders. Also, all the charts and graphs created looks neat. The metrics of charts can be dragged and fitted as per your requirements. You can even add the logo of your company in the reports which are being created, and the color palette can also adapt to your logo.
3. What does it lack?
a) Limited data connection
Google Data Studio obviously is a Google child, so it best supports other children of Google. This feature also poses as a limitation since the available data sources to connect is limited and mostly Google made. MySQL has added not quite a long time ago but there are a lot of different database platforms that this tool misses.
b) Limited visualization
Like all other dashboards and reporting tools, Data Studio provides the basic visualizations users can use to visualize their data. These visualizations include a bar, line, table, and pie charts, which can be sufficient enough for users to visualize their analysis. But as the market and technology grow, data analysts demand more. As we collect more data, the need to visualize it becomes more sophisticated and requires more background engineering. One notable feature this tool lacks would be the tooltip, which displays relevant information at a certain data point in the visualization.
c) Require internet connection
One major drawback of Google Data Studio is that it would only allow users to view the reports online. The URL is the only gateway to the report as it couldn't export as PDF. Like Google Doc, if your internet goes down, you will have a hard time using Google Data Studio.
4. Potential application
Google Data Studio strikes me an impression of a synchronous collaborative data analytics tool targeting both technical and non-technical users. This platform is great if you aren't an experienced programmer or you want a quick and interactive report for your coworkers on your database. Data Studio has a lot of potential use in education too especially for non-technical majors to utilize its user-friendliness. If you want more grassroots software, there are many in the field. If you operate heavily within the Google infrastructure and want an intuitive and user-friendly tool, Data Studio is an amazing choice for you.
Data visualization is closer than ever!
5. References
Google Data Studio Support. https://support.google.com/datastudio/answer/6390659?ref_topic=7450642&utm_source=product&utm_medium=cta&utm_campaign=wwr&utm_content=next_steps
Google Data Studio: What is it, What's working and What's missing. https://www.seerinteractive.com/blog/google-data-studio-whats-working-whats-missing/
Straight Talk Review: Pros and Cons of Google Data Studio. https://www.yurbi.com/blog/straight-talk-review-the-pros-and-cons-of-google-data-studio/