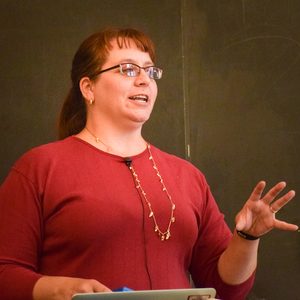 Carly Born (with Chico Zimmerman and Clara Hardy) recently participated in LACOL's 2019 Language Jam hosted at Bryn Mawr College. 26 faculty and technologists from across the consortium attended.
The weekend centered on the CHIANTI project: a repository-like site for assignments and materials for instructors to share and use in their own classes, and a resource for students to complete tutorials on specific content areas in which they need extra help. Additionally, Carly shared an update on the development of the Language Dashboard Report, which is a Moodle report plugin intended to give faculty granular information on student performance on language placement tests, and Language Lesson.
For more information on the projects demonstrated or on the Language Jam overall, please feel free to contact Carly (cborn@carleton.edu)!