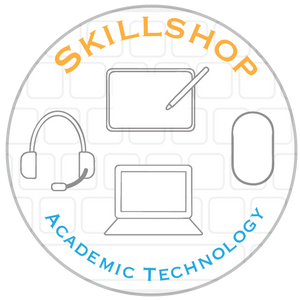 Academic Technology Skillshops are an additional resources for Carleton faculty to learn about software solutions, features, and practices through 30-minute videos based on live sessions. These Skillshops offer choices in using instructional technologies for different teaching and learning tasks and strategies.  
If you are new or returning to Carleton, please lean on us to explore how to think through the use of instructional technologies for your courses; if you have experience with some of these tools, please consider leveling up with skills and ideas offered in the Skillshops. (See the Panopto recordings below.)
In addition to the synchronous online conversations around instructional technology, we offer a Moodle course, Resilient Teaching with Technology. It contains deeper readings, activities to connect with colleagues, and asynchronous tutorials, both for your convenience and as a model to share with your learners. (This +1 method of teaching is based in Thomas J. Tobin's and Kirsten T. Behling's Reach Everyone, Teach Everyone: Universal Design for Learning in Higher Education (2018), a guide to create more inclusive and equitable learning opportunities.)
---
Click below for the tool or goal of your choice.
---
Tool-based Skillshops
Moodle Skillshop videos
Level up with Moodle Quizzing (2023)
Leveling up in Moodle (2021)
New Moodle Options (2021)
Moodle 099 — Moodle for absolute beginners. (2020)
Moodle 185 — Communication tools in Moodle (2020)
Fora, announcements, embedded Zoom, and more useful bits to help you stay in touch with your students.
Moodle 110 — Let Moodle do more of the work for you! (2020)
Moodle 210 — Online collaboration (2020)
Moodle 325 — Time management tricks (2020)
Moodle 360 — Formative and summative assessments (2020)
Poll Everywhere Skillshop videos
Poll Everywhere: Navigation and Activity Creation (2023)
Poll Everywhere: Activate, Present, and Report (2023)
Panopto Skillshop videos
Leveling up in Panopto (2021)
Effective use of Panopto (2020)
Zoom Skillshop videos
Leveling up in Zoom (2021)
Connecting safely with students in Zoom (2020)
Collaborating in Zoom with Breakout Rooms (2020)
Zoom, Meet and other collaboration tools (2020)
Hypothes.is Skillshop videos
Engaging Students with Hypothes.is (2023)
Hypothes.is at Carleton (2021)
Introducing Hypothes.is (2020)
Gradescope Skillshop videos
New Features in Gradescope (2023)
Gradescope and how to use it at Carleton (2021)
Introducing Gradescope (2020)
iPad Skillshop videos
iPad and Explain Everything (2020)
iPads for Annotation and Grading (2020)
LinkedIn Learning for courses (2020)
Goal-based Skillshops
Quick Tour through your Google Storage (2023)
Technology for asynchronous and synchronous meetings (2021)
Managing your class materials with their life cycle in mind (2021)
Effective Postermaking
Effective Postermaking (2023)
Designing an effective research poster (2021)
Linkedin Learning for courses (2020)
Using blogs for student projects (2020)
Great student presentations (2020)