Equity Funds
Writing for the Carleton College Voice in September, president Steve Poskanzer implored "each of us who loves Carleton" to "take concrete steps to correct the injustice and racism that surrounds (and too often lives within) so many of us." Only then, he wrote, "can our entire community be true to its best, most aspirational self."
Last fall, Carleton's alumni volunteer leadership boards came together for a joint meeting to discuss ways to answer this challenge. One initiative that drew wide support: the Alumni Annual Fund Board's idea to create a designation within the Alumni Annual Fund for Inclusion, Diversity, and Equity (IDE).
Gifts that alumni, parents, and friends make to this designation will support programs and positions created to ensure that all Carls enjoy equal standing, support, and understanding. To date, these efforts include anti-racism training for faculty and staff members, anti-bias training for Security Services personnel, the creation of a fifth-year associate position in the Africana studies department, and the hiring of an external consultant to help the college establish a long-term IDE strategy.
The Alumni Annual Fund also remains committed to partnerships with the Multicultural Alumni Network (MCAN) as it continues to work to support Black, Indigenous, and students of color through the MCAN Fellows program, which provides funding for unpaid or underpaid internships and externships.
Learn more about the latest IDE initiatives.
---
Virtual Reunion: The Sequel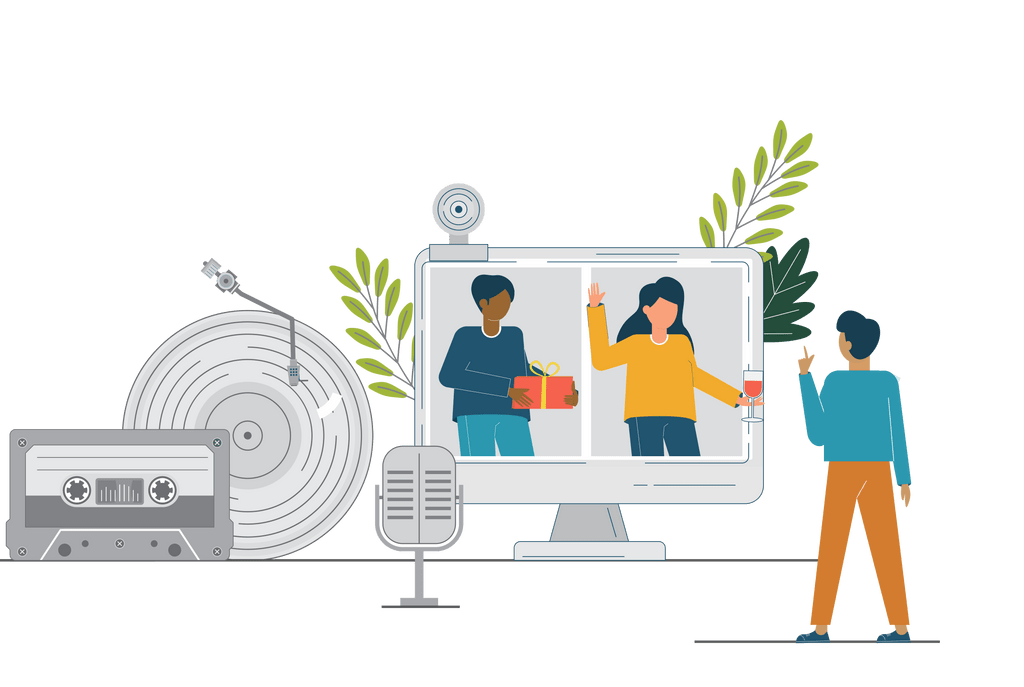 Over the past year, as Carleton students have become both accustomed to and adept at learning and socializing online, faculty and staff members at the college have also sharpened their digital chops. The goal being that — while it's almost always preferable to interact in person — when the moment dictates keeping a distance, the collective experience is equal parts edifying and enjoyable. These newfound skills will come in handy this spring, when Reunion 20+21 kicks off on a computer, laptop, or smartphone near you.
Ongoing health and safety issues attributable to the pandemic led the Alumni Relations office to conclude that, despite hopes to the contrary, having Carls gather on campus for a long weekend was still not feasible. As a result, staff planners, volunteers, and individual class committees ('0s, '5s, '1s, and '6s) began imagining ways to expand the event in ways that wouldn't be possible otherwise. Most significantly, that's meant expanding the yearly event from a few days to six weeks (May 15 to June 20).
So while there will be no actual fireworks this year, every effort is being made to ensure that alums are feted in style. There will be virtual class gatherings, memorial services, awards recognition, campus tours, lectures, short films, podcast-style readings, and more. And while some events may be open only to members of a certain class, all alumni are welcome to register and attend.
For more info, visit Carleton's Reunion website.
---
Campaign Update
Thanks to the generosity shown by Carls everywhere, the Every Carl for Carleton campaign, which kicked off in October 2016, met its initial fundraising goal of $400 million last August. Our work continues, however. Here's where things stand in two essential categories as the fiscal year comes to a close.
$150M for Financial Aid
Financial aid is a crucial step in opening Carleton's doors to a wider, more diverse student population — and is one of the Four Pillars for Success that define the Every Carl for Carleton campaign. Raising $150 million for the financial aid endowment would provide more than $7.5 million in new financial aid resources every year, ensuring that the college stays true to its core value of educating the best students, regardless of socioeconomic circumstances.
$10M for the Annual Fund
Achieving our campaign goal of raising $10 million for the annual fund in the 2020–21 fiscal year will help ensure that financial resources are available immediately as evolving needs arise.
As Carleton continues to navigate repercussions of the COVID-19 pandemic, unrestricted gifts to the annual fund are vital to the college's support networks. Providing robust financial aid to students, maintaining COVID-19 safety protocols, and developing the Community Plan for Inclusion, Diversity, and Equity have been priority investments for the college this year in particular — all of which have been made possible by gifts from alumni, parents, and friends.