Pamela Kiecker Royall '80 says financial aid is the key to ensuring that traditionally underserved students find success at Carleton.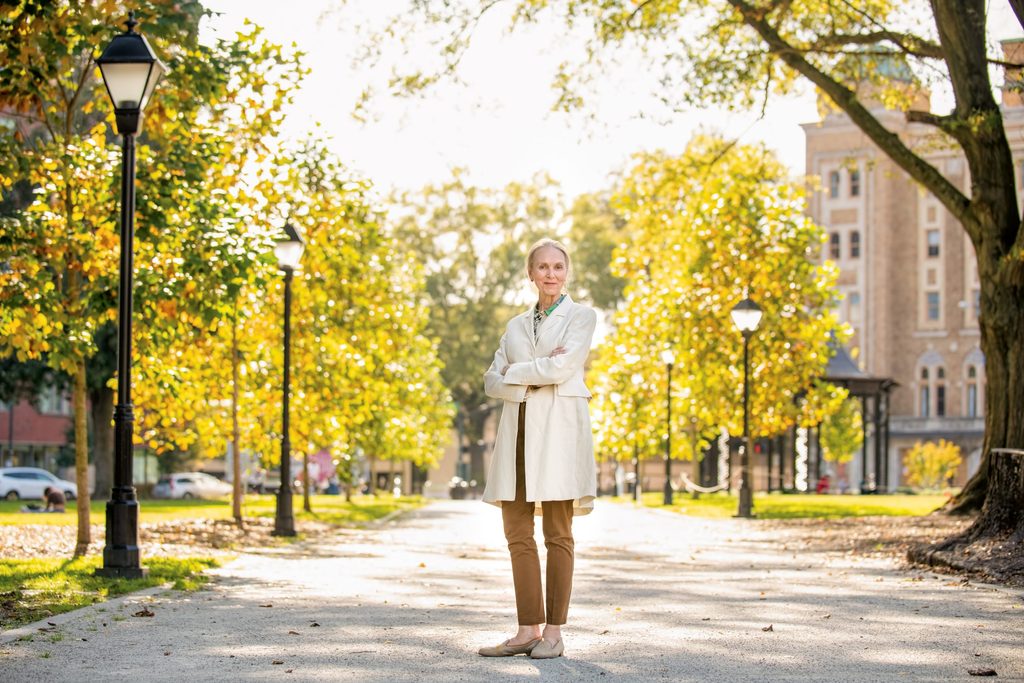 As a Mankato, Minnesota, high school student, Pamela Kiecker Royall '80 applied to just one college. "Carleton was the best liberal arts college in Minnesota," she says. "I thought if I could get in, I wouldn't even bother applying anywhere else." She got in. The tricky part was paying for it.
Royall had been saving money since she was nine years old, when she started babysitting. "I always had jobs, and I loved being busy and productive," she says. "So, I was thrilled when my financial aid package at Carleton included work study." She served food in the cafeteria and also worked overnight at the campus switchboard. "There was a little daybed in the switchboard area, and I slept until the phone rang, and then I'd get up and make the connection and then go back to sleep."
Despite the opportunity and all of Royall's hard work, however, money was still a stretch — until she saw a flyer on campus: a Long Island family was looking for a nanny from the Midwest who was interested in taking a year off from school to earn money for college. "And that's exactly what I did," Royall says. When she returned for her sophomore year, she worked as a dorm guard, helped history professor Bob Bonner run summer programs, and lived in what was then the Alumni House, hosting visiting alumni.
After Carleton, Royall earned an MBA from Mankato State University and a PhD from the University of Colorado at Boulder, and taught at two universities before becoming head of research at EAB, a firm that specializes in higher education topics. Under her guidance, EAB turned its focus on financial aid. She married the company's founder, William Royall Jr., who died in December 2020, and now carries on their shared commitment to philanthropy, the arts, and service.
Royall is a Campaign Core Committee member for the Every Carl for Carleton campaign and is a member of the Carleton Board of Trustees.
An entrepreneurial person like you might advise students to just work harder to pay for college. But instead, you're aiming to demystify and expand financial aid for more students. Why?
Well, tuition at Carleton my freshman year cost less than $5,000. Today it's $75,000 [including room and board]. That is a huge concern. I'm talking to more and more colleges that are considering a tuition "reset." But unless everybody does it, you're going to get hit on perceptions of quality.
It seems like quality and value are under scrutiny, especially this year, as so many schools moved online or diminished the campus experience.
It took something like a global pandemic to stimulate a universal conversation about the kinds of resets that need to occur, not just financially. There's a heightened sensitivity to college costs, and anxiety about affordability. It is difficult for many people to believe that a school like Carleton could in any way, shape, or form be affordable to them, so they eliminate it from consideration. They think about community college, or a public university, or they think that college is out of reach, period.
Making college accessible to students of diverse backgrounds seems to be central to your company's mission.
Yes, our firm is trying to make sure that the messaging around financial aid is better understood, particularly for traditionally underserved students. Almost every college and university has realized it has to do a better job with diversity, equity, and inclusion. That's our mantra at Carleton too; we want to make sure that we have socioeconomic, geographic, ethnic, and racial diversity on our campus.
Is the disruption of the pandemic going to make it more difficult for some of those students to attain a college education?
Traditionally underserved students are at a huge disadvantage this year because they haven't been able to do campus visits or schedule time with counselors. So many things are already more difficult for lower income, ethnic minority, and first-generation students in the college search process. To have resources like their counselors less available makes it even harder. I'm worried about not just this one year, but about this entire generation.
What are your concerns for prospective college students?
[At EAB] we're calling them Generation C. The high school students who lived through the combination of COVID and the last year of Trump's presidency have had life-changing experiences that will shape their attitudes, behaviors, and intentions toward many things. This year is going to bring about dramatic change in how we do business, higher education, and relationships; making college work for people financially is likely to be adjusted as well. But it's also exciting. While it may seem like we're struggling just to get through every day, a lot of very, very thoughtful people are imagining what it could be like in the future.
How will Carleton adapt to serve Generation C?
We've been observing an increasing priority on outcomes. A liberal arts college like Carleton can no longer say, "We're a great school, and you'll get into a great graduate school." We have to say, "You're going to be prepared for life, you're going to be prepared for the workforce, and we also want you to have as little debt as possible so that you can hit the ground running and be successful." We have to have proof points. We have to offer much more sophisticated career services. And we've really stepped it up in the last five years to address that.
What drives the board's efforts in this direction?
We are people who have had tremendous good fortune, and we credit Carleton for a lot of the foundation that we were able to carry into our adult, professional lives. Carleton changed the world for me. We want it to be — as it was for me — a first choice because it's the best school. But we certainly don't want it to be limited to people who can pay for it. Financial aid has to be a huge priority for us at Carleton, probably forever, in part because that's where our values lie.