Stephen Davis '88 believes that institutions grow and thrive from the inside.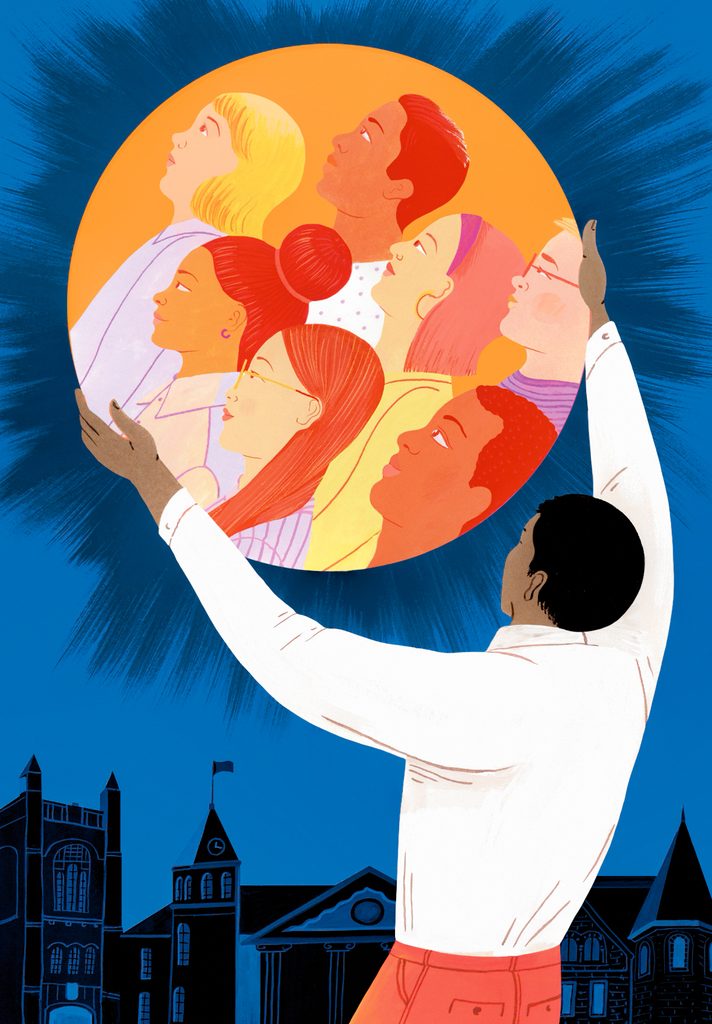 When Stephen Davis '88 is asked about the concept of alumni stewardship, he says he believes that it's incumbent upon those who most believe in an organization's core mission to get involved. "I went to Carleton because the school reflects my values," he says. "There are things that could be better, and there's a way to go. But now more than ever we need to support those institutions that reflect our basic values — while pushing them to do more."
Davis, a member of the Carleton Board of Trustees, says his beliefs are grounded in "basic human rights," which should be universally applicable, regardless of race, religion, gender, and economic status. And he's keen to hold the college of his formative years accountable, as well as to give credit where it's deserved.
After attending high school on the South Side of Chicago, Davis came to Carleton and resonated with its intimate community setting, small classes, and opportunities to interact with the faculty. He went on to earn both a JD and an MBA from Columbia University. Today he's a partner at the private equity firm Banneker Partners, based in San Francisco, and serves on the boards of numerous tech and software companies, as well as Berkeley's Center for Investigative Reporting.
In 2006 Davis and his wife, Jill Cowan Davis, his brother Christopher Davis '89, and Christopher's wife, Jennifer, created the Carrie and James Davis Scholarship. Named after Davis's parents, the endowed fund supports Carleton students of color in financial need.
"Carleton breeds independent, critical thinkers, and hats off to the school for that," Davis says. "Alumni should focus on support so that others have a similar experience. We're indebted to support the school any way we can, whether it's through our time or our treasure."
Davis also believes that alumni have both the obligation and the right to hold their institutions accountable, particularly when the wider world is in flux or crisis, as it has been during this year of COVID-19 and social unrest around racial injustice. To his way of thinking, changing times means aligning stewardship with a cleareyed view of where things could — and must — get better. "We have a long way to go in a lot of areas. I'm not putting Carleton on a pedestal," he says. "There's always a fine line between being an advocate and an apologist and continuing to offer support when nothing real is getting done."
Along with his family's scholarship fund, Davis focuses much of his attention on how students fare after they receive financial aid. At many colleges and universities, too many students find themselves with their tuition paid but with other pressures that faculty members, administrators, and their peers might not notice. And while Carleton prides itself on helping all students pay for 100 percent of their education — which can involve myriad expenses beyond housing and tuition — it's vital to stay vigilant about shifting realities and needs.
"Take any kid, white or Black, when they're receiving financial aid they're working hard and working a lot. Some kids are sending part of that money back home to help with family. Sometimes they don't have the resources to devote themselves entirely to their studies," Davis explains. "We also have kids who can't afford to go back and forth between school and home. It's hard to imagine expecting them to compete with those kids who don't have to worry about such things."
Davis's observations regarding Carleton's current challenges, as well as those facing higher education institutions across the United States, is driven by a desire to look inward for ways to improve. After all, it's hard to imagine a better laboratory for societal improvement than an elite liberal arts college. (One need look no further than Carleton's fall event calendar to see that its faculty and staff members are working to provide opportunities for robust discussions about a number of issues, including climate change, equity, and justice.) But, first and foremost, it's essential that the institution itself walk its talk.
"Historically, Carleton could have done a better job with people of color not feeling comfortable across the board, and that needs to be fixed," he says. "Carleton could have done a better job with diversity and income disparity, and how that impacts students' experiences. It's all about helping them contribute by putting them on an equal footing.
"People today are rethinking things across the board, in terms of how much we give and save, and where we put our dollars. Some of this is going to have to be rethought as Carleton seeks to live up to its values. We'll be able to look at the benchmarks to know if people are serious about greater diversity and support of lower-income people."
By emphasizing accountability, diversity, values, and growth, Davis is a model for the sort of stewardship that demands consistent engagement and sets honest expectations, no matter how ambitious or difficult.
"Hopefully these times will push us to do more," Davis says. "Carleton is asking the right questions, and it will get there. Carleton is an environment where people question assumptions, revisit their values and their answers to questions, and try to do the right thing."