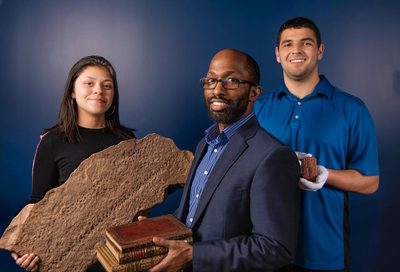 While other colleges tend to reserve mentored research opportunities with faculty members for seniors, Carleton has long encouraged all students to work alongside professors. Today, these positions are so highly coveted that even first-year students are clamoring for interaction, says physics professor Arjendu Pattanayak. "In fact, I've gotten calls asking about research opportunities from accepted students who aren't even on campus yet," he says.
The Every Carl for Carleton campaign aims to meet this demand by increasing the number of research stipends. Last summer 215 students completed a mentored research experience, and an additional 552 students participated in research during the 2018–19 school year — representing a 20 percent increase from just five years ago.
The collaborations reliably prove beneficial to all involved. By asking astute questions, students broaden their knowledge base while pushing faculty members to think in different ways, sparking what President Steve Poskanzer calls "an energetic commitment to living the life of the mind."
"Undergraduate students who have engaged directly in research with professors are going to be much stronger candidates for graduate school and for jobs in industry," Poskanzer says.
---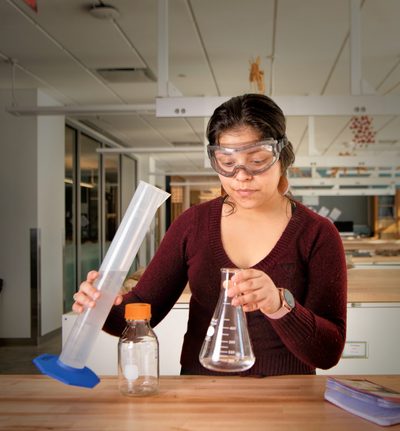 SCIENCE: Denyse Marquez Sanchez '21 Reno, Nevada
Thanks to funding from the college's Robert J. Kolenkow and Robert A. Reitz Endowed Fund for Student Scientific Research, Denyse Marquez Sanchez has become something of an apian expert over the past two winter breaks. A biology major, she's been a part of a project at the University of Nevada–Reno addressing the impact of pesticide compounds on bumblebees.
"Last year I helped set up how we were going to test, which was heavily based on discussing the best way to measure our data," Marquez Sanchez says. "This year I ran behavior experiments on the bees. I got to see how complicated research can be."
Established in 2007 by David Ignat '63, the Kolenkow-Reitz fund supported 28 students last year. They conducted research around a host of subjects, including deep-sea microbes, genetic links to bone mineral density levels, biological markers in adolescents, deep-space radiation, and rock samples from Antarctica. "When I talk to students at other schools, they don't have the resources that help them afford opportunities like Carleton does," Marquez Sanchez reports.
Without funding, Marquez Sanchez guesses she would have found a part time job over winter break, which would have helped her earn money but wouldn't have helped her education or career plans. "Being able to focus on research let me apply my biology and statistics knowledge, become more specialized, and see what being an actual researcher is like," she says.
---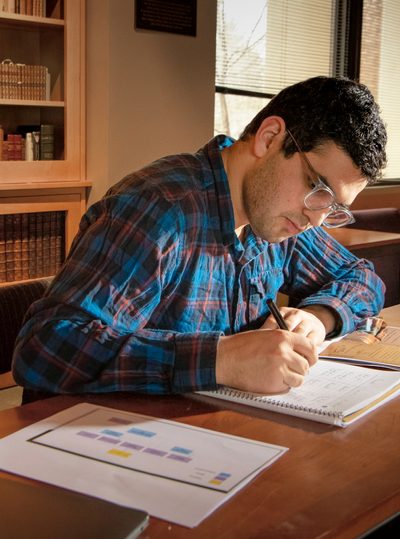 HUMANITIES: Aaron Forman '21 Los Angeles
Cold weather couldn't deter west coaster Aaron Forman from moving to Northfield, where he planned to hit the futball fields and bond with accomplished professors. Now on Carleton's varsity soccer team, the history major has already conducted field research in the Cycladic Islands with classics professor Alex Knodell, done summer excavation research in Israel, and received funding from the college's Boyd-Niles Travel Fellowship to research medieval archeological sites in Tanzania. He's also pored through historic records from British foreign agencies in the Persian Gulf documenting manumission (when masters free slaves voluntarily) with history professor Thabiti Willis.
"Aaron's work helps me to better understand what specific roles individuals had—and to understand gender aspects of slavery and manumission—in the Persian Gulf," says Willis, who for the past four years has probed the forgotten history of East African slave labor, which fueled the Gulf region's pearl industry. Ultimately, he hopes to preserve the memory of the pearl divers and domestic workers who were enslaved in the region up until the late 1960s, and to share the stories of their living descendants.
Forman is glad to already have a better understanding of how history informs the present. In that regard, he's particularly interested in the Middle East, which has moved from a pearling to an oil-based economy. His projects with Knodell and Willis were funded with Student Research Partnership awards through the Humanities Center, which are supported by Alison von Klemperer '82, P'16. His research in Israel was funded by the Jonathan Paradise Israel Experience Fund, established by former Carleton professor Elie Alyeshmerni.
"Research has given me a much better sense of what historians do outside of teaching," Forman says." I'm definitely thinking of going into graduate programs and becoming a history professor myself."