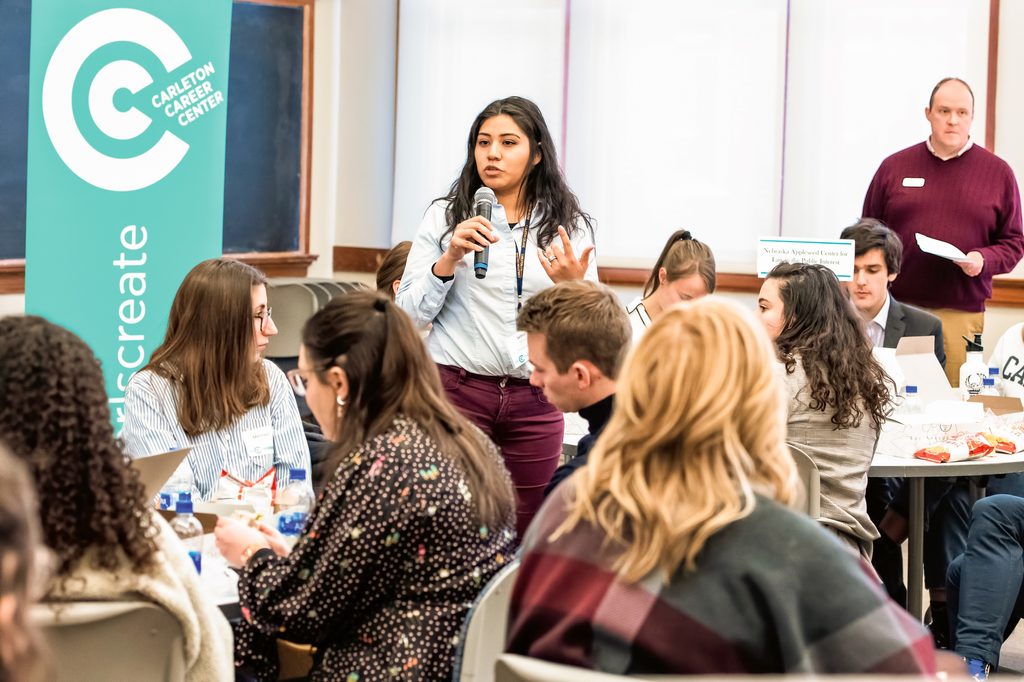 The Career Center helps students determine the color of their parachute with the aid of an alumni network.
You might say that life after Carleton begins during New Student Week, when incoming students attend a session to learn about the Career Center. "The first thing that they should think about is making friends and figuring out their way around campus," says Rachel Leatham, associate director of the Career Center. "But it also helps first-year students to know what we can offer and that there's going to be plenty of time for them to work with us. We will be here when they're ready."
By graduation, 98 percent of students will have taken a walk over to Johnson House to visit the center. They might attend a job fair, meet a recruiter, study for a graduation exam, or seek advice. When a career path isn't quite coming into focus, an adviser can present possible directions that match a person's major and interests. Once it becomes more clear what vocations are most attractive, the coach can help line up opportunities and resources. "In the first two years, students have a general liberal arts adviser. In their second two years, they're invited to work with a more specific coach who is closely aligned with their major and possible profession," Leatham says.
As they zero in on a possible path, students can also get some been-there advice from alumni, thanks to initiatives like the 30 Minutes program. Jack Brown '22, an economics major, talked with Lesley Baseman '13, a research programmer with the Rand Corporation. "She was a good match for me because she majored in economics and is doing economics in a nonfinance setting, which is something I wanted to learn more about," he says.
In 2019, externship programs that provide participants with an experiential opportunity to shadow mentors in a workplace or participate in work at locations in the United States and around the globe drew 260 students.
"We help to offset some of the travel expenses, but we rely upon alumni, parents, and friends of the college to host students in their workplaces and in their homes during the program," Leatham says. "There is a lot of volunteerism and generosity on their part."
Alumni in the Couches for Carls program provide short-term lodging for students traveling for interviews. And, because alumni sometimes are the ones bringing students in for interviews, the center staff works hard to cultivate relationships with alumni who may be looking for interns or entry-level workers. (Alumni profiles on the Career Center website connect students with alumni who can share career insights.)
Those interested in supporting the center can make a gift that directly finances its programming initiatives. And, thanks to the 2020 Internship Match — funded by Wally Weitz '70 and Barbara Weitz '70, and Bill Buffett '55 and his wife, Susan Kennedy — donors who make outright gifts ranging from $50,000 to $1 million to establish or add to an existing endowed internship fund by December 31, 2020, will see their gift double.
"All of our programming puts accessibility and equity front and center," Leatham says. "We need to make sure that everyone who leaves Carleton is able to do something that's meaningful and that will contribute to the world."