Carleton's new integrated science center is designed to draw in the campus community and encourage cross-disciplinary collaboration.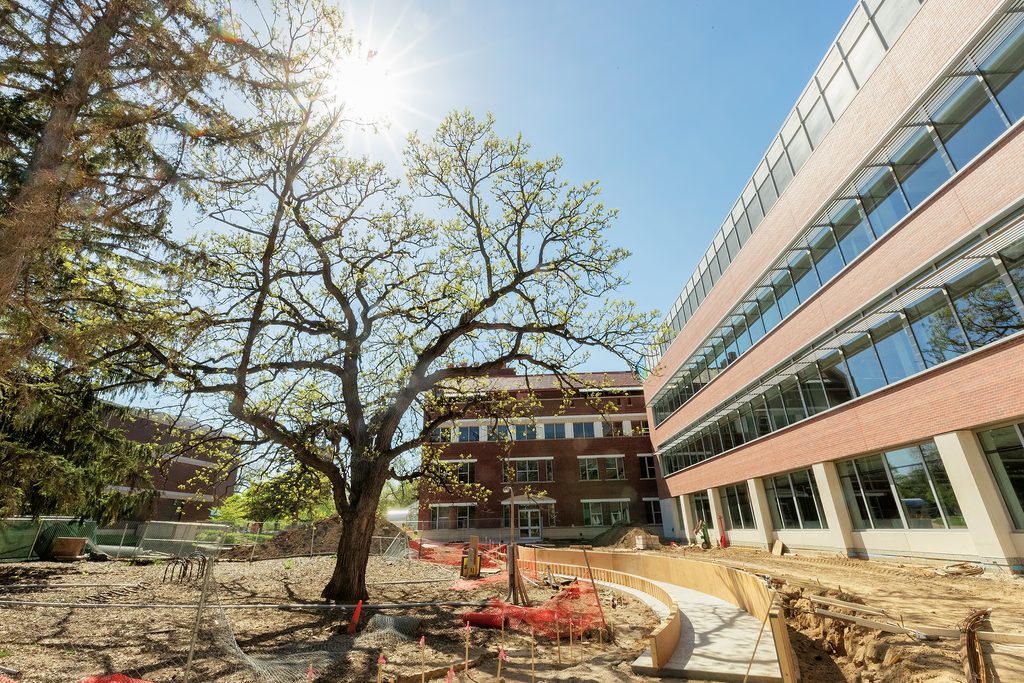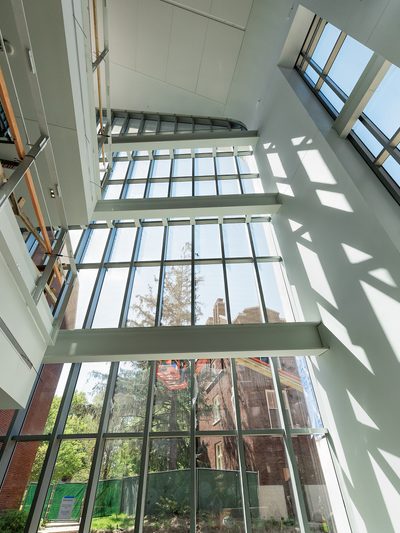 When the first phase of Carleton's new science center opens this fall, it will add more than state-of-the-art labs and classrooms. The new building, Anderson Hall, is purpose-built to create connections and conversations.
The most striking feature is the Robert B. Daugherty '43 Atrium, a three-story glass foyer that, once Olin and Hulings are remodeled, will function as a "living room" for the science departments, as well as a campus gathering space where Carls from all disciplines can exchange ideas. A display will commemorate Daugherty's philanthropic spirit and entrepreneurial vision (he founded the agricultural products leader Valmont Industries).
"Because of our Minnesota climate, we wanted a space where students could be connected to nature and be exposed to a light, bright, vibrant environment," says professor of chemistry Gretchen Hofmeister '85, a member of the planning group for the building. With that goal in mind, architecture firm EYP drew on principles of biophilic design, which incorporates elements of the natural world into built environments. Evidence suggests that exposure to nature, even through a window, improves mood, decreases stress, and increases productivity. One study found that simply improving access to daylight can accelerate the speed of learning by up to 26 percent.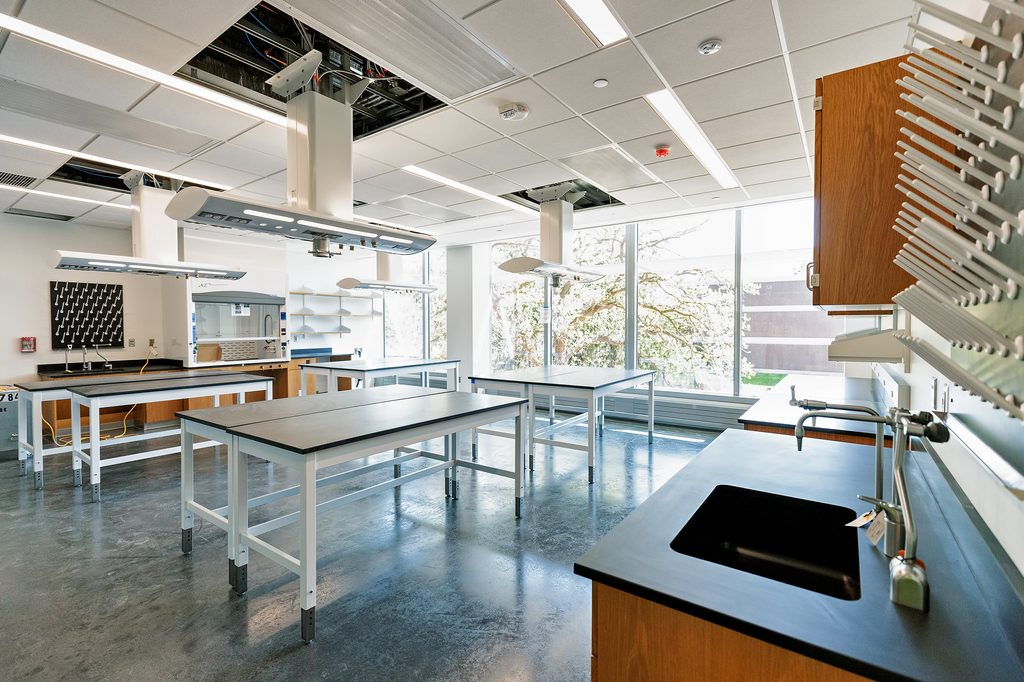 Another concept central to the new building's design is "putting science on display." Many of the classrooms, labs, office suites, and casual gathering areas are surrounded by glass walls, eliminating the fortress-like feel of older campus buildings.
"I love the fact that you might see someone that you know casually working on something in a lab and be compelled to say, 'That was cool. What are you doing?'" says Jennifer Wolff, associate professor of biology, another planning group member. "That opens up all sorts of opportunities, especially for us kinesthetic learners. Students and teachers don't always know what to even be curious about unless they see it."
Even those casual conversations can spark ideas for collaboration, Wolff notes, helping to break down silos between disciplines.
"There's no question that collaboration is the norm and will only become more important in professions that involve the sciences," Wolff says. "No one person can be an expert on everything, so anybody who wants to approach a problem is going to need to tap into people and resources that are outside their own comfort zone."
"It's a great way to show that we're not just over here reading about what other people do and memorizing. We're doing things. We're being creative. We're trying to find things that no one has ever seen before," Wolff concludes. "And if we can get all of our students, whether they're in STEM or the humanities, more comfortable with the idea of collaboration, then they'll have an advantage wherever they decide to go after graduation."
---
Anderson Hall: A Space for the Future, Named for the Past
The votes are in: Carleton's new science building will be named Evelyn M. Anderson Hall. Approved by the Board of Trustees with major funding from the Robert and Ardis James Foundation, Catherine James Paglia '74, P '18, and Louis Paglia, P '18, the name honors a trailblazing alumna from the Class of 1921.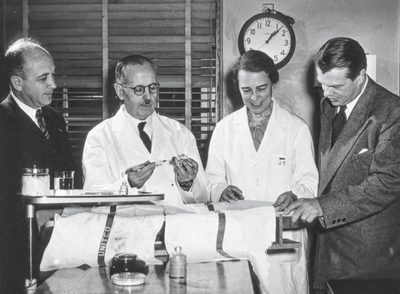 Evelyn Anderson Haymaker '21, H '54, P '59, '60, '61, was a pioneering scientist in a time when women were not encouraged to pursue STEM disciplines. Haymaker became a prominent research scientist, working for 15 years at the National Institutes of Health and later as an endocrinologist for NASA. Her career is a testament to the strong education she received at Carleton a century ago, and Haymaker herself is proof that the college's science programs have always pushed boundaries.
Haymaker never forgot her Carleton connection. She served on the Board of Trustees from 1965 to 1973, later becoming a trustee emerita, and established the Mary Benton Scholarship in 1978 in honor of the women's dean during her student days. She also began a family tradition: all three of her children, three of her grandchildren, and a great-granddaughter all graduated from Carleton.
Anderson Hall opens for classes in fall 2019.