Winter break externships take students behind the scenes to observe real careers in action.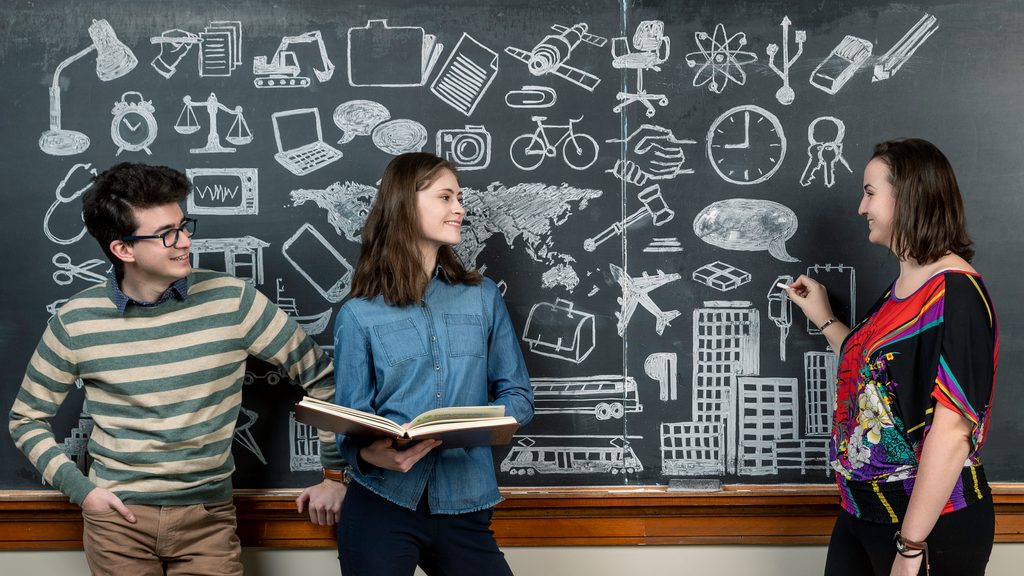 As Jared Margolis '21, Wendy Erickson '21, and Katherine Rigney '20 negotiate the tunnels beneath the Minnesota state capitol complex in St. Paul, one can't help but notice how comfortable they've become occupying the halls of power. It's a process that—thanks to their host and mentor, Jim Erickson P '93—took just three weeks.
The students are here as winter break externs, shadowing Erickson as he goes about his work for Solomon Strategies Group, which he founded in 1998. The firm specializes in government relations and lobbying, which offers the externs a unique behind-the-scenes view of politics in action.
"The capitol is friendlier than I imagined," says biology major Rigney, who is also on track to earn a minor in public policy. "The legislators and lobbyists form a kind of community, which I found interesting."
Wendy Erickson (no relation to Jim) concurs: "I came in with scenes from The West Wing in my head. Cigar-filled rooms. Deals being made in the corner. And what I've come away with is a deep appreciation of how essential lobbyists are to the legislative process."
Insight born of experience is the point of Carleton's 11-year-old externship program, which placed 253 students at more than 150 different worksites around the country between November 26 and December 14, 2018. The Every Carl for Carleton campaign aims to increase that to 500 per year. These "mini internships" are designed to help students experience a workplace or industry area firsthand, with just enough depth to learn if they would like to pursue further experiences in that field.
The externship program relies on the generosity of alumni and parents to host students at their workplace, provide funding, support travel, and offer housing.
Jim Erickson jumped at the chance to mentor his first cohort of Carleton externs. "Teaching is really energizing," he says. "And it was important to me that these young people got to sit in on real-life action. There was no phony baloney. I threw them in the ring with clients to help solve real-life problems."
After attending a meeting with the Boy Scouts of America, for instance, Rigney, Margolis, and Wendy Erickson got to work on a bill to help the Scouts recruit more freely in public schools. They also sat in on meetings with Verizon, the YMCA, and Perspectives, Inc., a human services agency that aids homeless mothers and children. The three also toured Minneapolis City Hall, culminating in a meeting with Mayor Jacob Frey.
"Thanks to Jim, we've each got a serious pile of business cards," says Margolis, who is still deciding on a major. "And every single person we've met—including the Chief Justice of the Supreme Court, who talked to us in the cafeteria one day—said that establishing relationships, and maintaining those relationships, is one of the most important things in career development. No matter what field you decide to pursue."
---
Web Extra: Read about more Carleton externs and their experiences at the Minneapolis Community Planning and Economic Development Department and the international cyber security firm Crowdstrike.