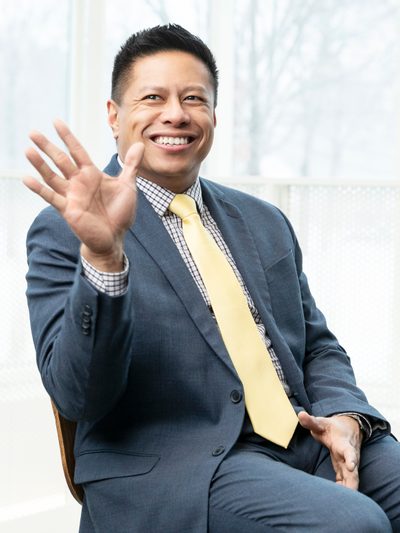 Carleton's new Career Center director, RJ Holmes-Leopold, wants to connect every student to life-changing opportunities—and a lifelong network of Carls.
In December 2018, RJ Holmes-Leopold traveled 250 miles north from Mt. Vernon, Iowa, to take the helm as Carleton's new Career Center director. Behind him lay Cornell College, his alma mater and also his employer for the past 14 years; ahead lay the challenge of building Carleton's career preparation opportunities to new heights.
It's fitting that Holmes-Leopold had to set a course and take a journey to begin his work at Carleton. After all, his new mission is helping students do the same for their life after graduation.
Q: Why this work? Why Carleton?
Carleton is an institution that's dedicated to connecting all students with opportunities and experiences that can help them develop the essential skills needed to navigate our rapidly changing world. I'm excited to be in a position where I can collaborate with an extensive network of dedicated supporters—alumni, parents, friends, faculty and staff members—to contribute to that mission.
I'm also drawn to the liberal arts, which teach people how to be critical thinkers, be reflective, deconstruct problems from a variety of perspectives, and come up with creative, effective solutions. These skill sets prepare students for success, not just in their first job but ultimately their last job and everything in between.
Finally, there's a cutting-edge commitment to experiential learning at Carleton. At the Career Center, that means not only putting students in a position to succeed but also creating processes to help them respond when things don't go the right way. In other words, our primary job is to encourage courageous learning and ongoing development.
Q: Discovery necessitates failure, doesn't it?
It does. One of the most important lessons you can have in your professional life can involve finding out what you don't want to do, because embedded in that lesson is figuring out the elements that you really feel called to do. For many students, it's about learning how to route and reroute their professional trajectory. I find it really fulfilling to find ways to nurture and support that left turn or that detour that helps get people to where they eventually want to be.
Q: What are you most passionate about pursuing during your first year on the job?
As an institution that's deeply committed to access, we have to think about who is participating in our programs and who isn't, and then dig deeper to find out why. What's going on for first-generation college students who may not come from a background where the idea of an internship is common or considered worth pursuing? Are we helping students from low socioeconomic backgrounds know that they can receive funding to pursue research opportunities? How do we help students from traditionally underrepresented or historically marginalized groups understand how to navigate the social systems that dictate certain professional norms that they might not be able to conform to immediately?
Q: What role can alumni and parents play in preparing students for life and career?
Alumni and parents open doors to a wide variety of opportunities, whether they choose to participate in one-on-one conversations through our 30 Minutes program, host a group of students in our Scholars program, host an externship or internship, connect students with professionals, or help them navigate job searches or graduate applications. All of these things are invaluable. And of course, helping provide the necessary philanthropic support—whether it's through the annual fund or participating in the Every Carl for Carleton campaign—is essential to ensuring that life-shaping opportunities are available to any Carl who wants to take advantage of them.
---
About the director
RJ Holmes-Leopold comes to Carleton after 14 years at Cornell College, most recently as senior director of alumni engagement and leadership annual giving. Prior to this role in alumni engagement, he served as the inaugural director of Cornell's Career Engagement Program. Holmes-Leopold holds a bachelor's degree in politics and communication studies from Cornell College, a master's in college student personnel from the University of Maryland College Park, and an educational specialist degree in higher education from the University of Iowa.