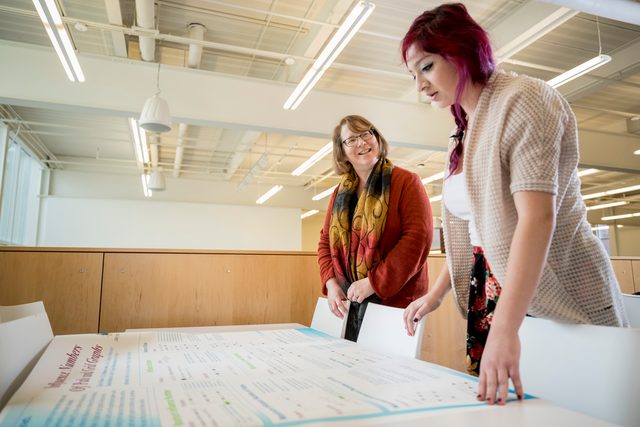 Phuong Nguyen '18 (Aiea, Hawaii) was excited to come to Carleton and explore his interests in science, but he was nervous, too. As a first-generation, low-income student who felt academically underprepared, would he be able to succeed? Would he connect with others like him—a queer student of color—or would he feel like he didn't belong?
Today, Nguyen is at home in the chemistry department that once intimidated him, thanks in part to the support he's received. A key element of that support is FOCUS (Focusing On Cultivating Scientists), a 10-year-old Carleton program that promotes diversity in STEM fields by mentoring students from underrepresented backgrounds.
"FOCUS has given me a sense of community and confidence," Nguyen says.
So far, Nguyen has participated in two faculty-student research projects. One of them—biochemistry research with professor Chris Calderone—was funded by the Carleton Summer Science Fellowship, which guarantees recipients two paid summers of research. "We have so much data, so many interesting results coming up right now," Nguyen says. "I can't wait to find out more."
Nguyen's other research project, with educational studies professor Anita Chikkatur, was just as interesting. He and four other students conducted a yearlong Participatory Action Research study (designed to place those most impacted by a research project at its helm) on the experiences of underrepresented students in Carleton STEM courses. The project culminated in a presentation in spring 2016 offering insights on how faculty members can better welcome students from diverse backgrounds.
This is just one of many projects faculty members have engaged in to increase diversity in Carleton's STEM departments, and over time these efforts are making a difference. For example, the portion of STEM majors who are students of color has risen from 24 percent in 2006 to 35 percent in 2016. Perhaps the most pronounced change has been in the computer science department. Its explosive growth has transformed it from a cohort of eight majors in the class of 2006—all white and seven male—to a group of 51 in 2016, of whom 35 percent are female and 35 percent are students of color.
Under the leadership of chemistry professor Deborah Gross, FOCUS is growing too. Thanks to a $1 million grant from the National Science Foundation, the program can now support two cohorts of first year-students each year.
Prospective math major Sonia Moreno '19 (West Covina, Calif.) is eager to share what she's learned with the new cohort. "Last year was difficult because I was dealing with a lot of math I hadn't seen before," she says. "But there's so much help here—I got help from the Math Skills Center, my adviser, and the dean. I also had a summer research experience that honed the skills I learned. I want to make sure freshmen don't feel inadequate in their classes, even when it's a struggle." Moreno helps by mentoring students enrolled in courses she's already taken—a service FOCUS provides for almost every STEM course.
FOCUS ensures participants get early and in-depth scientific experience via a STEM-focused first-year seminar and a two-year research colloquium. In their second year they work more independently, coauthoring papers on a multifaceted, interdisciplinary topic. After that, an average of 85 percent of them declare a science or math major, but even those who don't tend to stay involved in FOCUS activities, and they all wear a FOCUS stole at graduation.
"We want to make sure the students get to choose something they love and don't feel chased out of STEM," says Gross. "In many cases, the students who major outside of STEM go on to apply those concepts in other fields."
For Gross, watching the FOCUS students discover their passions is one of the best parts of her role as director of FOCUS. "Working with these cohorts and the colloquia has been some of the most fun teaching I've ever done," she says.