"If you build it, they will come."
While perhaps not as audacious as constructing a baseball diamond in a remote Iowa cornfield, when the Perlman Center for Learning and Teaching was founded in 1992, it faced plenty of skepticism.
How would Carleton find a systematic way to merge big ideas about teaching under a single banner? How should it be structured? Who would lead it? Fund it? And perhaps most vital, would faculty buy into it?
Today, some 23 years later, the LTC is a campus institution—a vibrant nexus for collegial dialogue about learning and teaching. In the early '90s, however, it was far less clear how to accomplish that goal, remembers Elizabeth McKinsey, an American studies and English professor who served as Dean of the College during the LTC's inception.
"The prevailing sense across campuses in the whole country at that point was that teaching was a private thing. Research was made public because you published it. You presented papers at conferences. And when you closed the classroom door, what you did was on your own. People were not accustomed to sharing ideas about teaching."
Faculty buy-in was essential. Inaugural LTC director Peter Frederick, a visiting professor of history, made it his mission to empower faculty—not the Dean's office—to own the process, McKinsey recalls.
"Instead of launching the program and saying, 'This is how we do it,' Peter spent the first half of the year talking to individual faculty and feeling out the culture. So when we did start launching programs, it was targeting what was already on their minds," McKinsey says.
As LTC director during the early 2000s, geology professor Mary Savina '72 says she couldn't walk across campus without a colleague suggesting a learning seminar or picking her brain about an upcoming lunch discussion. The LTC had become part of the fabric of Carleton.
"The LTC did two things," Savina says. "First, it provided a weekly place for faculty and staff to have new ideas presented to them. But it was the schedule that made it possible, securing a noon common time on Tuesdays and Thursdays. Before that, attempts to do faculty sessions had failed completely.
"Second, it had to come from the bottom up. These were ideas we already talked about in small groups, but there was finally support from staff to tell faculty what they were thinking and faculty to tell staff what they were thinking. It kept the lines of communication open."
A new LTC director is appointed every three years, usually through faculty and staff recommendations. Art professor Fred Hagstrom, who will end his tenure as director in 2016, says being in the role helped him see two sides of the LTC: one public, one private.
The public side revolves around the popular weekly lunch seminars in the Weitz Center, as well as the book groups and workshops hosted by faculty and staff. The enthusiasm for those activities keeps the LTC churning. However, the private side—which includes behind-the-scenes mentoring, particularly with newer faculty members—might have an even bigger ripple effect.
The LTC encourages a "lack of stigma" that isn't common on campuses, even those with similar teaching centers, Mary Savina says.
"We have very high standards at Carleton, but we don't have anyone saying that if you want to talk about teaching that it means you're not a good teacher," she says. "That's what a 'bottom up' philosophy does. It promotes learning and growing."
---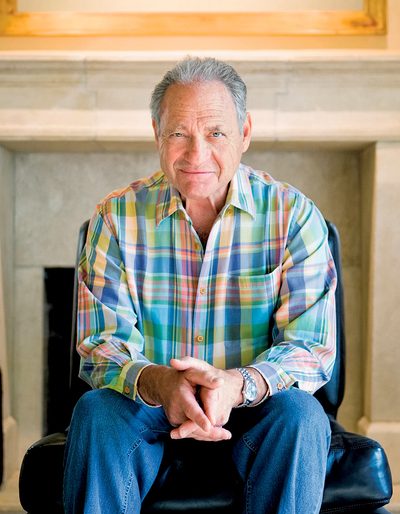 Lawrence Perlman '60
It shouldn't come as a surprise that Larry Perlman is passionate about the LTC. After all, he put his name on it.
"As a student, I benefited from excellent teachers. It was important for me to do something for the college that would sustain excellence in teaching over the long term," says the Carleton Trustee Emeritus, whose generosity helped establish the Perlman Center for Learning and Teaching in 1992.
"At the K-12 levels, teachers are required to undergo training, evaluation and assessments," Perlman says. "College teachers are often left alone, so the LTC is one of several ways Carleton can help faculty to improve and refresh their teaching skills."
Faculty are not the only beneficiaries, however. "Students benefit from the LTC if it contributes to helping them develop skills in critical thinking, in addressing complex problems, and all the other components of a superb education," Perlman says.
"In naming the Center, I put 'learning' first because it occurs as a result of great teaching. When it comes to knowledge, we are all seekers."
---
A Well-Groomed Path
Teaching at Carleton is no game of chance — no matter which path our professors take, they'll find support along the way to help them excel. View the image below as a PDF.