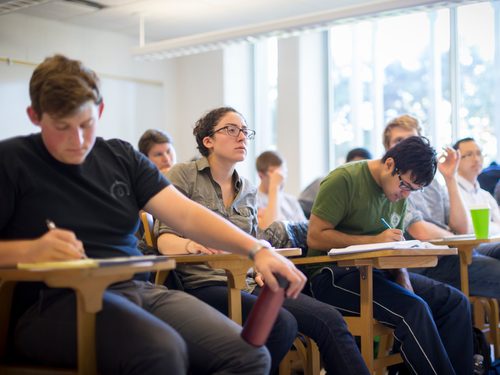 President Steve Poskanzer is back in the classroom.
Poskanzer's political science course, Legal Issues in Higher Education, explores issues facing American colleges and universities, including on-campus speech, faculty tenure, and student rights—topics he is uniquely qualified to address as both a legal scholar and a college president.
But his turn in the classroom is more than an opportunity to share an insider's perspective on higher education law. It's also a chance to rediscover his passion for teaching—and a powerful reminder of all it takes to teach well.
With the classroom experience fresh in his mind, we asked the president to reflect on what it takes to sustain Carleton's reputation for outstanding undergraduate teaching.
---
What do faculty members need from Carleton to be great teachers?
First, they need the best students we can get in the door—students who aren't just bright, but who bring a diversity of perspective, backgrounds, and intellectual lenses to the classroom.

Second, faculty need great colleagues. A community of collaborative, committed teacher-scholars is hugely important. They need colleagues who know that their work gets better by brushing up against—and maybe even being intellectually roughed up against—somebody else's views.

Third, faculty need time. For every class hour, you're spending three or four hours in preparation. When you're putting a class together for the first time, it's more like eight or ten hours. So our faculty need the space and freedom to think carefully about what will work best pedagogically. And that's a bit of a shifting target, as students evolve and classes need to be constantly retooled to stay fresh and current.

Fourth, faculty need support for their scholarship. We're not a research university, but we absolutely are a place where faculty are expected to do serious, peer-reviewed scholarship. We owe them the time, space, and money to pursue that.
Carleton's strategic plan calls for creating more faculty-student research opportunities. What kind of support does that require?
The opportunity to be a member of a research team led by a scholar is incredibly powerful. But funding is needed to even the playing field for students across all income levels. Ideally, we'd like students to have this amazing research experience, be right where they need to be financially from summer earnings, but be way ahead of the game in their intellectual development.
What about facilities? Do innovations in teaching demand a new kind of classroom?
Learning today is much more interactive and engaged. In the same class period you might have students listen to a mini-lecture,  pull something up online, work in groups, do presentations,  critique each other's work—all in the same 50-minute period. To do that you need classrooms that are technology-rich.

The need for a different kind of space is especially pronounced in the sciences, where you need to move directly from what you're talking about in class, theoretically, to a bench where you can look through a microscope or see a chemical reaction. You don't want labs in one part of the building and classrooms in another.  The boundary between a class and a lab is increasingly meaningless. 
We often say that Carleton professors put students first. What does that look like in the classroom?
Our faculty put time, effort, sweat, and heartache into making sure that the learning in their classrooms is vibrant—that it touches students, inspires them, and kicks them to go in new directions.  But it's not just in the classroom. Our professors derive enormous satisfaction in being guides and mentors. Those relationships matter intensely to them, and to the students.