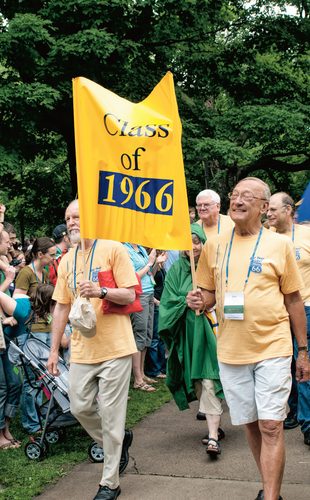 With time comes perspective.
When Eric Carlson '66 and his peers attended Carleton, much of their focus was about getting ready for graduate school or a career. Today's students are equally ambitious, Carlson says, but he's noticed that they also have their eyes on something more: social change.
As Carlson, his wife, Marilyn "Mimi" Garbisch Carlson '66, and other classmates visited campus over the years, they were impressed with the increased focus on tying classroom learning to real-world involvement in the community—particularly through the Center for Community and Civic Engagement. The Class of 1966 would love to see more student-faculty projects entering and, ultimately, bettering communities.
"This was a really unique aspect of Carleton that we wanted to support," he says. "Much more additional funding is needed if this area is to become an important part of the Carleton experience for students and faculty."
And with the 50th anniversary of the class in sight, this was a golden opportunity to do something that will set the class's contributions apart.
The Class of 1966 has set an ambitious fundraising goal of $5 million with priorities of the gift focused on academic civic engagement and scholarships. Carlson, a cochair of the gift committee, says that making a significant contribution to civic engagement, in particular, has been an aspiration for many years.
"A lot of the future depends on Carleton students going out and doing good things," Carlson says. "If you do something like that in school with the help of the faculty and see it work, you're highly motivated and capable of doing that for your career or avocation."