Rocket Stars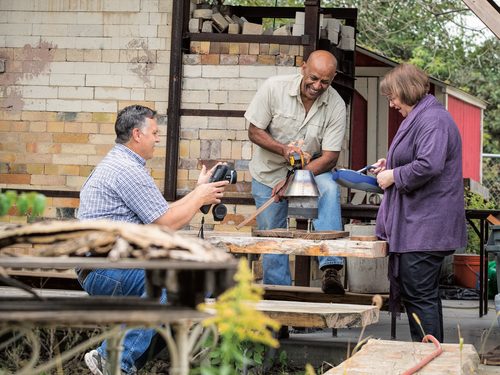 When environmental studies professor Tsegaye Nega brings 15 students to Ethiopia and Tanzania as part of an off-campus studies program this winter, he'll have science support specialist Randy Hoffner and chemistry professor Deborah Gross to thank for expanding the scope of his project.
Nega is working with African villagers to replace the traditional open-pit fires used for cooking and home heating with energy-efficient stoves that are better for their health and the environment. But thanks to Gross and her fall Climate Science class, they'll now begin measuring aerosol particles—Gross' specialty—to help mark the health benefits.
First, however, Nega had to find a viable alternative. After a conversation with Hoffner, the pair teamed up to make a rocket stove—an efficient cook stove made from inexpensive, readily available materials. The stoves use less wood and also emit less soot, a cause of myriad health problems.
"Colleges and universities are about developing students as good citizens. I always thought that's what differentiated a place like Carleton from a bigger university—thinking about the connection between academics and real world engagement," Nega says.
"It feels like serendipity," Gross says of the mutually beneficial project, which calls for stoves to be built at Carleton, tested for particles by her science students, then replicated by Nega's crew in Africa.
"It helps that we already know the people at Carleton. All it can take is a simple conversation, and then it's just a matter of connecting."
---
All Hands on Deck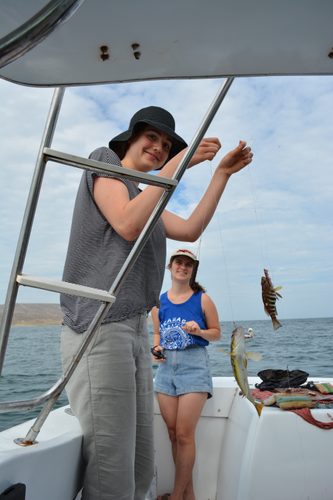 If Luisa Rodriguez '16 and Victoria Rachmaninoff '16 didn't realize what collaboration meant before summer, they certainly do now.
The sociology and anthropology majors lived together for six weeks in the Piura region of Peru, conducting research in artisanal fishing villages. Together they interviewed more than 80 people and worked on everything from mapping neighborhoods to evaluating government poverty assessments.
Their mentor, assistant professor of anthropology Constanza Ocampo-Raeder, rented a house across the street with her whole family—so close that the professor could shout out the window to summon them for meals. After long days of research, the students would find themselves in Ocampo-Raeder's home, talking through approaches to the next day's interviews while playing with the professor's two children. It was a unique bonding experience that marked an important shift in the evolution of their teacher-student dynamic, Rodriguez says.
"We'd play with the kids while discussing whether or not the government assessment is accurately capturing poverty in the village," she says. "It was awesome to have our lives intertwined beyond the academic side we already got to know at Carleton."
Crunching data and entertaining a one-year-old? Now that's collaboration.
This summer marked Ocampo-Raeder's fifth trip to the site, but her first accompanied by Carleton students. "One of the reasons I came to teach at Carleton is that I wanted to take students into the field. That's where the work happens," she says.
"Those kinds of opportunities only happen at Top 20 small liberal arts schools. The time to get research grants, the time off from teaching—it's what makes these special collaborations possible. Carleton believes in it."
Learn more about the trio's research at go.carleton.edu/fishing.
---
David Ignat '63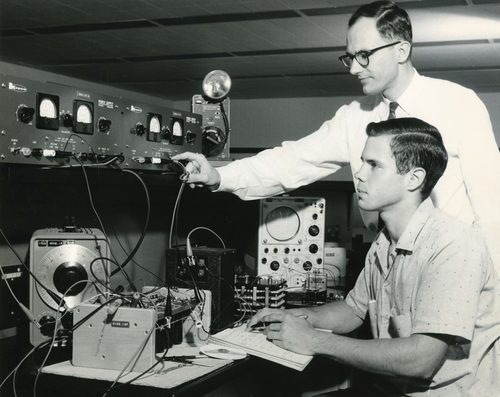 Robert J. Kolenkow and Robert A. Reitz Endowed Fund for Student Scientific Research

The summer after his junior year at Carleton, David Ignat '63 spent eight memorable weeks working on research projects with physics professor Robert Kolenkow. This immersive research opportunity proved to be a formative experience for Ignat, who went on to earn a PhD in physics from Yale University and establish a successful career in the field of plasma physics.
Forty-five years later, in 2007, Ignat established an endowed fund to create similar opportunities for a new generation. The Kolenkow-Reitz Fund for Student Scientific Research supports students pursuing on- or off-campus research projects during summer or winter breaks.
The freedom to do research elsewhere is key, Ignat explains. "One goal of the fund is to expand research opportunities in areas that are not always well represented at an undergraduate college," he says.
The fund's name honors Kolenkow and fellow physics professor Robert A. Reitz, also influential in Ignat's academic and career path. Kolenkow taught at Carleton from 1959 to 1964, and Reitz retired in 1990 after teaching at Carleton for 36 years.