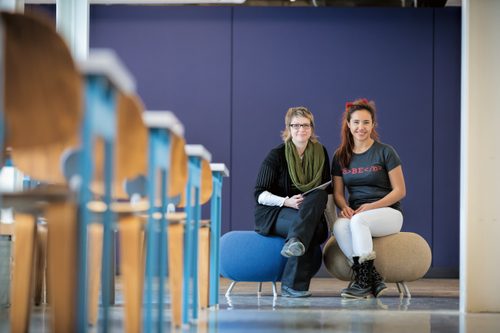 When Carleton students work with professors outside the classroom, their interactions take on a new and exciting dynamic that foreshadows their future in the workplace
One of the hallmarks of the Carleton faculty, ranked #1 in commitment to teaching by U. S. News & World Report, is the professors' eagerness to work with students outside the classroom.
Joel Weisberg, the Herman and Gertrude Mosier Stark Professor of Physics and Astronomy and the Natural Sciences, regularly works with students over academic breaks on a variety of research projects, both on campus and at astronomy facilities around the world. "Many astronomers would prefer a job at an observatory where they could do research full-time," he says, "but I prefer to be here, working with students."
This winter break Weisberg partnered with Erin Roth '16 (Evanston, Ill.) to enhance and debug a computer program that processes pulsar data, through funding from the Robert T. Mathews Student Fellowship for Astronomy Study.
"I had done an independent study with Joel that helped me get familiar with the basic properties of pulsars and astrophysics in general, so this was the perfect next step for me," says Roth. "I appreciated having the chance to work one-on-one with him. It was fun to see his approach to a problem and to bounce ideas off each other. Working with Joel to solve problems taught me about how I want to attack scientific problems in the future."
"Erin was doing real science and learning how to deal with the barriers that come up in research," says Weisberg. "It's different from what she would experience in the classroom."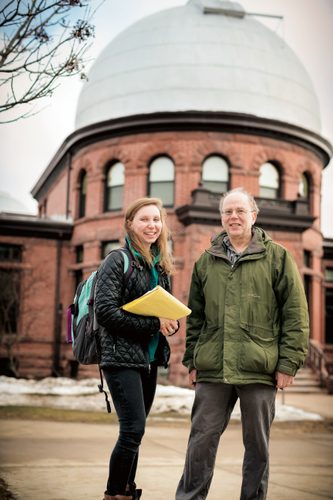 Weisberg works with a range of students, from beginners and intermediate students like Roth, to a senior who is lead writer on a soon-to-be-published academic paper. "It truly is a partnership because the students give me new insights," says Weisberg. "The longer we work together, the more equal the partnership becomes."
For Nayely Martinez '16 (Los Angeles), French professor Stephanie Cox has gone from a project adviser to a mentor and friend. Last summer Martinez helped Cox develop a website for Finita la Gringa, an interactive Spanish graphic novel about a Cuban-American boy that Cox illustrated in collaboration with its author, a Spanish professor at the University of Florida.
Martinez first met Cox in her first-year seminar, Growing Up Cross-Culturally.During an office hour visit with Cox for the class, she mentioned her interest in web design, so Cox knew that Martinez had the right skills and passions to help out with the project.
With support from Carleton's Humanities Center, Martinez spent the summer learning about new web technologies, including incorporating animations and making sites responsive to a variety of devices from smartphones to desktop computers. "Nayely took charge of creating the site using my illustrations," says Cox. "She set up the site structure, taught us how to use WordPress, and even created an interactive map of Finita's world."
Martinez also learned about client relationships as she set up a production schedule for the project and checked in with the two professors at regular intervals via virtual meetings on Google Drive. "She was professional," says Cox. "She had to learn how to negotiate with different personalities through the feedback and revision process, while receiving constructive criticism on her work. She also learned—and taught us—so much about organizing a long-distance collaboration."
"It gave me a lot of confidence to have a professor tap me for a project," says Martinez. "Stephanie has become a mentor to me, someone I can go to with questions about anything, like when I wanted advice about my application for a fellowship. I have lunch with her pretty regularly, and that's something I enjoy. It's incredible to be able to have a relationship like that with a Carleton professor."