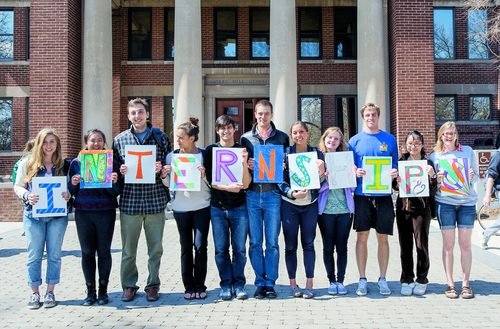 Carleton's Career Center is on a mission to ensure that students' educations go beyond the classroom to prepare them for a competitive job market
Gillian Fitz '14 (Sherborn, Mass.) knew she was interested in a medical career, but she didn't know what it would be like to be in an operating room until she arrived at her summer internship at Paracelsus Medical University in Salzburg, Austria. She also wasn't prepared to pick up German medical terminology on the fly. In her first week, she passed out twice in the OR and managed to translate a pathology report into English. Five weeks later, she had assisted in the delivery of 26 babies, shadowed a social worker who runs a contraceptive program for teens, formed a relationship with an OB/GYN from Tanzania, and participated in discussions about the European health care system.
"My internship not only confirmed my desire to pursue medicine, it also opened doors to careers that I had not considered, such as hospital administration, hospital management, or social work," says Fitz. "The skills I acquired and connections I made during my six weeks in Austria will be incredibly influential in my future career path."
"Out-of-classroom experiences like internships and summer research are essential in helping students build practical skills and experience," says Kim Betz '91, director of Carleton's Career Center. "Employers are looking for grads who have actual, concrete experience. Years ago, employers were willing to do more training on the job, but now, even for entry-level positions, they want people who have practical skills and know how to function in a work setting."
Carleton's Strategic Plan, adopted in fall 2012, calls for an increased focus on career and life planning for students, and the Career Center is at the center of those efforts. The Career Center is ramping up its efforts to serve more students each year—helping students secure internships and externships, connecting them with alumni mentors, offering workshops on life and career skills.
"Our programs are important not just because of the skills students build, but also because they help students find the right career path," says Betz. "Students get to try a career out and ask themselves if it's really what they want to do."
Betz would like to see every Carleton student participate in at least one internship, preferably after completing an externship and/or networking with alumni to help them make the most out of the experience. In order to make that goal a reality, Betz hopes to partner with the Carleton community to create more Carleton-exclusive opportunities for students and to increase the Career Center's financial assistance fund, which allows students to pursue career development opportunities regardless of cost or financial need.
"Carleton has a distinct advantage in the quality and breadth of assistance we're able to give students because of the strength of our community," says Betz. "Alumni, parents, and friends of the college have been generous in providing the funding, engagement, and industry expertise we need to make our innovative programs work."
---
Career Center Alumni Engagement Programs
Internships—students gain real-world experience and skills, test out career fields, and broaden their professional network through an immersive summer-long (or academic term-long) experience
Externships—students connect with a mentor for a one- to four-week career exploration experience that usually includes a focus project, shadowing, and networking
Career Guides—students learn about career paths and get advice by interacting with alumni—through alumni profiles and direct emails—on this online forum
30 minutes—students network with alumni from their fields of interest through half-hour informational interviews
Scholars Program—a group of students travels to a city to explore a field of interest through site visits, panel discussions, receptions, and social activities
Pathways—this interactive website, run in conjunction with the Dean of the College office, helps students explore how their classes, internships, off-campus study programs, and work-study jobs can lead to careers in a variety of fields
Learn more and find out how you can get involved at go.carleton.edu/career.