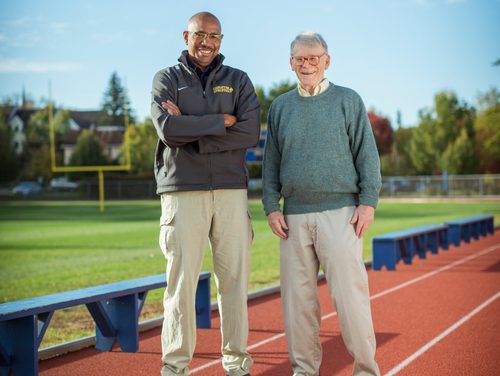 Carleton's athletic director Gerald Young gives to the college because "it's easy to give to something you believe in," he says. "I've always been a believer in liberal arts education, but Carleton takes it to another level."
Young came to Carleton in 1992 because of its dedication to helping students succeed in everything from academics to athletics to personal growth. He appreciates the fact that Carleton recognizes its coaches as teachers. The athletics department is an academic division, so Young holds the title of professor in addition to athletic director. "We tell prospective students that we know they're coming to Carleton to get a high-quality education, and athletics is part of that education," Young says. "We're here to help you succeed in everything you could possibly want to do."
Young is matched in his dedication to Carleton by Bardwell Smith, the John W. Nason Professor of Religion and Asian Studies, Emeritus, who has been a part of the Carleton community for more than 50 years and has known 8 of its 11 presidents. "Carleton has gotten better and better," says Smith. "I had a few opportunities to teach elsewhere, but Carleton is a fantastic place and I'm fortunate that I got to grow along with the college."
Smith arrived at Carleton as a professor of Christian and social ethics, then discovered a love for Buddhist traditions and Asian culture that led him to cofound study-abroad programs in China, Japan, and Sri Lanka. "I give out of a sense of gratitude for what I have experienced here and because I see that there are areas of the college that can benefit from significant financial assistance," Smith says.
Young and Smith aren't alone. Faculty and staff members contributed more than $100,000 to the annual fund last year.
And they are well positioned to see the immediate impact of their gifts. "Our graduates are broad-minded thinkers who will have successful careers in a variety of fields, and it feels great to be a part of that," says Young.