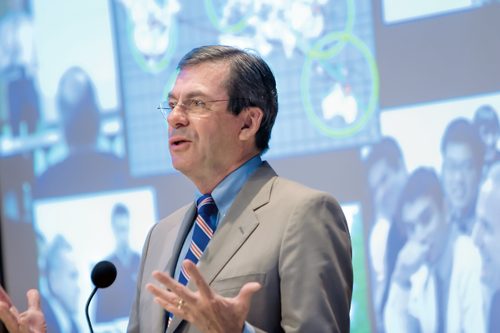 The passing of beloved professor Roy Grow inspires a fellowship fund to continue his legacy of global discovery
As the chief investment officer for global bonds at Franklin Templeton Investments, Michael Hasenstab '95 manages international bond portfolios worth over $185 billion and racks up frequent-flyer miles researching investment opportunities around the world. But he remembers a time at Carleton when the price of a single plane ticket made
all the difference.
"In my senior year, Roy Grow helped me get funding for a ticket to China," Hasenstab says. "It was just a couple of thousand dollars, but it helped me take my comps thesis to a whole new level. Roy knew there was no substitute for on-the-ground experience."
That well-timed act of support is just one of Hasenstab's many cherished memories of Roy Grow, the late Frank B. Kellogg Professor of International Relations, Emeritus.
"Roy led by example," Hasenstab says. "He was always engaged, always curious, always seeking adventure himself. Roy encouraged generations of Carls to follow our intellectual curiosity wherever that might lead."
After serving in the military as an interpreter and intelligence analyst, Grow began teaching at Carleton in 1979. He specialized in Chinese politics, the Vietnam War, political economy, Marxist thought, and guerilla warfare and counter-insurgency movements. He spoke Chinese and took almost 300 Carleton students to China on the Beijing off-campus political economy seminar. Grow was known for his dedication to students: inviting them into his home, leading them on trips abroad, and keeping in touch with Carleton graduates all around the world.
Former students vividly recall Grow's personal motto for a life well lived: "Love, adventure, money." But money, he told them, was the least important of the three.
"Roy told his students that if you do something you're passionate about, the financial gains will come naturally," says Hasenstab, who credits Grow with starting him down the path to his present success. "He encouraged me to seek out new things, to not be afraid, to take risks."
To honor Grow, Hasenstab and his wife recently made a $500,000 gift to the Professor Roy F. Grow Endowed Fellowship Fund, a memorial fund established by Grow's former students, colleagues, family, and friends after his death in June 2013. The fund supports student fellowship and research opportunities in Asia—the focus of Grow's research, scholarship, and travels during his 34 years at Carleton.
"I want future generations of Carleton students to be able to pursue the intellectual curiosity that's sparked in the classroom, wherever it takes them," Hasenstab says. "That's what Roy did for me, and in my case, it was transformational."
Roy Grow's family is deeply touched by the legacy the fund will create in his memory. "This gift is so heartening and gratifying," says Mary Lewis Grow, on behalf of herself and her son, Lewis. "Michael and Mary Ann and the rest of the donors are insuring that future students will be able to have the kind of Asia experience that meant so much to Roy to offer his students.
"This is the best way I can think of to keep Roy's influence, memory, and name alive."