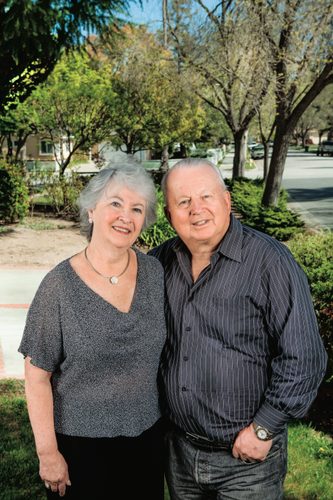 When Eric Carlson '66 was a junior at Carleton, he took a class in the economics of underdeveloped nations that influenced the course of his life. His professor, Bob Will '50, championed a holistic approach to the development of third-world countries, which he'd studied while pursuing a PhD in economics at Yale. "It was a whole new world and fascinating to me," says Will, who created a flexible course that met the needs of students and reflected new research in development. (Will also established Carleton's first overseas seminars and used his academic leaves to consult on government and UN activities, mostly in the Caribbean and Mexico.)
"Bob inspired me to use the knowledge I received at Carleton to make a difference in my community and the world," says Carlson. "Through observing his grassroots approach to tackling problems, it dawned on me that if you want to make
a difference, you have to figure out how you're going to get the money to do it and then how you're going to spend that money wisely. I've used this basic idea throughout my life, mostly with nonprofits."
In September 2013 Carlson and his wife, Mimi Garbisch Carlson '66, P '97, established the Robert E. Will '50 Endowed Internship Fund in Social Entrepreneurship to honor Will, the Raymond Plank Professor of Incentive Economics, Emeritus, who taught at Carleton from 1957 to 1993. Administered by Carleton's Career Center, the fund supports up to 10 domestic and international internships at up to $5,000 each. It enables students to accept unpaid internships at organizations that promote social change at a grassroots level and may include experiences in areas such as clean energy, agriculture, the environment, health care, job creation, mobile commerce, financing, and transportation systems.
"Social entrepreneurship is about innovation that benefits society, focused on a significant problem that's not been addressed by the market," says Carlson, who has practiced it successfully in his community of Los Gatos, California. When a major earthquake in 1989 destroyed several blocks of retail and left about 300 residences unsafe to occupy, Carlson helped put together innovative financing that allowed the town to recover within a year.
And when the San Jose Symphony—where Mimi played flute and piccolo—went bankrupt in 2001, both Carlsons led an effort to get the symphony back on more solid footing by establishing a better business model that meets the needs of the audience and gives them a simple means to support the symphony. Now, as the renamed Symphony Silicon Valley, the organization gets 60 to 70 percent of its revenue from ticket sales by asking people to donate 10 percent extra when they buy their season tickets.
Carlson also helped Santa Clara University start the Global Social Benefit Incubator, which has worked with more than 1,000 social entrepreneurs. And, following in the footsteps of Bob Will, he designed and taught a social entrepreneurship course at the school.
Invited by Carleton to speak at the Career Center's 30 Minutes program, Carlson met many students who are interested in careers in social entrepreneurship. "They desire to make a difference, but they need to make money during the summer," he says. "Mimi and I believe that funding these internships is an effective use of our money. We're also lobbying for our class to focus on social entrepreneurship for our 50th reunion in 2016. We'd like to expand the concept to faculty/student research, civic engagement programs, and possibly even an endowed professorship. We're not done with this idea yet!"
Neither is Bob Will, who is still making a difference as a member of the Northfield Retirement Community, where he has helped expand the options for senior housing. He's excited about opportunities the internship fund will provide for future students. "I hope a large proportion of Carleton students will experience the satisfaction of participating in small-scale activities where they can have a direct and immediate impact," says Will. "I'd also like to see more students involved in activities where some, if not all, of the profits are ploughed back into a desirable social outcome."
---
Recipients  of the  Robert  E.  Will  '50 Endowed  Internship  Fund  in  Social Entrepreneurship,  Summer 2014
LYDIA CHU '17 (Tapei, Taiwan)
ORGANIZATION: EduCARE India, an NGO working to promote pathways to intellectual freedom, social justice, community welfare, economic liberty, and sustainable development
RESPONSIBILITIES: Educating about environmental health; assisting young women with their career direction and English language learning; learning about micro-finance and helping individuals navigate it; documenting the projects through blogs and photos
NATHAN EDWARDS '17 (Portland, Ore.)
ORGANIZATION: Go To Girl Brazil, engages Brazilian and Silicon Valley entrepreneurs with socially responsible projects in Brazil
RESPONSIBILITIES: Reaching out to various communities and helping to build rapport; assisting in ethnographic work using anthropological and sociological field techniques; writing press releases and grant applications; aiding in overall logistics of the projects
BERET FITZGERALD '15 (Glencoe, Minn.)
ORGANIZATION: HealthFinders Collaborative, provides health care services for under- and uninsured patients in Rice County, Minnesota
RESPONSIBILITIES: Teaching health and fitness classes; managing a community-supported agriculture share for patients; developing programs that can be used over the summer or by other interns and volunteers during the year
SIMON ORLOVSKY '17 (San Jose, Calif.)
ORGANIZATION:  Stroll, a technology start-up working to create transparency in the healthcare system
RESPONSIBILITIES:  Computer programming; research on cloud hosting and databases
ANNA LARSON '15 (San Mateo, Calif.)
ORGANIZATION: Community Food and Justice Coalition, a grassroots organization supporting a healthy and equitable food system
RESPONSIBILITIES: Food policy research; working with the Oakland Food Policy Council on food and housing issues; supporting the Edible Parks task force with public park and gentrification projects; developing public education materials