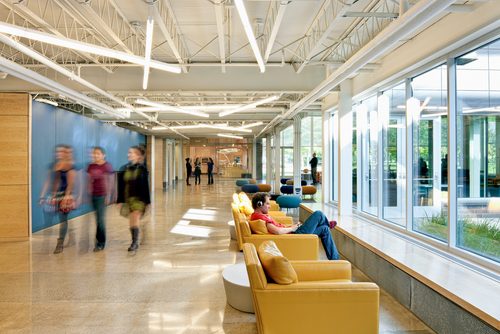 Carleton's newest facility positions the College as a leader in preparing students for a world that demands visual literacy and competence in new technologies
The Weitz Center for Creativity is a vibrant campus center for intellectual, creative, and pedagogical innovation. Its many performance, exhibition, and multimedia spaces—complete with state-of-the-art digital capabilities—foster interdisciplinary collaboration and demonstrate Carleton's commitment to helping students negotiate increasingly visual ways of learning.
"This facility, designed with imagination and care, will be key to ensuring that Carleton delivers a liberal arts education that includes a high level of visual literacy and an understanding of the role that creativity plays in all disciplines," says president Steven Poskanzer. The skill of analyzing and creating visual images now joins the skills of writing, critical thinking, and quantitative reasoning in preparing students to be successful in the 21st century, regardless of the field in which they choose to major.
The Weitz Center spurs the Carleton community toward innovative work, encouraging creativity to emerge in performance, teaching, and scholarship. "The center enables our faculty members and students to collaborate across disciplines and to integrate multimedia and interactive technologies in their work," says Bev Nagel '75, dean of the College.
Wally Weitz '70 and Barbara Veach Weitz '70 and their children contributed $15 million toward the facility, which is a transformation of the former Northfield Middle School.
The Weitz Center opened on the first day of fall term 2011, when the Carleton community gathered at a celebratory reception held in the building's airy Class of 1980 Commons, which is destined to become a popular gathering space for students, faculty members, and Northfield residents alike. Spreading out from the central commons are the Perlman Teaching Museum, cinema, the Gage/Bauer IdeaLab, dance studios, and theater. Also included are many studios, classrooms, rehearsal and support spaces, and casual nooks for socializing and studying. Each space in the facility is geared toward encouraging creative and innovative projects.
The Weitz Center's interdisciplinary focus is evident in the inclusion of office space for faculty members from departments outside the arts. These faculty residencies of one-to-three years encourage collaboration through proximity, sparking new scholarly ideas that draw on creative expression and technological innovation across the arts and sciences.
Inside Carleton invites you to take a peek inside Carleton's exciting new facility and to support the work the College is doing to foster collaboration in teaching, learning, discovery, and creativity across the liberal arts.
Three Cheers for Creativity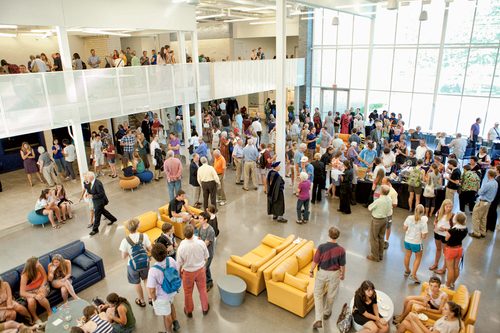 The Carleton community gathered in the Class of 1980 Commons to celebrate the opening of the Weitz Center for Creativity in September 2011. The building, which is home to multiple departments and programs, combines cutting-edge technological resources with simple, flexible white spaces to encourage innovative teaching and learning.
To learn more about the Weitz Center for Creativity, including giving and naming opportunities, visit go.carleton.edu/weitz.