May
4
"Democracy will win!" Exhibition
Thu, May 4, 2023 - Wed, May 31, 2023 • Hamlin Space (Weitz)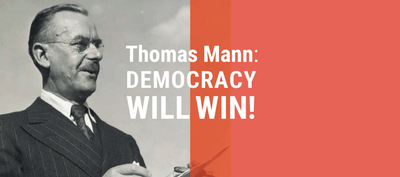 Exhibition "Democracy will win!" by the Thomas Mann House in Pacific Palisade (CA), organized by German at Carleton in partnership with the Germanic American Institute in Saint Paul and Arts at Carleton, in Hamlin Space (Weitz).
This unique exhibition explores the political journey of Thomas Mann, from a monarchist to a vocal opponent of National Socialism and an ardent supporter of democracy. It connects his life to ongoing debates on both sides of the Atlantic and features pivotal historical moments, such as the Selma to Montgomery Marches, the Monday demonstrations in East Germany, right-wing terror after the end of the Cold War, the March for Our Lives, the legalization of same-sex marriage, UN climate summits, and the Black Lives Matter movement. The exhibit engages in essential debates about democracy, resistance movements, and social justice.
Find more information about the exhibition here.
THOMAS MANN: "DEMOCRACY WILL WIN!"  An exhibition by Literaturhaus München and VATMH in co-operation with the Germanic American Institute and Carleton College, realized with the generous support of the German Federal Foreign Office. Co-sponsored by German and Russian at Carleton, Arts at Carleton, the Center for Global and Regional Studies (CGRS), Cross-Cultural Studies (CCST), and the Humanities Center at Carleton, as well as the Germanic American Institute in Saint Paul.
from German Department