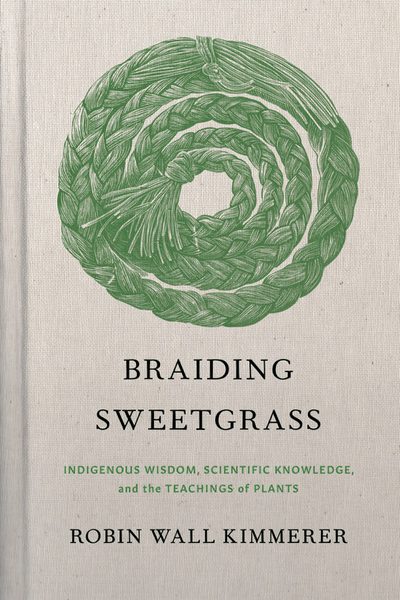 Nancy Braker, Dan Hernández, Dan Maxbauer, and Kim Smith met over the course of the summer to discuss the book, Braiding Sweetgrass: Indigenous Wisdom, Scientific Knowledge, and the Teachings of Plants, by Robin Wall Kimmerer. In Braiding Sweetgrass, Kimmerer — a Potawatomi woman, professor of environmental biology, mother, and plant ecologist — weaves the teachings of native traditions into her philosophy of teaching, sustainable living, and ways of knowing the natural world.
Our group came to this conversation with backgrounds in environmental studies, including land management, environmental ethics, geology, and ecological science. However, just as Kimmerer brings her entire self into her writing, so too did we begin to express our perspectives not just as teachers and scholars of environmental studies, but as individuals interested in how Kimmerer's lessons could be applied to our own lives and our work as educators.
Kimmerer challenges the reader to reject the notion that native perspectives on the relationship to the land and ways of knowing are no longer relevant to our modern lives. Rather, our society, our science, and our approaches to teaching have simply ignored these perspectives, leading to the degradation of the natural world and the loss of a reciprocal relationship to the land.
---
"I wonder if much that ails our society stems from the fact that we have allowed ourselves to be cut off from that love of, and from, the land. It is medicine for broken land and empty hearts."
---
Perhaps the subject we discussed most was to consider what "counts" as knowledge. Kimmerer emphasizes the value of experiential knowledge and inherited wisdom in developing respect and understanding of the natural world. Like many of us, she has seen how just a few days in the field can transform a student's understanding and appreciation for nature in ways that are impossible to develop in the classroom. Similarly, the knowing that comes from developing a relationship with the land, through practices such as farming, hunting, or managing land, is often undervalued in the hierarchy of what counts as knowledge.
Demonstrating this to students, both by validating and valuing their own experiences and helping them to see the value in the experience of others (through for example civic engagement opportunities) was something we saw as essential to applying Kimmerer's philosophies to our work with students.
Kimmerer also challenged us to think critically about some of our assumptions about our students' backgrounds and how our own cultural perspectives influence how we talk about the natural world: Are we assuming that we and our students all share a common cosmology, the same orientation to the world? Are there ways to make room for other cultural perspectives in our teaching about the environment?