Comps Courses
The History Department's Comps process occurs during WINTER TERM and is worth 12 credits. Seniors enroll in both History 400 and a section of History 398. In 2023-2024, two sections of HIST 398 are offered:
HIST 398-01 Professor Annette Igra
HIST 398-02 Professor Serena Zabin
HIST 400.00 Integrative Exercise
Registration required of all seniors majoring in history. Meeting times TBA by Hist 398 professor(s).
---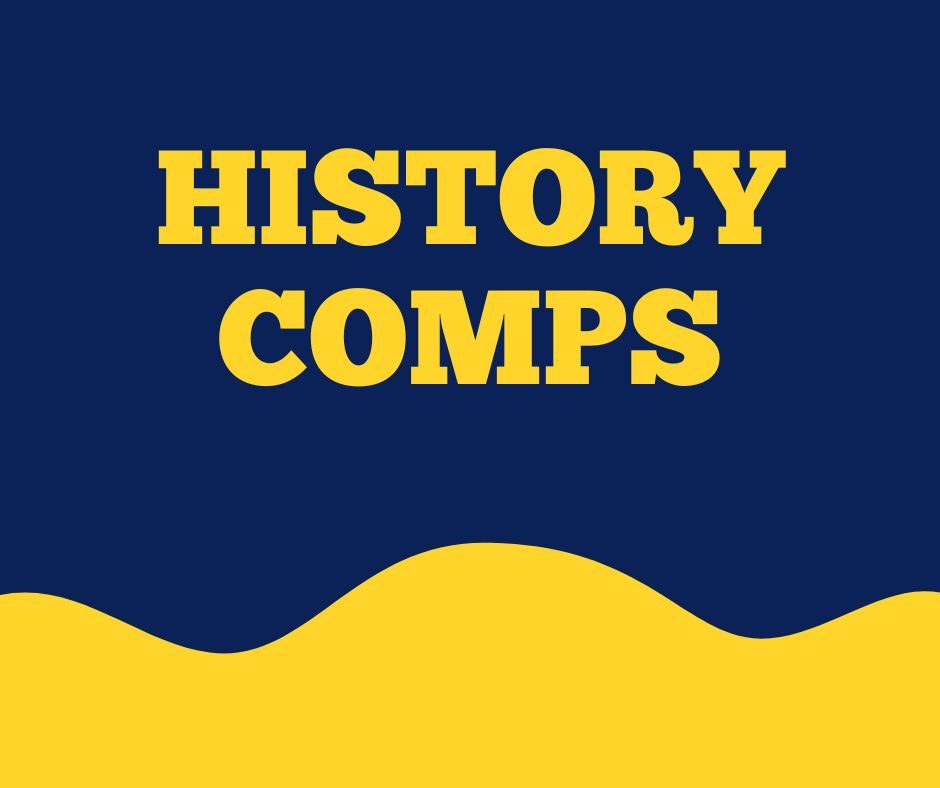 Comps Calendar
The History Comprehensive Exercise is a 7,500-10,000 word essay, on the model of a journal article. Majors design their own topics to investigate based on their previous coursework and in consultation with faculty.
Students write their comps in conjunction with HIST 398, 'Advanced Historical Writing.' This course is designed to support majors in developing advanced skills in historical research and writing. Through a combination of class discussion, small group work, and one-on-one interactions with the professor, majors learn the process of constructing sophisticated, well-documented, and well-written historical arguments within the context of their comps topic. They also learn and practice strategies for engaging critically with contemporary scholarship and effective techniques of peer review and the oral presentation of research. It is designed to provide the nurturing and structure that will enable you to complete this project.
May 18, 2023: Mandatory comps meeting for juniors to begin thinking about topics
October 13, 2023: Give a draft of your proposal to your advisor for feedback and revision before the due date.
October 20, 2023: Proposal due to the professor of HIST398/400 with comps advisor's written or email approval in order to register for HIST398/400. Before registration begins on October 30, you will be assigned to a section of HIST398, based on your anticipated course schedule.
Winter term 2024: HIST 398 and HIST 400
March 1, 2024, Noon: Final comps papers due. Turn in two paper copies to Mieux in Leighton 210
March 4-8, 2024: Oral defenses
Spring 2024: optional comps presentations 
---
5-page Comps Proposal Description
View recent Senior Research Proposals written by Ezra Sergent-Leventhal '19 and Tyler Spaeth '16.
The Comps Proposal is an approximately five-page document that should include the following elements:
The significance of your topic and an initial discussion of its relationship to current scholarship
Your key research questions
Discussion of the kinds of primary sources you anticipate using and how you will access them (if not obvious).
Formal bibliography including primary sources and relevant scholarship (not counted in the 5 page limit)
List of relevant coursework (not counted in the 5 page limit)
Proposed class schedule for Winter term (not counted in the 5 page limit). This information is necessary in creating the 398-seminar groups.
Please remember that you may need Institutional Review Board (IRB) approval before you can begin any research for oral history comps projects.
We will not accept projects for which you do not have sufficient background and coursework. If your project grows out of your research paper in a 300-level seminar, please state explicitly the ways in which the comps paper will differ from that earlier project.
Regarding each element, you should be as specific and concrete as possible at this point, even though you will refine your formulation considerably after further research and reflection.
Any seniors studying off-campus are required to observe the same deadlines for the comps proposal and should consult with the Comps seminar leaders and their content advisor before fall term begins to establish a timeline.
As stated above in the Calendar, once your proposals have been submitted, the Comps director(s) will review them, and you will be notified as to whether or not your proposal has been accepted. If it has not been accepted, you will be informed by e-mail about what needs to be done so it can be accepted.
The Comps director(s) will form writing groups and sections (when two seminars are offered) around shared themes, regions, and problems to enhance peer-to-peer conversations. In years when there are two seminars, you will be informed which seminar to register for.
---
HIST 400: Oral Defenses
At the end of winter term, you will have a 30-40 minute comps defense, in which you will:
Give a 5-minute presentation introducing your topic and explaining your most important conclusions
Respond to questions from your content adviser, 398 section leader, and your reading group.
You may invite family and friends to attend your defense, but please let them know that they may not ask questions unless they have read the final draft of your comps paper.
---
Comps Research and Travel Funding
Comps research and travel funding is available:
History Department David Parks Winter Break Research fund. Applications are due October 2023. Questions: Bill North, Parks Committee Chair.
Senior Comps Fellowships. Carleton's Office of Student Fellowships will make up to 10 awards of $2,000 apiece for students to pursue comps research over Winter break. Applications that draw directly on your comps proposal are due. Decisions will be announced later in Fall term. Questions: Marynel Ryan Van Zee, Director of Student Fellowships.
PLEASE NOTE: Students may apply for Academic Grants of up to $500 using the form posted at the Office of the Provost page. The amounts and sources of funding awards are determined by the Office of the Provost Staff and the STEM Board Director. You may contact Karen Moldenhauer with questions.

Please direct any questions to 2023-24 Comps Directors Annette Igra and Serena Zabin. Thank you.