May
11
Dr Pedro Quijada History of Latin America Job Talk
Wed, May 11, 2022 • 3:30pm - 4:30pm (1h) • Leighton Hall 304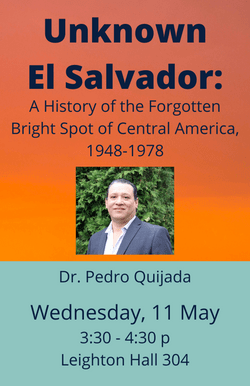 The history of El Salvador is predominantly examined through events and themes such as indigenous ethnocide, military oppression, underdevelopment, and civil war. In this talk, Pedro Quijada presents his research which demonstrates that the smallest of the Central American nations has also had a period of brightness, which ought to be visible in its pages of history.
His study shows that between the years1948 to 1978 the country experienced a series of national reconfiguration programs that brought unprecedented industrial and economic development, political stability, and improvements in social programs. The exclusively agrarian nation became the most industrialized member of the isthmus; its working classes learned about and exercised participatory government, and education, public health, and housing (among other things) became more accessible for the general population.  Some of the surprising headlines that the international media used to refer to El Salvador in those years were: "The Giant Among Latin Minis," "Rapid Development in Small Economies: The Example of El Salvador," and "El Salvador: A "Bright Spot" in Central America."
Through the examination of understudied and forgotten sources, Dr. Quijada's research shows 1948-1978 as a period with socio-economic features distinct from previous and posterior years. His study is an effort to diversify the single historical narrative about this particular country, and part of his general quest to find the bright histories of Latin America.