Feb
9
Convocation with Dudley Edmondson
Fri, February 9, 2024 • 10:50am - 11:50am (1h) • Skinner Memorial Chapel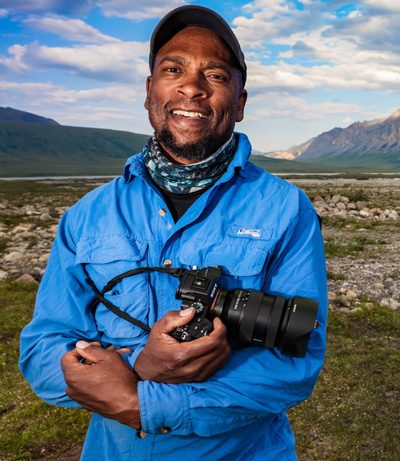 Dudley Edmondson: Filmmaker, Photographer, Author, Filmmaker, Motivational Speaker and Advocate of Nature
As a young boy, Dudley Edmondson discovered the power of nature and its ability to heal both the mind and body. This led Mr. Edmondson on a lifelong path to follow his passion and instill his love and knowledge of the outdoors in others and inspire them to discover their personal understanding and respect for everything nature offers.
Mr. Edmondson was one of the first to highlight the involvement of African Americans in the public lands system. Unsatisfied with the representation of people of color among those he encountered in his outdoor pursuits, he set out to create a set of Outdoor Role Models for the African American community by writing his landmark book, Black & Brown Faces in America's Wild Places (Adventure Keen Publications 2006). His latest book entitled What's That Flower: A Beginners Guide to Wildflowers (DK Publishing, London 2013), details the more common wildflowers of the eastern United States.
For three decades Mr. Edmondson has photographed nature and wildlife across the country. His work has been featured in numerous national galleries and over 100 publications, ranging from the state-specific flora and fauna field guides by author, Stan Tekiela, to "Bird: The Definitive Visual Guide," by Audubon (DK Publishing, London).
Inspiration is at the heart of all of Mr. Edmondson's work. He has worked with numerous communities across the county to help urban youth and youth of color to experience nature and the beauty of the outdoors, a privilege for so many. He has seen first-hand the difference bringing young people into nature can make in their life. This inspires young people to seek out the outdoors and all that nature offers and inspires Mr. Edmondson to continue to bring young people of color into nature.
About Black & Brown Faces in America's Wild Places:
Written after four years of crisscrossing America, conducting interviews with people from all walks of life. In speaking with a spectrum of people from private citizens to working biologists and even national park rangers, Mr. Edmondson fulfills the book's purpose, to create a set of "Outdoor Role Models" for the African American community. Readers can identify and connect through seeing someone who reflects how they look but also be inspired through reading about their passion for  nature and love of the outdoors.  Each copy of the book includes a children's version on the inside back cover, for sharing with a child in your community or household.
Mr. Edmondson attended Ohio State University and currently resides in Duluth, Minnesota. He is an avid outdoorsman, enjoying several recreational activities including birdwatching, mountain, and fat biking, fly fishing, and trail running, just to name a few.
from Convocations Events