What is flourishing?
Flourishing is feeling good about a life in which you are functioning well. Sometimes called thriving, it is a state of emotional, psychological and social well-being that is more than the absence of disease or illness. It is a continuing process and the steps are unique for each individual. However, there are certain categories of behaviors that have been shown to help increase flourishing.
How can I flourish?
Build Relationships: Join a group, get a mentor, visit your professors, eat with your friends, meet everyone on your floor.
Do Good: Share a kind word, notice someone else, volunteer, pay it forward.
Practice Gratitude: Write down 3 good things from your day, send a thank you note or email to someone.
Practice Calm: Try meditation, or yoga, or guided imagery.
Engage in Spiritual and Cultural Activities: Find your source of hope and meaning.
Play and Create: Make time for play. Do art and music. Play sports. Have fun!
Keep Learning: Take a class that really interests you outside your major. Read a non-class book.
Create Traditions: Gather with friends around milestones. Participate in campus events.
Sleep: Create healthy sleep routines. Prioritize sleep to help meet other goals.
Exercise and Nutrition: Move every day. Fuel your body with nourishing food.
Mobilize: Join others to shape your community. Advocate.
Journal: Write about your day to help make meaning of events.
Enjoy Nature: Take a walk in the arb. Notice the stars at night. Go for a bike ride along the Cannon River.
Identify Strengths: Use tools like Values in Action or Strengthsfinder. Notice strengths in others, too.
What if I'm struggling to flourish?
The Office of Health Promotion recognizes that flourishing isn't something that always comes easily. At Carleton, it can be especially difficult to prioritize mental well-being when demands from school, work, and socializing begin piling up. Some individuals' identities such as class, race, gender and sexual identities, and disabilities contribute to experiencing societal obstacles that impact their ability to flourish. Flourishing is not a permanent state—individuals often move through different levels of well-being. While flourishing is something to strive for, it is not something to feel shame about. Making small changes to your routine and way of thinking is the best way to start. And you should always feel okay about asking for help and utilizing on and off-campus resources when needed. Be sure to check out our resources page for more information!
What are the benefits of flourishing?
There are many benefits of flourishing! Below we list just a few.
Flourishing individuals:
Engage more curiously
Learn from difficult situations
Exercise more self-control
Connect to something greater than themselves
Where can I learn more?
Corey Keyes, PhD, Winship Distinguished Research Professor in Sociology at Emory University, visited Carleton on Thursday, January 12, 2017.
Dr. Keyes developed the two continua model for health and illness and advocates that true health requires actions that are distinct from those we use to prevent illness. He speaks of flourishing.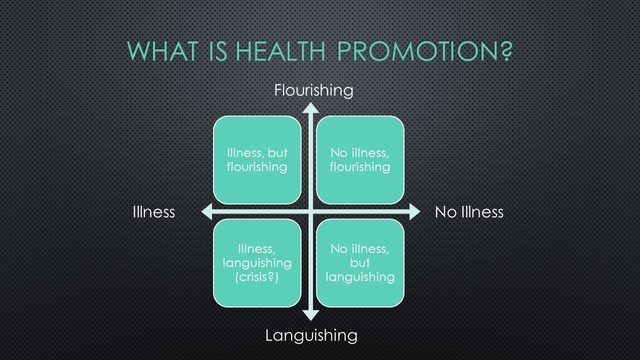 See a video of Dr. Keyes' January 2017 LTC lunch presentation.