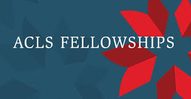 The American Council of Learned Societies (ACLS) stands as the leading private institution in the United States that supports scholars in the humanities and related social sciences at the doctoral and postdoctoral levels.
The ACLS's means of support for humanists and humanistic social scientists are a dozen distinct fellowship programs, of which the central ACLS Fellowship program is both the best known and the most widely accessible to humanities scholars. See also "Additional Opportunities for ACLS Fellowship Applicants" at the bottom of the ACLS Fellowships page.

Other programs, though not all are offered annually, support collaborative research by teams of scholars, residencies for individuals at humanities, digital humanities projects, research by scholars based in Africa, and research on Chinese, African, and Buddhist topics.
Though exact deadlines vary, fellowship applications are typically due the last Wednesday of September.
Components of applications to the central fellowship program
NEW in 2021 and continuing: ACLS requires all applicants to have an ORCID iD. Refer to this About ORCID page and the Register your ORCID iD page for instructions. The process is simple: on this ORCID sign in page, click the "Register now" link and 1) input name and email, 2) assign a password, 3) set visibility settings and consent to terms of use. After verifying your email address, you'll find your iD in the left sidebar of the ORCID page.
While each fellowship program has distinct application guidelines, requirements, and criteria, the main program can serve as a template for most of the others.
An application to the central fellowship program in 2022 is open to individuals who have had a PhD officially conferred between between September 29, 2014 and September 28, 2022 and does not hold a tenured faculty position. It includes the components listed below.
1. Application Form
The application form is a lengthy document that requires an hour or two to complete, primarily by transferring information from a current CV. The form is most easily completed in consultation with the Grants Office staff.
The application form requires some material specific to the project (see also this Sample Application Form):
Research Proposal Title (up to 250 characters, including spaces)
Research Proposal Abstract (up to 800 characters, including spaces)
Statement on the broad humanistic significance of your project (up to 2000 characters, including spaces):
"Your proposal will be reviewed by scholars within your specific discipline and by others from across the humanities and related social sciences. Use this space to make a concise case for the broader significance of the project for the humanities and related social sciences in a way that will be legible and of interest to scholars outside your field. You should refrain from employing technical language specific to your discipline that may make this significance unclear to non-specialists."
Other information

Contact and Demographic Information, Education (including date of PhD, title of dissertation, name of dissertation supervisor), Languages, Current Position, Professional Background
Awards: "Up to eight grants, fellowships, scholarships, academic honors, or awards you have received, giving in each case the dates, purposes, and approximate amounts."
Research Project boxes, in addition to title, abstract, and significance mentioned above:

Location of where proposed research will be conducted: specify where and when you plan to do so by indicating "semester/location"
Countries or areas on which your research is focused.
Countries or areas other than the US in which you have done research in the last five years.
Up to five disciplinary areas, in order of relevance, that describe your research project

Administrative information: such as

Salary, citizenship, start and end date of fellowship, sources of support (confirmed and applying for)
Connections to pedagogy (up to 800 characters, including spaces): "If you have teaching responsibilities, please describe how your proposed project will connect with your pedagogical practice."
2. Proposal/Project Narrative
The main description of the project, running to a maximum of five double-spaced pages in Times New Roman 11-point font, and using headings like these:
Project summary (what you plan to do and why)
Progress already made
Relevance of the project to your professional experience
Significance of the work within your specific and general fields
Work plan for the fellowship period
3. Bibliography
An overview of essential references for your project, balancing the various sorts of key materials being used; no more than two pages, in Times New Roman 11-point font.
4. Publications List
A list of your representative publications, including titles, dates of publication, names of publishers or journals, and numbers of pages, and running to a maximum of two pages, single spaced in Times New Roman 11-point font.
5. Brief Personal Statement
A description of how your background and personal experiences have influenced your intellectual trajectory as a scholar; up to one page, double spaced in Times New Roman 11-point font.
6. Brief Writing Sample
For the writing sample, include a brief description of context and the sample's relation to proposed project; no more than five pages total, single or double spaced, including footnotes or endnotes, in Times New Roman 11-point font.
7. OPTIONAL: Additional pages
Up to two additional pages of images, musical scores, or other similar supporting non-text materials can be included if appropriate.
Other considerations
Note: In the 2022-23 competition year, the fellowship program does not accept reference letters.
Be aware that other ACLS programs will have other application requirements which must be addressed. The ACLS's program webpages and FAQ pages offer many insights into the programs and the application and review processes.
If now is not the right time to apply, consider being a reviewer. Learn more at Volunteer as a Peer Reviewer with ACLS.
Contacts
Charlotte Whited in the Grants Office will be happy to assist prospective applicants in selecting appropriate ACLS programs and especially in preparing applications.
Starting with 2020 and continuing: from ACLS Fellowship page:
"ACLS will continue in the 2022-23 competition year to offer these fellowships solely to untenured scholars who have earned the PhD within eight years of the application deadline. ACLS welcomes applications from scholars without faculty appointments and scholars off the tenure track."
Other ACLS programs, like the Luce/ACLS Program in Religion, Journalism, and International Affairs, the Mellon/ACLS Scholars and Society program, and the ACLS Digital Extension Grant program, will continue to support the work of scholars across a range of career stages.